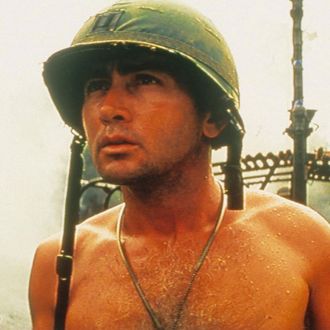 At the beginning of (and during) every month, Hulu adds new movies and TV shows to its library. Below, you'll find our recommendations for November. For more comprehensive coverage of the best titles available on Hulu and elsewhere, check out Vulture's What to Stream Now hub, which is updated throughout the month.
The smell of napalm: Apocalypse Now and Apocalypse Now Redux (1979 and 2001)
Which version of Francis Ford Coppola's towering Vietnam War anti-establishment epic should you watch: the original 153-minute cut or the reedit with 49 minutes of added footage? Critics can be very choosy about directors' cuts (welcome, Kenneth Lonergan; get out of here, Richard Kelly!), but Coppola's additions are so strange they work brilliantly, as in the restored sojourn to a luxurious French plantation that perfectly builds upon the absurdity of the battlefield. Check it out if you're feeling bold. Available December 1.
The one who walks in the sun: Anomalisa (2015)
After a seven-year absence, Charlie Kaufman roared back to form last year with his beautifully bizarre stop-motion psychoanalytical comedy … and almost no one cared. For shame! Anomalisa is the first movie about a neurotic middle-aged man in ages that actually makes its lost soul into someone worth crying over, and its lo-fi cinematic inventions (letting the seams on the puppets remain visible; hiring Tom Noonan to do every voice save two in his affectless pitch) are a lesson that true technological wonder can come out of any budget. Available December 17.
Home movies: Stories We Tell (2013)
To watch Sarah Polley's incomparably lovely exploration of her own family history is to become a part of the Polley family yourself. Taken by the news that her father may not be her biological father, Sarah sets out to retrace the steps of her deceased mother and put the missing pieces back in her chronology — a process that involves tricky home-movie reenactments and a series of frank, uncomfortable interviews with siblings. More than once, Polley challenges us to reconfigure our entire sense of perspective, yet until the end, we never feel out of place in this film's warm embrace. Available December 3.
TELEVISION
December 1
Uncle Grandpa (season 3)
December 7
Shut Eye (season 1)
December 8
Hairspray Live!
December 9
The Thundermans (season 3)
December 13
Teen Mom (season 6)
December 20
Mars (season 1)
December 27
Barbarians Rising (season 1)
December 31
The Venture Bros. (season 6)
MOVIES
December 1
A Guy Thing (2003)
Apocalypse Now (1979)
Apocalypse Now Redux (2001)
All Dogs Go to Heaven (1989)
All Dogs Go to Heaven 2 (1996)
Antitrust (2001)
Autumn in New York (2000)
American Beauty (1989)
Black Rain (1962)
Black Water (2008)
The Bridges of Madison County (1995)
Born Romantic (2001)
Cats & Dogs (2001)
Carnival of Souls (1998)
The Counterfeit Traitor (1996)
Crouching Tiger, Hidden Dragon (2000)
Desperately Seeking Susan (1985)
Devil's Rejects (2005)
Don't Answer the Phone (1980)
Doc Hollywood (1991)
Driving Miss Daisy (1989)
Escape From L.A. (1997)
Fluke (1987)
The Foot Fist Way (2006)
Friday the 13th (1980)
Friday the 13th Part II (1981)
Friday the 13th Part III (1982)
Friday the 13th Part IV: The Final Chapter (1984)
Friday the 13th Part V: A New Beginning (1985)
Friday the 13th Part VI: Jason Lives (1986)
Friday the 13th Part VII: The New Blood (1988)
Friday the 13th Part VIII: Manhattan (1989)
The Hearse (1980)
House of 1,000 Corpses (2003)
Hard Rain (1998)
Indecent Proposal (1993)
Jackie Chan's Project A (1983)
Jim Norton: Please Be Offended (2012)
Legend of the Drunken Master (1994)
Moonstruck (1987)
Never Back Down (2008)
No Country for Old Men (2007)
One From the Heart (1982)
Private Parts (1997)
Pulp Fiction (1994)
Rain Man (1988)
Reservoir Dogs (1992)
Ronin (1998)
Rosemary's Baby (1968)
Rumble in the Bronx (1996)
Shivers (1975)
The Sisterhood of the Traveling Pants (2005)
Sling Blade (1996)
Space Cowboys (2000)
The Silence of the Lambs (1991)
This Is Spinal Tap (1984)
The Truman Show (1998)
The Usual Suspects (1995)
Vampires Kiss (1989)
Would You Rather (2013)
December 3
Stories We Tell (2013)
December 6
On the Road (2013)
December 10
Daddy's Home (2015)
December 13
The Love Guru (2008)
December 16
At the Devil's Door (2014)
Beyond the Hills (2013)
December 17
The Bay (2012)
Anomalisa (2015)
December 23
The Trip to Italy (2014)
December 24
Whisky Tango Foxtrot (2016)
December 27
Iron Man (2008)
The Reluctant Fundamentalist (2013)
December 30
Last Weekend (2014)
Zoolander 2 (2016)
December 31
13 Hours: The Secret Soldiers of Benghazi (2016)
Spider-Man 3 (2007)