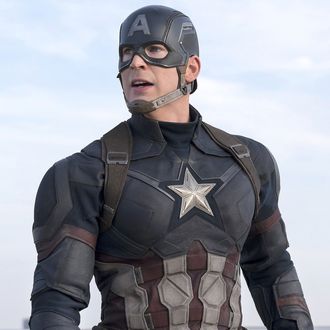 At the beginning of (and during) each month, Netflix adds new movies and TV shows to its library. Below, you'll find our December recommendations. For more comprehensive coverage of the best titles available on Netflix and elsewhere, check out Vulture's What to Stream Now hub, which is updated throughout the month.
Clash of the titans: Captain America: Civil War (2016)
Essentially the Super Smash Bros. of the Marvel universe, Civil War made superheroes fun again by pitting them against each other in an all-out brawl. Thank goodness for that: Splitting up the stable between Team Cap and Team Iron Man was really the only way the rapidly metastasizing Avengers series could progress without continuing to burn its goodwill. Enjoy that one fight scene, kids, and hope for more like it in the years to come. Available December 25.
The audacity of hope: Barry (2016)
You may ask yourself what role a Barack Obama biopic (the second of the year, no less) could play in the final weeks before our president hands the country over to a man who slandered his very legitimacy to serve. We're about to find out: This Netflix-exclusive acquisition premieres after receiving great notices at the Toronto International Film Festival. Newcomer Devon Terrell stars as Obama, and the film trains its eye on his formative years at Columbia University as he struggled to figure out how a mixed-race kid with an expat childhood could fit into a changing America. Available December 16.
Mean ol' wind died down: Black Snake Moan (2007)
Craig Brewer's Southern Gothic erotica was the defining odd duck of the American indie scene in the 2000s. Often reduced to its nutty concept — an old bluesman (Samuel L. Jackson) chains a nymphomaniac (Christina Ricci) to a radiator in his home so he can "cure" her — Black Snake Moan rarely gets enough credit for evoking a strong sense of myth in a land the movies often forget about. Samuel L. Jackson and Christina Ricci are terrific, and Jackson even does his own singing. Available December 1.
TELEVISION
December 1
Chill With Bob Ross (1990)
Girlfriends' Guide to Divorce (season 2)
Merli (season 1)
December 2
Fauda (season 1)
Hip Hop Evolution (season 1)
Pacific Heat (season 1)
December 3
Lost & Found Music Studios (season 2)
December 8
The Cuba Libre Story (season 1)
December 9
Captive (season 1)
Cirque du Soleil Junior: Luna Petunia (season 1)
Club de Cuervos (season 1)
Fuller House (season 2)
Four Seasons in Havana (season 1)
Medici: Masters of Florence (season 1)
White Rabbit Project (season 1)
December 13
Colony (season 1)
Nobel (season 1)
December 14
Versailles (season 1)
December 16
Call Me Francis (season 1)
Crazyhead (season 1)
No Second Chance (season 1)
The Adventures of Puss in Boots (season 4)
December 20
My Little Pony: Friendship Is Magic (season 6)
Ten Percent (season 1)
The Break (season 1)
December 23
Travelers (season 1)
Trollhunters (season 1)
December 25
Ajin (season 2)
Chasing Cameron (season 1)
December 28
Comedy Bang! Bang! (season 5)
December 30
The Eighties (season 1)
MOVIES
December 1
Always (1989)
Angels in the Snow (2015)
Beverly Hills Cop (1984)
Beyond Bollywood (2014)
Black Snake Moan (2007)
Compulsion (1959)
D2: The Mighty Ducks (1994)
David Blaine: Street Magic (1997)
Dreamland (2010)
For the Love of Spock (2016)
Glory Daze: The Life and Time of Michael Alig (2016)
Harry and the Hendersons (1987)
Hitler: A Career (1977)
Holiday Engagement (2011)
Honey, I Shrunk the Kids (1989)
House of Wax (2006)
Hannibal (2001)
Merry Kissmas (2015)
National Lampoon's Animal House (1978)
Picture Perfect (1997)
Rainbow Time (2016)
Rodeo & Juliet (2015)
Swept Under (2016)
Switchback (1997)
The Angry Birds Movie (2016)
The Crucible (1996)
The Little Rascals (1994)
The Legend of Bagger Vance (2000)
The Rock (1996)
The Spirit of Christmas (2015)
Toys (1992)
Uncle Nick (2015)
Waking Life (2001)
Way of the Dragon (1972)
We're Back! A Dinosaur's Story (1993)
White Girl (2016)
Wildflower (2016)
Zero Point (2014)
December 5
Mad (2016)
The Good Neighbor (2016)
December 6
Blue Jay (2016)
Homeland: Iraq Year Zero (2015)
Reggie Watts: Spatial (2016)
The Devil Dolls (2016)
The Model (2016)
December 9
Spectral (2016)
December 10
Lucky Number Slevin (2006)
Phantom of the Theater (2016)
December 11
Breaking a Monster (2016)
December 12
Ricardo O'Farrill: Christmas Special (2016)
December 13
Killswitch (2016)
I Am Not a Serial Killer (2016)
December 16
Barry (2016)
Rats (2016)
December 19
Miss Stevens (2016)
December 20
Disorder (2015)
Gabriel Iglesias: Sorry For What I Said When I Was Hungry (2016)
December 25
Captain America: Civil War (2016)
When Hari Got Married (2013)
December 29
The Hollywood Shorties (2016)
December 31
Big in Bollywood (2011)