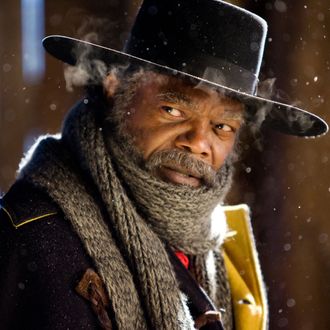 Photo: Andrew Cooper/The Weinstein Company
Each month, Showtime adds new movies to its library. Below, you'll find our December recommendations. For more comprehensive coverage of the best titles available on Showtime and elsewhere, check out Vulture's What to Stream Now hub, which is updated throughout the month.
A "true" story: Fargo (1996)
It's slim pickings this month on Showtime, so if you haven't yet bothered to watch one of the best films of the 1990s and the inspiration for the FX series, now is your chance. Hunker down in a Minnesota winter with the unflinching Marge Gunderson (Frances McDormand), the pathetic and sputtering Jerry Lundegaard (William H. Macy), and the two violent mooks (Steve Buscemi and Peter Stormare) who bring crime and evil to a remote corner of America. If you're John Kasich, you can pause the film before the wood-chipper scene offends your delicate sensibilities. Available December 1.
Marching into the haberdashery: The Hateful Eight (2015)
If you missed the 70mm roadshow version of Quentin Tarantino's blood-spattered chamber mystery last year, you likely missed the best possible circumstances in which to watch his latest exercise in glorified self-reference, but The Hateful Eight still has its charms at home, thanks to its outstanding cast and gleefully nasty edge. The entire Samuel L. Jackson–narrated flashback that concludes the first half is one of the most absurd, mouth-agape sequences of any movie in recent memory. Available December 3.
Like a prayer: Madonna: Rebel Heart Tour (2016)
For fans of the Material Girl, this Showtime-exclusive concert doc compiles footage from Madonna's most recent tour in support of her Rebel Heart album. You may recall that back in 1991, the singer redefined the concert film with the boundary-pushing Madonna: Truth or Dare, one of the first mainstream movies to openly embrace gay sexuality. Does she have anything more to bring to the genre? Let's find out. Available December 9.
Who killed Laura Palmer? Twin Peaks (1991–1992)
Next year, David Lynch will finally bringing us back to the Black Lodge with Showtime's Twin Peaks revival. The first two seasons have floated around the various streaming services for quite some time, but if you've been busy hunting Bob, this is a good chance to catch up on the surreal Pacific Northwest town (and its damn fine coffee) before Dale Cooper returns. Remember: The owls are not what they seem. Available December 26.
December 1
Black Christmas
The Boondock Saints
Fargo
The Passion of the Christ
What Women Want
December 2
Tony Roberts: Motorcity Motormouth
December 3
The Hateful Eight
December 9
Madonna: Rebel Heart Tour
December 16
Running for His Life: The Lawrence Phillips Story
December 17
Shaquille O'Neal Presents: All Star Comedy Jam: Live From Sin City
December 26
Twin Peaks