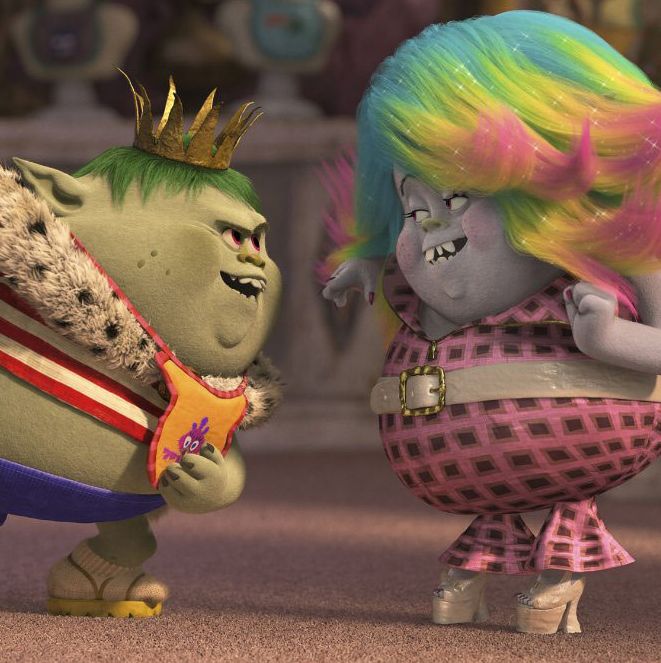 I can't wait for someone to pull me aside and tell me that Trolls was a prank, that Justin Timberlake isn't leading a cast of internationally well-known actors in a feature film about troll toys, that that film doesn't have a soundtrack that features both new music and covers of pop songs, and that one of those songs "Can't Stop the Feeling! (Original Song From DreamWorks Animation's Trolls)" debuted at No. 1 on the Hot 100. At this point, a vast Illuminati conspiracy, or even a Truman Show version of life, makes more sense. But as the film finally hits theaters Friday, it seems that this is not the case. Trolls does indeed exist. So in order to make sense of this vast and uncaring universe, and to give you all a taste of what this film contains, we set out to find which song on the Trolls soundtrack captures the movie's trolling spirit most fully. To be clear, that spirit is, essentially, "What???"
13. "CAN'T STOP THE FEELING! (Original Song From DreamWorks Animation's Trolls)," Justin Timberlake
The depths to which this soundtrack descends is such that this song — which you have probably heard innumerable times in bars, Ubers, gyms, weddings, and top 40–themed torture chambers — is the most palatable of the bunch. It's generic late-period Timberlake, inoffensive to a fault, but at least that's its only major flaw.
12. "CAN'T STOP THE FEELING! – Film Version," Justin Timberlake, Anna Kendrick, Zooey Deschanel, James Corden, Ron Funches, Walt Dohrn, Christopher Mintz-Plasse, Kunal Nayyar, Icona Pop, and Gwen Stefani
Now we're talking. The film version of "CAN'T STOP THE FEELING" trims a single second from the single's run time and adds in vocals from pretty much the whole cast. (Do they all play trolls? I haven't seen the movie yet — don't tell me.) Here, we're also introduced to a central tension of the Trolls soundtrack: Anna Kendrick's highly controlled Broadway voice doesn't blend well into a pop song. We don't need all your fancy syllables, Anna!
11. "Get Back Up Again," Anna Kendrick
A fairly traditional musical theater "I want" song, "Get Back Up Again" gives Anna Kendrick's character (a troll, I imagine) a chance to express her life philosophy, which seems to be that she's "really, really gonna be okay!" It's not very trolls-y, but it gets points for being an annoyingly well-designed earworm.
10. "They Don't Know," Ariana Grande
Ariana Grande is not credited as an actress in the film Trolls, so I am not sure how this song fits into its narrative. Abstracted from the larger Trolls experience, this is just a song you'd fast-forward through on an Ariana album to get to a banger where she really lets loose.
9. "What U Workin' With?" Gwen Stefani and Justin Timberlake
A sample of the lyrics from this duet between the '90s two blondest stars: "Drop that body like you're trying to let them know / Twist that high / You know the bass is on the low." Are the trolls encouraging each other to dance in a sexual fashion? To what end? Do trolls have sex? Are we ready to learn where baby trolls come from?
8.  "Hair Up," Justin Timberlake, Gwen Stefani, and Ron Funches
The first song on the Trolls soundtrack, "Hair Up" layers the central melody of "Hall of the Mountain King" into what can only be described as an homage to Willow Smith's "Whip My Hair." It is exactly as absurd as that sounds.
7. "True Colors," Anna Kendrick and Justin Timberlake
When Anna Kendrick and Justin Timberlake first performed this song at Cannes, we all had to contend with the fact that this film would be, um, something else. It is a cover so earnest that you can't help but be suspicious.
6. "True Colors – Film Version," Anna Kendrick and Justin Timberlake
Clocking in at more than a minute shorter than the non-film cover, this is Trolls' Joanne-style cover of its own cover material. And yet, the absence of accompaniment makes this version even more moving? How dare you make me feel things, Trolls!
5. "September," Anna Kendrick, Justin Timberlake, and Earth, Wind & Fire
Somehow, Anna Kendrick finds more consonants in the word "September" than you ever thought existed. Also, how did Earth, Wind & Fire get roped into this cover? And when did the troll civilization adopt the Gregorian calendar?
4. "Move Your Feet / D.A.N.C.E. / It's a Sunshine Day," Anna Kendrick, Gwen Stefani, James Corden, Walt Dohrn, Ron Funches, Kunal Nayyar, and Icona Pop
In a mash-up that harkens back to Glee's favorite hobby of stitching together pop songs into lumbering musical Frankensteins, almost all of the Trolls cast comes together for two-and-a-half minutes of total confusion. Also, Anna Kendrick raps.
3. "Hello," Zooey Deschanel
For one minute and 16 seconds, this is a fairly boilerplate cover of Lionel Richie. Then Zooey Deschanel suddenly turns her voice into what sounds like your drunk friend imitating the witch from Snow White to whisper "I luahve you." It doesn't get any less disturbing with each new listen.
2. "I'm Coming Out / Mo' Money Mo' Problems," Zooey Deschanel, Anna Kendrick, James Corden, Walt Dohrn, Ron Funches, Kunal Nayyar, Icona Pop, and Gwen Stefani
One, "Mo' Money Mo' Problems" already samples "I'm Coming Out." Two, Zooey Deschanel raps with an eerie level of commitment that does not improve matters. Three, is Trolls in any way about LGBT pride? Four, there is a chorus of trolls harmonizing in the background. Five, after a mere 61 seconds, before anything is answered, the song ends. What a troll.
1. "The Sound of Silence," Anna Kendrick
Not only does Trolls take a melancholy Simon and Garfunkel classic, speed it up, and slather on a treacly crescendo; not only does Anna Kendrick put forth zero effort into making us believe that she is in any way an old friend of darkness (a muted Facebook acquaintance, maybe); not only does this song last a mere 48 seconds: The real trolling here comes from all the unnecessary voices and whistling in the background, which give the song an unfortunate resemblance to a bad ASMR video. They also made me wonder if there will be a whole generation of kids who will watch Trolls, grow up, discover The Graduate, and — right when the soundtrack arrives at a pause after "I've come to talk with you again" — will have the compulsion to gurgle the word "hello" in the voice of a troll. What was that? They'll wonder to themselves. Little do they know, they've been permanently trolled by DreamWorks Animation's Trolls.