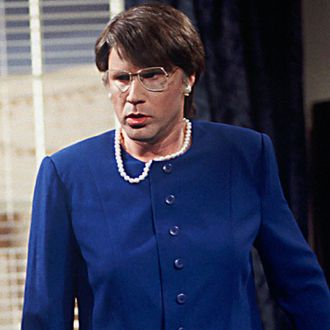 Janet Reno, who died today at her home in Florida due to complications from Parkinson's, was a woman of distinction. During her time as United States attorney general under President Bill Clinton (she was the first woman to hold the role), Reno was involved with three of the biggest news events of the 1990s: the raid of a religious-cult compound in Waco, Texas; the government seizure of Elián González, a young Cuban boy found floating in a tube off the coast of Florida whose rescue spurred an international custody battle; and the impeachment of Clinton during the Monica Lewinsky scandal. Being part of so many sensational news events made Reno quite the celebrity for an attorney general, and turned her into one of Will Ferrell's most iconic impressions during his time on Saturday Night Live. To honor her life and passing, here are three of Ferrell's best outings as the no-nonsense law woman of the White House. Reno is survived by her sister, seven nieces and nephews, and hopefully, her signature blue dress.
"Janet Reno's Dance Party"
One of SNL Janet's favorite pasttimes was hosting ragers in her basement (or on the deck of a battleship) so she could relate to the teens and calm her mind in the aftermath of Waco. In this sketch from 1997, Reno invites New York City's then–Mayor Rudy Giuliani to her DIY show to make him jealous of her status as attorney general, and also to beat the hell out of him in an in impromptu boxing match.
"Janet Reno and Fox Mulder Cold Open"
Ferrell's Janet Reno was a woman of intense passion. When she wasn't moshing in a basement filled with high schoolers or fantasizing about marrying Bill Clinton, she was giving the hard sell to David Duchovny's Fox Mulder about why they should have a torrid affair. Watch this sketch and remember the time she tempted Duchovny with the promise of "an unbelievably ferocious orgasm" before crane-kicking Dana Scully, her opponent in love.
"Elian, the Cuban Boy"
Even with Waco and the impeachment behind her, Janet Reno just couldn't leave the headlines behind. Near the end of her term, she found herself embroiled in an immigration debate involving a 6-year-old Cuban boy named Elián González, which of course, turned into this SNL musical sketch.