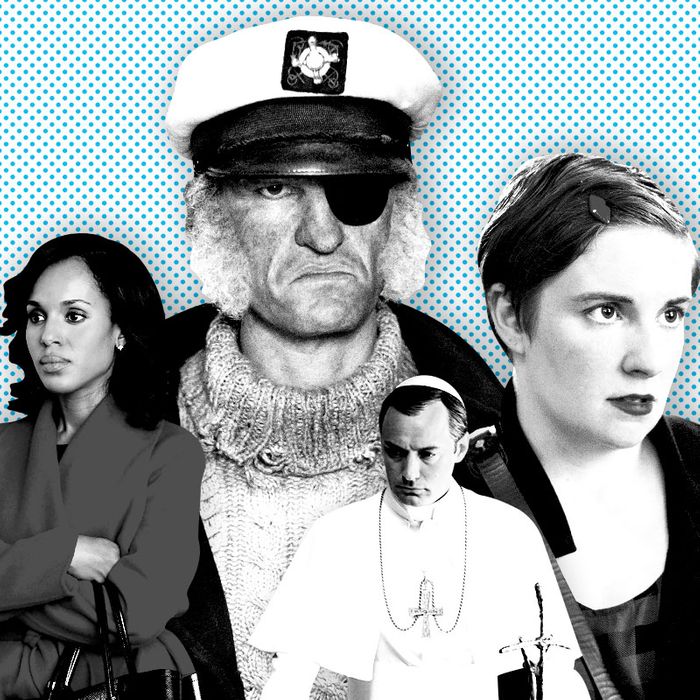 Photo-Illustration: ABC, Netflix, HBO
In this age of Peak TV, is there ever truly an off-season for your favorite shows? Although the winter months in years past might've been filled with reruns or backburner programming, networks now consciously use the chillier season for noteworthy premieres. Below, we've highlighted some of the buzziest winter shows — both new and returning — that are worth keeping your eyes on, along with a full schedule for when all shows will be returning. We'll continue to update the page as more programming information becomes available. Happy watching!
Sherlock, January 1, PBS
Benedict Cumberbatch and Martin Freeman are back for a three-episode Sherlock season, which is bound to dig deeper in the ethos of a certain James Moriarty. (Not to mention a new villain played by Toby Jones.) The high-functioning sociopath shenanigans will be high, as will the number of times Mrs. Hudson yells about the state of 221B Baker Street.
Nashville, January 5, CMT
You did it, Nashville fans! You saved the show! The southern romp will premiere its new season on CMT, and everyone's back for some more country music shenanigans — leading belles Hayden Panettiere and Connie Britton, first and foremost.
Taboo, January 10, FX
Tom Hardy makes his way back to the small screen in this 19th-century period drama. Taboo follows Hardy's character, a long-thought-deceased heir to a shipping empire, who unexpectedly returns with a vengeance to rightfully claim his father's legacy … and money. Hardy actually created the miniseries with his father, Chips Hardy, so it surely has that extra special layer of familial authenticity.
Lemony Snicket's A Series of Unfortunate Events, January 13, Netflix
Your scariest childhood book series is now back to haunt you even more as an adult. Netflix is bringing the bleak visual world of A Series of Unfortunate Events to life, which follows the three Baudelaire orphans as they try to outrun — and outsmart — their evil guardian Count Olaf. Neil Patrick Harris really went all-out for the role, huh?
Homeland, January 15, Showtime
Carrie Mathison and her whip-smart crew are back for a sixth season of the hit drama, but this time around, Carrie's taking a step back from international drama to work at a Brooklyn foundation that provides support for Muslims living in the U.S. The entire season will also take place between Election Day and the inauguration, as if the show's themes weren't accessible enough already.
The Young Pope, January 15, HBO
The Young Pope? More like The Hot Pope. Jude Law stars as the first American pope, Pius XIII, who brings some holy ruckus to the Vatican after he assumes the papal mitre. Senior Vatican officials aren't too pleased at their younger counterpart's quick rise to the title, though, and might even try to sabotage His Holiness' reign.
Scandal, January 19, ABC
Welcome back, Gladiators. Shondaland's frothy political drama is finally back after an unusually long hiatus, with season six picking up where we left off, on Election Night. Who will win the election? What could possibly go wrong in the aftermath? How many white suits will Olivia Pope wear? Only time will tell.
Riverdale, January 26, The CW
This sexy, subversive Archie Comics adaptation has been described as "Archie meets Twin Peaks," so if you're expecting a good ol' fashioned children-friendly show, prepare to be surprised. Riverdale chronicles a group of high-schoolers — Betty, Veronica, and all of your favorites — as they discover the dark underbelly of their town after the murder of a classmate.
Planet Earth II, January 28, BBC America
Please allow Sir David Attenborough's smooth narration to guide you through our wonderful natural world, as the wildly popular docuseries Planet Earth is back for round two. This time, Attenborough and Co. will be teaching us about the challenges animals face in various habitats around the globe. Break out an HD TV for this one.
Girls, February 12, HBO
The love-it-or-hate it dramedy returns for its farewell season, with the four ladies continuing their unique attempts to make lasting marks in the big city. They may never fully grow up, but we'll be damned if they don't keep trying.
Legion, February 8, FX
FX has been keeping coy about Legion — a.k.a. Noah Hawley's superpowered drama based on X-Men characters — which follows a man, played by Dan Stevens, who discovers there might be something more to his paranoid schizophrenia than anyone realizes. Stevens and Aubrey Plaza are leading the cast, so you know it's going to be a grand ol' kooky time.
Crashing, February 19, HBO
This Judd Apatow–produced comedy follows a fictionalized version of comedian Pete Holmes, whose life turns to shambles when his wife unexpectedly leaves him for a virile Italian boxer. A healthy mix of reflective soul-searching and crazy shenanigans with his friends ensues.
Marvel's Iron Fist, March 17, Netflix
Iron Fist is the latest outing from the ever-expanding Marvel Cinematic Universe, with the series following the titular superhero — real name: Danny Rand — as he returns to New York City after a mysterious, 15-year absence. He wants to reclaim ownership of his family's company, but things quickly escalate to violent proportions, judging by the fact that he's, you know, a superhero who fights crime with martial-arts prowess.
The full winter 2017 lineup:
Wednesday, December 7
12 a.m. Shut Eye, Hulu
8 p.m. Hairspray Live!, NBC
Thursday, December 8
8 p.m. Taraji's White Hot Holidays, Fox
10 p.m. The Selection: Special Operations Experiment, History
Friday, December 9
12 a.m. Mozart in the Jungle, Amazon
3 a.m. Captive, Netflix
3 a.m. Fuller House, Netflix
3 a.m. White Rabbit Project, Netflix
Sunday, December 11
8 p.m. Critics' Choice Awards, A&E
9 p.m. The Hollow Crown: The Wars of the Roses, PBS
Monday, December 12
10 p.m. America's Next Top Model, VH1
10 p.m. Booze Traveller, Travel
Wednesday, December 14
9 p.m. Star, Fox
Friday, December 16
12 a.m. The Man in the High Castle, Amazon
10 p.m. Paranormal Lockdown, TLC
Sunday, December 18
8 p.m. Rob & Chyna Baby Special, E!
Wednesday, December 20
8 p.m. Undercover Boss, CBS
Thursday, December 22
10 p.m. Project Runway Junior, Lifetime
Friday, December 23
3 a.m. Trollhunters, Netflix
3 a.m. Travelers, Netflix
Sunday, December 25
9 p.m. Doctor Who Christmas special, BBCA
Thursday, December 27
3 a.m. Chasing Cameron, Netflix
Sunday, January 1
8 p.m. Sherlock, PBS
8 p.m. The Mick, Fox
8 p.m. Ransom, CBS
9 p.m. To Tell the Truth, ABC
Monday, January 2
8 p.m. The New Celebrity Apprentice, NBC
8 p.m. Shadowhunters, Freeform
8 p.m. The Bachelor, ABC
9 p.m. Beyond, Freeform
Tuesday, January 3
8 p.m. The Wall, NBC
9 p.m. Bones, Fox
Wednesday, January 4
10 p.m. It's Always Sunny in Philadelphia, FXX
10 p.m. Too Close to Home, TLC
10 p.m. Match Game, ABC
10:30 p.m. Man Seeking Woman, FXX
Thursday, January 5
8 p.m. Hell's Kitchen, Fox
9 p.m. Nashville, CMT
10 p.m. Portlandia, IFC
Friday, January 6
3 a.m. One Day at a Time, Netflix
8 p.m. Grimm, NBC
9 p.m. Emerald City, NBC
9 p.m. Sleepy Hollow, Fox
Tuesday, January 10
9 p.m. Being Mary Jane, BET
10 p.m. Taboo, FX
Wednesday, January 11
8 p.m. Schitt's Creek, Pop
10 p.m. Girlfriend's Guide to Divorce, Bravo
10:30 p.m. Jeff & Some Aliens, Comedy Central
Thursday, January 12
9 p.m. My Kitchen Rules, Fox
10 p.m. Colony, USA
Friday, January 13
3 a.m. Lemony Snicket's A Series of Unfortunate Events, Netflix
Sunday, January 15
9 p.m. Homeland, Showtime
9 p.m. Victoria, PBS
9 p.m. The Young Pope, HBO
Tuesday, January 17
10 p.m. Teachers, TV Land
10:30 p.m. Throwing Shade, TV Land
Wednesday, January 18
10 p.m. Six, History
Thursday, January 19
9 p.m. Scandal, ABC
10 p.m. Baskets, FX
Friday, January 20
3 a.m. Frontier, Netflix
Saturday, January 21
8 p.m. Beaches, Lifetime
Sunday, January 22
8 p.m. Mercy Street, PBS
10 p.m. Hunted, CBS
Tuesday, January 24
9 p.m. Outsiders, WGN
Wednesday, January 25
12 a.m. The Path, Hulu
9 p.m. The Magicians, Syfy
10 p.m. Suits, USA
Thursday, January 26
9 p.m. Riverdale, The CW
Friday, January 27
12 a.m. Z: The Beginning of Everything, Amazon
Saturday, January 28
9 p.m. Planet Earth II, BBC America
Sunday, January 29
9 p.m. Black Sails, Starz
Tuesday, January 31
8 p.m. The Fosters, Freeform
9 p.m. Switched at Birth, Freeform
10 p.m. The Quad, BET
Wednesday, February 1
9 p.m. The 100, The CW

Thursday, February 2
10 p.m. Training Day, CBS
Friday, February 3
3 a.m. Santa Clarita Diet, Netflix

Sunday, February 5
10 p.m. 24: Legacy, Fox

Monday, February 6
9 p.m. APB, Fox
Tuesday, February 7
10:30 p.m. Detroiters, Comedy Central

Wednesday, February 8
10 p.m. The Expanse, Syfy
TBD, Legion, FX

Thursday, February 9
8 p.m. MasterChef Junior, Fox

Friday, February 10
9 p.m. Reign, The CW

Sunday, February 12
10 p.m. Girls, HBO
11 p.m. Last Week Tonight With John Oliver, HBO
Monday, February 13
10 p.m. Humans, BBC America
Tuesday, February 14
12 a.m. The Mindy Project, Hulu
Wednesday, February 15
10 p.m. Doubt, CBS

Sunday, February 19
9 p.m. Big Little Lies, HBO
10 p.m. Billions, Showtime
10:30 p.m. Crashing, HBO

Monday, February 27
8 p.m. The Voice, NBC
10 p.m. Taken, NBC
Wednesday, March 8
8 p.m. Survivor, CBS
Friday, March 17
12 a.m. Marvel's Iron Fist, Netflix
8 p.m. The Originals, The CW

Wednesday, March 22
9 p.m. Empire, Fox

Wednesday, March 29
12 a.m. Harlots, Hulu