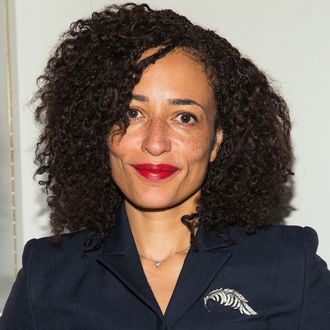 Zadie Smith, CW fan.
Photo: Brian Dowling/Getty Images
Award-winning novelist Zadie Smith is known for her hyper-articulate prose, her poise, and the fact that she is also better at many other things in life than you. She can expound on anything from E.M. Forster to classic Hollywood, but watching television, as it turns out, reduces her to the blathering half-language of us normals. In an email interview with Lena Dunham in Lenny Letter, the Swing Time author discusses the divisions between high and low art and brings up the CW's Crazy Ex-Girlfriend out of the blue.
Before finishing this interview, I watched an episode of the sublime Crazy Ex-Girlfriend, the one where it finally occurs to the main character that she might not be the hero of her own story. (She has this realization in song.) I'm not trying to be cute when I say that I could have written 5,000 words on it — I truly had what the Internet calls "many feels." This is what I am looking for in art: feels. Intellectual, emotional, philosophical, religious, existential feels.
We think that we speak for everyone when we say that we'd like to read those 5,000 words as soon as possible, both because Crazy Ex really does deserve deep critical analysis and because we really need to know whether Zadie Smith is Team Greg or Team Josh.