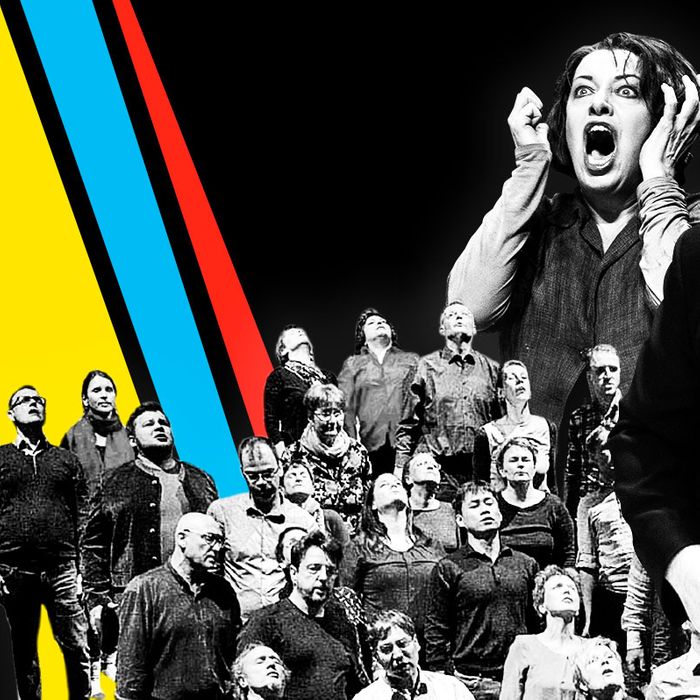 Photo-Illustration: Vulture
Even before Fidel Castro died, revolutions were feeling their age in 2016. The conductor, composer, and avant-garde sage Pierre Boulez died in the first days of the year, taking with him the modernist craving to repeal and replace music's most basic ingredients. James Levine retired after 40 years as Metropolitan Opera music director, leaving some 20th-century operas (Pelléas et Melisande, Lulu) without a champion. Less epochally, Steve Reich turned 80 (with Philip Glass not far behind); Alan Gilbert, who made the New York Philharmonic fresh and relevant again, began his eighth and final season as music director; and the flutist Claire Chase stepped down as director of the International Contemporary Ensemble, which she founded 15 years ago and nurtured into one of the country's top new music groups.
This slo-mo changing of the guard has the feel of retrenchment. The music world still boils with talent. Phenomenal young players and composers of dazzling skill rejuvenate the art form every year. And institutions that should thrive on daring operate by fear. Consolidators replace pioneers, and the vertigo of experimentation bleeds into queasy nervousness. The old new gives way to the new old.
Maybe it's natural to meet change with resistance. In The Crown, the BBC series about Queen Elizabeth II, every time a member of the royal family violates some hoary ritual, the monarchy hears its doom. The classical music world lives with similar terrors.
1. Elektra
Soprano Nina Stemme is one of opera's loudest ladies, and also its most refined. She projects inner thoughts that rocket toward the Metropolitan Opera's upper tiers but land like murmurs rather than proclamations. The vehicle for her spring triumph was a new production of Strauss's opera by the recently deceased Patrice Chéreau. The staging, a tour de force of bleakness, set off Stemme's opulent voice, the orchestra's splendor, and Esa-Pekka Salonen's luxuriantly restrained conducting. Stemme's first Met appearance as Elektra was also her last; she retired the role after the run but returned five months later for opening night, in time to breathe life into another dreary production of a different goes-up-to-11 blockbuster, Wagner's Tristan und Isolde.
2. The Danish String Quartet
There's a lesson for us right now in the music of Dmitri Shostakovich, specifically his 15th and final string quartet, from 1974. A practiced survivor of Soviet repression, he packed his private anguish into his quartets the way a dissident might stuff diaries under the floorboards. At Zankel Hall, the Danish String Quartet made the most of the score's brittle beauty, then followed it with a more voluptuous tragedy, Schubert's Cello Quintet.
3. Berlin Philharmonic
When a musical apparatus as immense and precise as this orchestra gets trained on a bit of music as fragile and brief as Webern's Six Pieces, Op. 6, it's like the effect of the Large Hadron Collider: explosive and revelatory, yet contained. The conductor Simon Rattle lined up the Webern in a Viennese suite, with Schoenberg on one side and Berg on the other, yielding a staggering cloud chamber of expressive miniatures.
4. Human Requiem
Singers and audience mixed at the Cathedral Church of St. John the Divine, as if attending a reverent cocktail party. Members of the Berlin Radio Choir circulated, singing to people one by one, then drifting off. It felt as though Brahms's German Requiem were not just a sound but a thick, deeply consoling substance.
5. Switch
Andrew Norman paints our high-speed world in vivid symphonic colors, and orchestras can't get enough of it. A few months after the New York Philharmonic premiered his piano concerto Split, the Utah Symphony played his new percussion concerto, Switch, at Carnegie Hall. Different though the works are, they share an explosive, spectacularly disjointed intricacy.
6. L'Amour de Loin
Kaija Saariaho's ravishingly original opera about a long sea voyage finally docked at the Met, and the vivid score and rich singing outshone the twinkly, LED-laced production by Robert Lepage.
7. Dmitri Hvorostovsky
The leonine baritone with a voice made for melancholy returned to the Carnegie Hall stage for a joyously rich recital of Russian songs, all the more festively received because he'd survived treatment for a brain tumor. (Owing to its aftereffects, he's just announced his retirement from full operas, though he'll continue to perform recitals.) At the opera house, Hvorostovsky has worked in tandem with costumes, makeup, sets, and a big orchestra. Here, he was alone with one pianist and his sexy sadness.
8.  Stockhausen's Klang
The Metropolitan Museum staged this multipart, all-day opus in a performance that spanned the Cloisters, the Fifth Avenue mother ship, and the new Met Breuer. The centerpiece was "Himmels Tür" ("Heaven's Door"), in which one musician hammered on a wooden door with a pair of heavy sticks. Sounds simple, but he conjured such a rainbow of sound and percussive prayer that the piece had the ecstatic force of a revival meeting.
9.  Roberto Devereux
Sondra Radvanovsky has been inching her way toward opera-soprano superstardom for a couple of decades now. At the Met she sang Donzetti's three queens in Anna Bolena, Maria Stuarda, and Roberto Devereux in one season. Electrifying in her desolation, marrying vocal agility to rectitude and wildness to decorum, she made the endurance feat seem secondary to sheer drama.
10.  De Materie
Sitting through Louis Andriessen's multimedia, multispecies opera — with its flock of confused sheep, a trio of mini-zeppelins, a choir in 17th-century black, and 144 repetitions of the same pile-driver chord — could be trying and mystifying. Yet the scale and craziness, the sonic whorls glittering through the vast darkness, made its lulls easy to forget and its drama anything but.