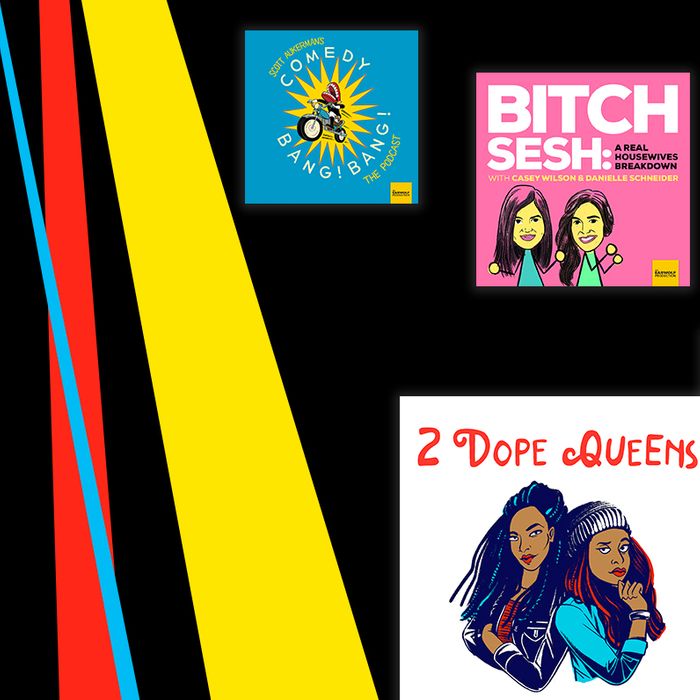 Photo-Illustration: Vulture
If this list is your speed, also check out Vulture's year-end collections of best (non-comedy) podcasts, best podcast episodes, and best comedy sketches. Thanks to Andy Peters, Jared Jeffries, Abigail Barr, Michael Smith, and Casey Smith for helping curate and rank the shows below.
10. The Read
If the 2016 election cycle, or Kanye's beef cycles, have left you feeling angry, confused, or simply ready to complain, then let Kid Fury and Crissle spill the tea for you. During the past several years the two friends have been verbally rolling their eyes at various pop-culture figures, hip-hop stars and infuriating news items, and in 2016 they upped their hilarious, and honest, shade-throwing ways. Any time they lay down the truth about a celebrity, whether it's a Kardashian, Taylor Swift, Tyler Perry, or Soulja Boy, it's delicious just desserts.
9. Last Podcast on the Left
Equally willing to investigate stories about cults and the occult, hosts Henry Zebrowski, Marcus Parks, and Ben Kissel thoroughly discuss horrors of the week, all while ripping apart the ridiculous characters involved. Whether they're delving into Bigfoot believers, the satanic history of Santa, or the rise of the Children of God, the hosts bring exceptional details to their stories, culled from books, documentaries, and bizarre documents. The trio's penchant for over-the-top accents and nonstop riffs create an experience resembling a morbid book report presented by three class clowns.
8. With Special Guest Lauren Lapkus
As comic actress Lauren Lapkus's star continues to rise, so too does the quality of her highly original podcast. The premise shakes up the show each episode, as a comedic guest plays the part of a radio host on a faux podcast that is visited by a character created by Lapkus. With the structure and voice constantly changing, it's a marvel and a testament to Lapkus's versatility as an improviser. Standout hours — like the cat-fishing episode with Claudia O'Doherty and the Generations installment with her Comedy Bang! Bang! road buddies Paul F. Tompkins and Scott Aukerman — fully commit to the reality of the world, no matter how dark or bizarre it might be. 
7. My Brother, My Brother and Me
Despite all three McElroy brothers — Justin, Travis, and Griffin — being dads now, MBMBAM has not let parenthood sober their familiar silliness. In each episode the brothers team up from their remote locations to respond to questions from their audience and the stupidest users of Yahoo! Answers. Their unbound collective goofiness and charm as they go about giving counsel about such important matters as what to do with people who unironically say "lover" and how to change a sibling who takes too long to leave party is a delight. May we all have friends and siblings as helpfully unhelpful as the McElroys.  
6. Comedy Bang! Bang!
Though the television adaptation of CBB is wrapping up, that has not slowed down Scott Aukerman's long-running podcast. Aukerman runs an interview show where he chats with celebrity guests, but by the first commercial break a character comes and derails the conversation. This year's highlights included more visits from Jason "Heynong Man" Mantzoukas, new original characters from Paul F. Tompkins, and a steady flow of new-to-the-show comics, ready to show off their improvisation chops.
5. My Favorite Murder
If 2015 was the year of Serial, then 2016 was the year of the true-crime breakdown show — and few are as popular, or as delightful, as this program. Hosted by comedian and writer Karen Kilgariff (Mr. Show) and Georgia Hardstark (Food Channel's Drinks With Alie and Georgia), the women take turns diving into the horrors of particularly ghastly or unusual murders. For people who are afraid to admit they watched those JonBenét Ramsey documentaries but still wanted to hash out the details with someone, this series is the perfect guilty pleasure. While you probably won't learn any lurid, bloody details that aren't already on a Wikipedia page (Sarah Koenig, these ladies are not), their fun asides and silly puns, yet respect for the victims of the crimes, make them a worthy obsession for their faithful Murderinos.
4. How Did This Get Made
The comedic dream team of Paul Scheer, June Diane Raphael, and Jason Mantzoukas (plus a special guest on most episodes) save you the trouble of watching box-office flops, cult favorites, made-for-TV movies, and 90 percent of Nicolas Cage's oeuvre by dissecting every bonkers scene. Familiarity with the movies they discuss is by no means required for enjoyment — HDTGM will have you plenty caught up on the film's plot, or lack thereof, by the episode's end — but true fans should watch the flick beforehand, if only to fully appreciate the full scope of June's various theories regarding trained monkeys and man buns (that's butts, not hair).
3. Bitch Sesh
Though billed as a Real Housewives breakdown show, hosts Casey Wilson and Danielle Schneider are make-you-laugh-until-you-wheeze funny no matter where their conversation takes them. While each episode does dedicate a fair amount of time to the various Housewives antics, non-watchers of the Bravo shows can still appreciate the Bitch Sesh's anecdotes about Schneider's aggressive toddler or Wilson's poop-in-the-bed incident. Where the hosts truly shine is their ability to fully celebrate the petty, absurd, and even obscene flaws in the Real Housewives and the real women who love them (including each other). 
2. Hollywood Handbook
In real life, Sean Clements and Hayes Davenport, the co-hosts of the Earwolf Network's most consistently funny show, are writers still working their way up in the entertainment industry. On their show, however, they play arrogant characters who have already figured out Hollywood and are ready to cheekily advise and condescend whenever possible. Their best episodes showcase both sides of the coin, like when they enter into negotiations with Comedy Bang! Bang! bigwig Scott Aukerman; when they try to get love — and fighting — advice from Maria Thayer; or when they just admit all they really want is to cuddle up in some sound blankets and turn the studio into a slumber party. You come away wanting them to succeed in real life, but hoping the podcast never loses that endearing sense of impending failure.
1. 2 Dope Queens
Giving us the podcast we didn't even know we were missing, 2 Dope Queens burst onto the scene as the number one most downloaded comedy show during its debut week back in April. The premise is simple: Phoebe Robinson and Jessica Williams are friends who riff about their lives and host as several stand-ups deliver ten-minute sets. But this isn't just a showcase for up-and-coming comics. Robinson and Williams's hilarious conversations about their experiences as young black women living in New York City — which spans hair journeys, crushes on celebrities ("Yes" to the Rock, "Eh" to Lenny Kravitz), and opinions of Beyoncé and U2 concerts — is a refreshing departure from the white-male-dominated landscape of comedy. Their choice to mainly feature comics that happen to be women and people of color only solidifies their place as where to go to hear new, different, and, most important, uproariously funny voices.