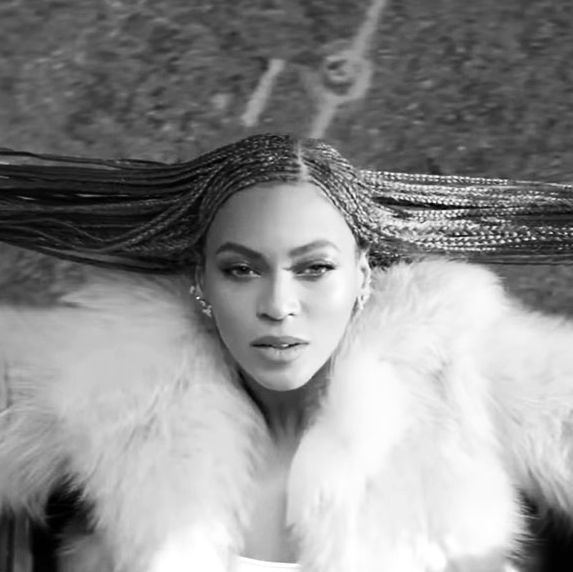 What makes a music video a music video anymore? More than any year before it, 2016 pushed the medium quite literally to new lengths. It used to be that an artist could upload a standard three-ish minute video for their single to YouTube and watch the views roll in. Not anymore: This year saw musicians such as Drake, the Weeknd, Beyoncé, Frank Ocean, Tinashe, and Vince Staples release whole albums, clusters of songs, and even woodshop projects as short films. Beyoncé debuted her new album Lemonade on HBO as practically a feature-length movie, later earning several Emmy nominations for it. (She's only recently begun to figure out how to split it up.) Here's a look back at the best music videos from 2016.
1. Beyoncé, "Formation" (and all of Lemonade, really)
If you want a master class in pop music as disruptor, look to Beyoncé's "Formation." In 2016, no video was more studied, praised, vilified, and imitated. That's the mark of true genius, but what specifically makes the "Formation" video so provocative and culture-shifting? Is it the moment she raises her fist in a black power salute? What about the one where she chucks up two middle fingers? How about when she sends a directive to police to stop shooting us? Or is it simply that you remember exactly where you were when this video dropped?
Really, it's that she made it at all. Beyoncé is, and has been for some time, one of the most political pop stars of her generation — we've just rarely seen it. Her activism has largely come from silent donations, tactful musical choices, and private mentorship. "Formation" says it loud: Beyoncé's black and she's proud. As such, she's also inevitably divisive. There's no turning back after making such an overt artistic statement; Beyoncé knows it. It's why we'll be having conversations about this video until she drops another one that blows it out of the water.
2. David Bowie, "Lazarus"
Had we never known David Bowie would pass on from this Earth and back up to the stars just mere days after releasing this, his last video, it would've still held a spot at the top of this list. Now knowing that we were forewarned by the song's opening line to look upward to the heavens to find him, its video holds a special place in the cultural heart, too. Bowie was a visionary, an artist whose most effective medium was imagery. It's fitting, then, that our final image of Bowie would be his fight to feel free even until the bitter end. Bowie's health may have been failing when he filmed "Lazarus" — a fact he repeatedly alludes to in the video with scenes from a hospital bed — but his spirit never wavered. A body, even one so frail and corroded by cancer as his, can only cage a soul's desire to take its final bow for so long. There will be many more tributes to Bowie's legacy as we near the first anniversary of his death; none will ever top the one he gave himself.
3. Solange, "Cranes in the Sky"
There's no real plot to "Cranes in the Sky" because there's no real beginning or end to the kind of trauma outlined on A Seat at the Table. There is, however, a middle: a series of fragmented portraits of pain that replay at warp speed over and over again in the mind when triggered. "Cranes in the Sky" seeks to undo that pain, slow it down, erase those still frames, and replace them with moments of peace. It completely reimagines black bodies swinging in the Southern breeze — bear witness instead to a celebration of black women in repose, black elegance, and what fruitful lives they can lead when left alone to grow unweary. You will find no better art direction and styling in this year's music videos than from the Knowles sisters.
4. PUP, "Sleep in the Heat"
Grief knows no bounds. You can mourn the same for a dying pet as you would a relative in their last days — and in some ways it's harder to lose a beloved pet, since you can never be certain they understood how much you cherished them. How do you say "I did all I could," "I love you," and "good-bye" to an animal? PUP's outstanding latest starring Stranger Things' Finn Wolfhard doesn't have that answer, but it does a damn fine job memorializing the unbreakable bond between a kid and his furry best friend.
5. Leon Bridges, "River"
When Leon Bridges released this video for Baltimore at the beginning of Black History Month, there's no way he could've predicted the summer of unrest that would follow later in the year. But every black community knows suffering is never far off. Rain is essential to the theme of healing that "River" fights so hard to capture, but, in hindsight, it's also a telling reminder that that same rain never really lets up. All we can do is learn to breathe through the constant near-drowning and tread lightly whenever there's brief respite from the flooding. "River" shows us that water can put out the fire for only so long; the events that followed proved that too much can just as easily wash us away into a river of tears.
6. Rihanna ft. Drake, "Work"
2016 was the year of non-Caribbean pop stars banking on West Indian culture and calling it by another name: "tropical house." Drake is perhaps among the worst offenders of this practice (just imagine how many times he says "ting" in a day), which makes "Work" Rihanna's greatest troll. Here we have the queen of the islands — whom Drake gushed in his VMAs speech is "still the same girl from Barbados, surrounded by the same friends, speaking with the same accent, and never missing a Crop Over" — inviting Drake to be a mere prop in her world. Sure, it was filmed in a jerk joint in his home city, but there's no mistaking that this surprise two-parter is authentically the mastermind of Bad Gal RiRi.
7. Kanye West, "Fade"
Who knew that Kanye's real workout plan would one day be taught by Teyena Taylor's rock-hard abs in the mini Flashdance reboot someone should've pitched to Hollywood years ago?
8. ANOHNI, "Drone Bomb Me"
Sometimes, the best music videos are the toughest to watch and even harder to make. ANOHNI originally released her sharp critique of America's reliance on drone warfare on Apple Music, a decision she's since come to admit was hypocritical. "My being bought as a politically outspoken artist is a more potent advertising tool for Apple than 100 more explicit ads," she's said. Having to get a massive corporation to bankroll an activist's protest art, however, feels rather on the nose — war, and who finances it, is already a tricky and often oversimplified business. Ultimately, none of this muddles her message: having the means to hire Naomi Campbell for an emotional, self-destructive performance that has her representing both the bomb and victim is deeply evocative. It wouldn't have worked any other way.
9. DJ Shadow ft. Run the Jewels, "Nobody Speak"
A little over a month ago, it seemed almost implausible that a UN meeting, or any political gathering of world leaders, could ever implode into something this savage. Maybe, you know, in British Parliament, but with this many diplomats? You would really hope not. But given the events since November 9, political decorum could end up being a thing of the past. Come 2017, this video may seem tame — who knows? That, sadly, was probably exactly the apocalyptic vision DJ Shadow and Run the Jewels had when they came up with this brilliant concept.
10. Kendrick Lamar, "God Is Gangsta"
Technically, Kendrick snuck this one in on the last day of 2015 as a vital, miserable PSA on alcoholism and self-loathing — everything you never want to see on New Year's Eve. Still, it's courageous to be this blunt about your demons and open about getting help. This video is even better than courageous because it's up front about the fact that, often, Kendrick fails at shaking off his vices. Lucy, whomever she or it may be to him, gets the best of Kendrick, like she does all of us. There's no shame in that, and if this video can help even one person be more honest with themselves about their personal struggles with mental illness, then we're better for having it.
Honorable Mentions: Chance the Rapper, "Angels"; Aziz Ansari and Eric Wareheim, "Famous"; Rae Sremmurd, "Black Beatles"; Jamie xx, "Gosh"; Vince Staples, "Prima Donna"; Mitski, "Your Best American Girl"; Sia, "The Greatest"; Frank Ocean, "Nikes"; and Mykki Blanco, "High School Never Ends"