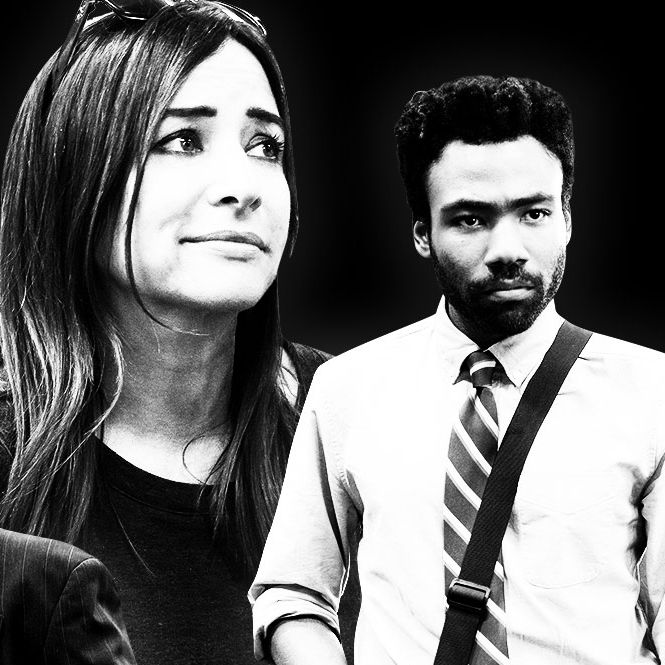 Photo-Illustration: Vulture
If there's one thing all Americans might agree on, it's this: 2016 was an exceptional year for television. More specifically, it was an incredibly rich year for new scripted shows. Below, Vulture counts down the ten very best of those rookie series.
A few notes before you dive in: There were so many strong debut seasons that it was tough to cap a list at just ten, so I added a few honorable mentions that just missed the cut. Also, there's some inevitable overlap between this list and my picks for the year's best TV shows. Finally, I locked in this list for Uproxx's TV critics' poll, so I'm leaving it as it was when I shared it for that purpose.
Let's get to it, shall we?
1. American Crime Story: The People v. O.J. Simpson: Yes, this was technically a limited series, but there will be a second season of American Crime Story that focuses on Hurricane Katrina, so, in that respect, The People v. O.J. established what is possible for a show of this particular, precarious sort. It retold a very real story, using actors in a way that raised the viewing experience far above the typical reenactment. Although there was a salacious element to reliving the Simpson trial, the quality of the performances and the high level of work throughout — from the writing to the spot-on sense of period detail — gave The People v. O.J. a surprising intelligence and emotional heft that didn't seem possible until you started watching. For Ryan Murphy & Co., the bar has been set even higher for next season.
2. Atlanta: This comedy knew what it was from minute one. That's true of a number of shows on this list, but it's most striking in regard to Atlanta. That's partly because Donald Glover's textured exploration of racial and economic frustration displayed such immediate confidence, but also because what "it" was so often changed. One week, the show would focus on Earn and his attempt to help his cousin Alfred navigate his rising hip-hop status. Then the next it would side-trip into an episode solely focused on Van and her relationship with narcissistic bestie Jayde, or temporarily turn into a talk show interrupted by fake commercials. Glover has said that Hiro Murai, who directed seven of the season's ten episodes, didn't necessarily know what was "normal" for a TV show, so they just did what felt right. You could say they were reinventing the wheel. Really, they were coming up with a whole new way to manufacture the car.
3. Better Things: The family sitcom has been imagined from new vantage points for decades, which is why it's such an achievement that Better Things still felt so entirely fresh. By giving Pamela Adlon the opportunity to dig into the genre from her specific perspective, we got a series that felt deeply personal, relatable to parents and frustrated teens alike, and unafraid to let moments of warmth or utter cruelty develop with natural spontaneity. Watching Sam, her three girls, and her dotty mother deal with their daily dramas was akin to viewing a livestream of a single mom's existence, except with better editing and a deeper commitment to thematically intertwined storytelling.
4. The Good Place: It's hard enough to make a network sitcom that's genuinely funny right out of the gate. With The Good Place, creator Mike Schur managed to do so while simultaneously building an inventive and specific version of the afterlife. In the process, this NBC half-hour slyly morphed from mere mistaken-identity farce into a mystery that asks significant questions about what it really means to be the change you wish to see in the world.
5. Stranger Things: Netflix's '80s sci-fi throwback dragged nostalgia into a new realm. Yes, it was a blatant callback to early Spielberg, Stephen King, and John Carpenter, among many others. But it was also a compelling series in its own right, which built a sense of eerie, must-binge Demogorgon suspense while making it very clear that it could do so because it had learned how from the greats.
6. Search Party: This TBS series also hooked in audiences by creating a sense of mystery around a character who suddenly disappears, but where Stranger Things steeped itself in '80s sci-fi monster scares and good ol' government conspiracy theory, Search Party marinated in the now, critiquing contemporary tech-obsessed society and all the ways it enables young adults to disappear into their social-media feeds — especially the kind of young adults who live in Brooklyn. It was Gone Girl mixed with Girls. Which I guess makes it Gone … Girls?
7. Fleabag: In a year of increased television experimentation and more (though still not enough) opportunities for women, Phoebe Waller-Bridge's Fleabag was a particularly explosive, gutsy, unapologetic look at a floundering feminist's attempt to disassociate from grief and guilt. Like Search Party, it also was a gut-punching portrait of narcissism. Is it narcissistic to appreciate so many shows about narcissistic people? Discuss amongst yourselves, preferably while staring in a mirror!
8. High Maintenance: Like Issa Rae's Insecure, this new HBO series proved it was possible to skillfully transition from web series to premium cable show. The main reason I included it here over Insecure — which was an extremely tough call — is because it surprised me more often. In keeping with the other comedy-drama hybrids on this list, High Maintenance defied categorization and typical TV conventions. It was a weekly Richard Linklater or Robert Altman movie, where one vignette flowed purposefully into the next and moving moments could emerge from something as wondrously simple as witnessing the secret life of a pet.
9. Speechless: This ABC sitcom is an excellent case of high-wire humor. By focusing on a disabled teen and the ways in which everyone around him tries to be sensitive to his needs, but not too sensitive, it sets itself up for a fall from great heights every week. But so far, it's mostly kept its feet moving forward on that thin piece of twine, which feels especially refreshing when networks like CBS skip the high-wire act entirely and go straight for the clown car.
10. The Crown: My time as Vulture's Downton Abbey recapper confirmed that I can be a sucker for a good British period piece. The Crown was a very, very good one that made sumptuous use of its reportedly significant budget, offered excellent performances (Mr. Lithgow, please report to the podium so you may collect your Emmy), and also was sneakily educational. I probably should have known more about the smog that overtook London in 1952, but I didn't. That episode, among others, both informed and riveted me.
Honorable Mentions:
Insecure: As previously noted, I almost had it in my top-ten new shows, but then removed it. Then I put it back again, then I removed it again … you get the idea. The point is, it's a terrific new series that introduced Issa Rae and her vital voice to a wider audience. That's always worth celebrating.
The OA: Since the Netflix series just started streaming on Friday, I didn't factor it into my year-end lists. But, as noted in my review, I was pretty wowed by it.
Pitch: The problem with TV right now is that it's hard to keep up, even if it's your job. I've fallen a few episodes behind on Pitch, so I didn't feel like I could include it on this list. But what I have seen, I've liked. A scripted show on network television about a female athlete? Yes, and more of them, please.