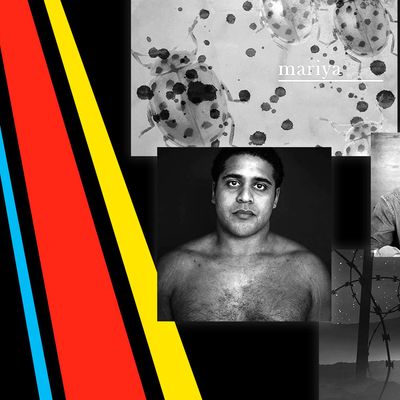 Part of the difficulty of writing about podcasts is the staggering variety inherent in the medium, such that it often feels like comparing novels to poems to talk shows to prestige dramas to travel brochures. That challenge is compounded by the relative newness of the form and just how little language has been established to talk about podcasts (or audio shows), as well as by the ways that some shows vary episode by episode. We've already taken a look at ten overall podcast series that were consistently excellent in 2016. This list drills down on ten specific episodes, segments, or audio experiences that stood out by providing good times well-delivered and boundaries well-pushed.
10. Memory Palace, "Gallery 742"
Nate DiMeo's Memory Palace is essentially a compendium of little audio poems, with each entry playing out as a dream from some point in history. History being history, some dreams are sweet, others are nightmares, but DiMeo renders all with no small amount of elegance. "Gallery 742" is the first piece from DiMeo's current artist residency at the Met, and this bite-size story paints a single moment in the early life of Arabella Worsham Huntington, then a young single mother in the mid-1800s who would go on to become the richest woman in America. (Quick note: This episode originally came out on December 17, 2015. It missed the cutoff date for the list I made last year, which is why it appears here instead.)
9. Embedded, "The Police"
Embedded operates on a simple premise: Take a story from the headlines, head to the site, report from the ground. Over the course of its debut season, the show has used this template to tackle a wide spread of stories, from revisiting the Waco shootout to something more domestic like life in the NBA D-League. But it's with "The Police," where the team embeds themselves among police officers after the killing of an unarmed black man in L.A.'s Skid Row, where the show truly feels vital, as the producers used their microphones to capture the fraught, compact world shared by various parties.
8. FiveThirtyEight, "Obama and his Pastor: Part One"
FiveThirtyEight's audio efforts in 2016 will likely be most remembered for the very popular Elections Podcast, but that would be a shame, because the team's best productions came in the form of three political documentaries that were sporadically released throughout the year. The most effective of the trio focuses on the Reverend Jeremiah Wright controversy during President Obama's historic run in 2008, a media frenzy that culminated in Obama's famous speech on race. The first half of the documentary, in particular, is formally brilliant, boldly adopting a non-narrated approach that breathlessly zigzags between a composite of interviewees to deliver a thrilling account that never loses the thread.
7. The Read, "BEYmergency: Formation"
When the video for Beyoncé's "Formation" dropped on the eve of the Super Bowl, what followed was an urgent need among listeners for outlets to help process the song and its video. The Read provided one of the best spaces to unpack every single detail. The podcast is built on a certain commitment to celebration, an engine that seeks to defy the weight of the world and have a good time. The first chunk of "BEYmergency: Formation" is the sheer distillation of that spirit, and proved to be a high watermark for the consistently entertaining show. I'll be using it as a way to relive a time of relative hope, before this complete garbage fire of a year fully reared its ugly head.
6. Serial, "DUSTWUN"
Serial's sophomore season wasn't ultimately able to execute on its investigation into the curious case of Sergeant Bowe Bergdahl in a way that captured the Zeitgeist as it did with its breakout first run — the complex web of military culture and psychological mystery at the heart of its subject proved too unruly. But, boy, the series sure kicked off with fireworks. Cinematically composed, perfectly paced, and tantalizingly framed, the second season's opening gambit was a masterclass in gripping the ear and seizing the mind's eye.
5. This American Life, "My Damn Mind"
A college student walks into a hospital seeking help for a possible bipolar episode, only to get shot in the chest by a security guard. "My Damn Mind" comes out of a collaboration between This American Life and the New York Times, and this segment, produced by Ira Glass and co., is one of the most vivid illustrations of how mental delusion is personally experienced, sticking close to its interviews with the student, Alan Pean, to bring listeners into his mind. Thoughtfully considered and deeply reported, "My Damn Mind" is among the best pieces ever crafted by the legendary team.
4. Longform, "Ben Taub"
Longform typically serves as a resource that looks into the career arcs and internal philosophies of working journalists, but this particular episode — with New Yorker contributing writer Ben Taub, who has been producing a steady stream of incredible stories on the Syrian conflict — doubles as a look into the way conflict-zone journalists grapple with their experiences. (In that sense, it pairs well with another Longform interview from this year featuring Kelly McEvers, the NPR host whose Embedded podcast appears on this list.) It's schmaltzy to call Taub a beautiful soul, but the label damn well applies to him, and one can't help but to marvel at his capacity to hold steady in his commitment to communicate scenes of great atrocity.
3. Falling Tree Productions, "As Many Leaves"
When journalist Sally Herships's husband left her one evening in 2013 without so much a warning or reason or even a trace, she was floored by grief. As she rebuilt her life and worked through her memories, she kept an audio diary, and three years later, she turned those diary entries into this 30-minute story. Produced with the U.K.-based Falling Tree Productions and originally broadcast on BBC Radio 4, "As Many Leaves" is a deeply personal story. The score, heavy on the strings, conveys the dread that accompanies loneliness. Memories slide in and out without fanfare. Herships converses, indirectly, with her past selves. It would be a cliché to call it honest and powerful, but that's what it is.
2. The Heart, "Mariya"
A difficult story, gorgeously told. "Mariya" is about a woman's experience with genital mutilation. Narrated in the first person and drawn out with extremely gentle production touches, the story takes the form of a bildungsroman told in retrospect, with the woman, writer Mariya Karimjee, guiding listeners from her childhood in Pakistan all the way to the present, considering the totality of her life. It is, simply put, sublime.
1. Reply All, "Hello?"
Reply All absolutely thrives when it leans deep into gonzo (see 2015's "Shine on You Crazy Goldman"), and "Hello?" is further confirmation of that fact. Here, hosts PJ Vogt and Alex Goldman stage a 48-hour nonstop call-in session, and the resulting 90-minute episode is a quirky threading of experiences that starts off with stupid fun but slowly crescendos into a very moving place. "Hello?" is about a lot of things: the wide variety of lives that are lived, the potential that's baked into something crazy, the youthful folly of a wild idea. But at its core, it's a meditation on the vulnerability, performance, and choice involved in human connection.