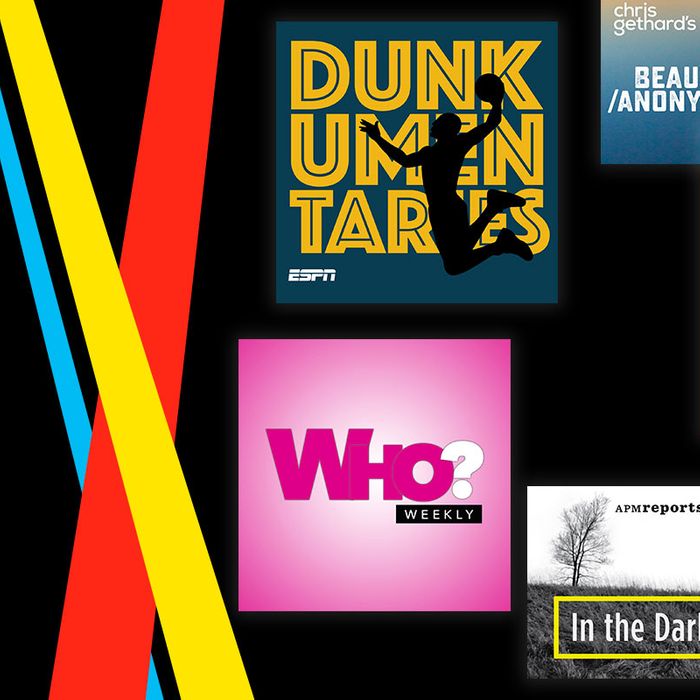 Podcasting saw several notable trends in 2016: more short-run miniseries, the rise of election podcasts, a steady influx of interesting people, and a bunch of experiments from some unexpected places. All in all, it was a good year, though not a particularly revolutionary one. Here are the best overall podcast series produced during it. (Note: Vulture will be publishing a list of the best comedy podcasts separately.)
10. Bad With Money
Comedian Gaby Dunn has built something quite special with this show, which essentially functions as an educational safe space for young folks freaking out about their financial lives. But to call Bad With Money a personal-finance podcast would be to reduce everything that makes the podcast truly unique. Dunn is no expert, and the show is a documentation of her enterprise to figure things out. Bad With Money, then, is best understood as series of dispatches from a person trying to make things work, and that layer gives the show a ton of leverage to transcend its genre. Plus, the podcast has a real musical beat to it, giving the entire production a pleasing grungy-ness.
9. Dunkumentaries
Dunkumentaries is a weird artifact. It's a one-off, five-part ESPN audio documentary miniseries featuring stand-alone stories about basketball. It also largely went unnoticed, dropping all at once back in April before dissolving into the ether. But I'll sit here and argue for its significance: It's a textbook showcase of the different kinds of storytelling that's possible within the form, and it's also just a straightforward, well-produced, and highly accessible good time.
8. Who? Weekly
What's a "Who"? A Who is a celebrity whose face you vaguely recognize, but for reasons you can't quite remember — the most generic commodity of a vast celebrity economy that's increasingly bleeding into the rest of our world. Hosted by the very fun Bobby Finger and Lindsey Weber (a former Vulture staffer), Who? Weekly serves as a guide to this expanding universe. Since kicking off all the way back in January, the podcast has quickly become a cult hit — and its appeal as a balm, particular in these troubled times, is undeniable.
7. Alice Isn't Dead
Alice Isn't Dead is everything you'd expect from the Night Vale team: atmospheric, creepy, experimental, and coated in a fascination with Americana. This well-crafted tale follows a truck driver as she drives across the country in search of her wife, eventually encountering strange and mysterious things. A step above much of the other audio fiction that debuted this year, Alice is still rooted in Night Vale's rich theatrical sensibilities, leaving us with something that doesn't quite feel like anything else.
6. Serial Season 2
Yeah, yeah, I know. The second season didn't really live up to most people's expectations. But to dismiss Koenig and Co.'s investigation into the controversial case of Bowe Bergdahl is to wrongfully gloss over the scope of their ambition: to understand and convey a greatly politicized culture, to unpack a highly visible and deeply contentious subject, to spin a comprehensible story out of an infinitely complex system. Sure, the team was not completely successful in this endeavor, but I can't think of a single other podcast that's swinging at their level, and I remain utterly in awe of the sheer weight of their attempt.
5. Embedded
Night patrol in L.A.'s Skid Row, a Nordic country with highest suicide rate in the world, a life in the NBA's minor league: Embedded's choice of subjects is eclectic, but the show's dedication to examining lives previously unobserved is consistently masterful. Host Kelly McEvers, a former foreign correspondent with ample experience in conflict zones, anchors a formidable team of reporters, and Embedded is the strongest addition to a storied line of documentary-magazine podcasts.
4. Beautiful Stories From Anonymous People
Beautiful/Anonymous is built on a simple, high-wire premise: Comedian Chris Gethard gets on the phone with an anonymous caller for a full hour, and he's not allowed to hang up. Sometimes, this results in a meandering mess. But other times, we get to listen in on a searching, soulful conversation that draws attention to the wonders of an everyday life. Gethard is a curious species of comedian, and the podcast spotlights his most empathetic qualities. The show is also a reminder that connecting with another human being is an act that's explicitly taken, one that's maddening but often worthwhile.
3. NPR Politics Podcast
For the nexus of media and politics, 2016 was a year of many things, and I imagine it will become an endless subject of study in the years to come. (If we're still around.) But this was also a year that saw the election-coverage podcast truly come into its own — even as some, like Keepin' It 1600, will be questioning their role and responsibility in the ultimate outcome. But out of the many, there was the NPR Politics Podcast, whose commitment to a certain genteel objectivity (and abstinence from punditry) left the legacy of its service intact in the wake of November.
2. Reply All
There's something special going on with this team. The Gimlet podcast, which tells gorgeous stories, about people, loosely rooted in technology, had a stellar year, one that saw the show experiment across genres — including a fascinating excursion into true crime, and several strong pieces related to the elections — and test the boundaries of their ambition, like their recent attempt to string together an episode off a nonstop 72-hour call-in session. Reply All is a show that's clearly getting better with age, and I'm really excited to see where 2017 takes them.
1. In the Dark
In the Dark is a limited-run series built on unbelievably strong reporting. In this podcast, journalist Madeleine Baran — who spoke with Vulture shortly after the podcast launched — investigates the 1989 disappearance of Jacob Wetterling in Minnesota, a case with an enduring legacy. We are, to be sure, awash with true-crime podcasts — I would even say there are simply too many. However, In the Dark stands out not only for being the deepest and most intelligently reported, but for never losing sight of the life lost at the center of the storm.
Vulture's podcasts were excluded from consideration, but we think they're pretty good too: Check out The Vulture TV Podcast with TV editor Gazelle Emami, TV critic Matt Zoller Seitz, TV columnist Jen Chaney, and a rotating cast of Vulture TV writers and special guests, and The Awards Show Show, featuring analysis of Hollywood awards season from Vulture's Kyle Buchanan and The Frame's John Horn.