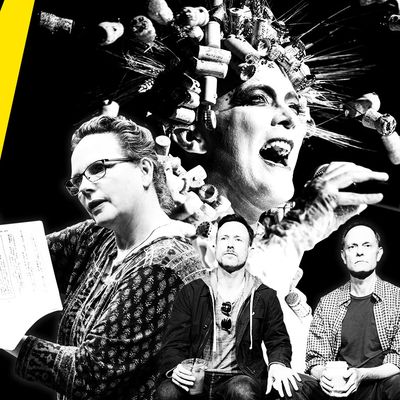 Photo-Illustration: Vulture
As if it needed more acclaim, Hamilton shattered the weekly Broadway box-office record with more than $3 million in ticket sales over Thanksgiving. Fair-fight contenders for that sort of cultural heavyweight crown are few. In such an environment the action naturally moves to the margins, and indeed the most exciting new New York theater to be found in Hamilton's wake this year was almost entirely Off Broadway, where necessary work for an unstable time is flourishing. One reason is that producers are beginning to colonize a viable middle ground for smart plays that merit longer runs and bigger audiences than their original nonprofit homes can offer; Men in Boats, Wolves, and Small Mouth Sounds (see below) all did nicely in modest commercial transfers. (Perhaps not coincidentally, all three were by women.) In stocking my list of the year's best theatrical productions I too was drawn to a middle ground: toward intimate plays with correspondingly big ideas. All were produced Off or Off–Off Broadway (though one has since made the leap to the Main Stem) and all, importantly, are new, not revivals. In times like this we need, at least as much as the morale-boosting stomp of the bigfoots, the fresh smallness of regrowth.
1. "The Gabriels: Election Year in the Life of One Family" (The Public Theater)
The worst things worrying the Apple family — subjects of Richard Nelson's previous cycle of plays — were the gentrification of their Rhinebeck neighborhood and the rise of Kirsten Gillibrand. A few years later and a few blocks away, the Gabriels face joblessness, homelessness, and Trump. In three dramas of downward mobility among liberals who never saw it coming, Nelson created a crucial counterpoint to the 2016 election. Yet Hungry, What Did You Expect?, and Women of a Certain Age made great theater without debating policy or psychoanalyzing politicians. His aggressively naturalistic portraits demonstrated, at a very fine grain, how control of our lives seems to have been outsourced to mysterious powers.
2. Small Mouth Sounds (Ars Nova/Off Broadway transfer)
Bess Wohl's play about six seekers on a silent retreat is an oddball marvel that spoke profoundly about the meaning of serenity in a fundamentally unhappy world.
3. A 24-Decade History of Popular Music (St. Ann's Warehouse)
I only saw one-eighth of Taylor Mac's 24-hour extravaganza, each hour of which explored ten years of American history with ten songs and a fabulous new costume. But Mac is such a maximalist that any slice confirms the radical greatness of the whole. Mac treats history as necessary music, alive only when you sing it.
4. Dear Evan Hansen (Second Stage/Broadway)
Dear Evan Hansen was the feel-anxious new musical of the year — and the only one with enough craft to support its freight of emotion. Central to the achievement was a star-making turn by Ben Platt as the title 17-year-old whose attempt at a good deed goes far awry.
5. Homos, or Everyone in America (Labyrinth Theater Company)
Saluting Larry Kramer's AIDS plays and Mart Crowley's Boys in the Band, this new comedy-drama by Jordan Seavey proved as essential to our moment as those works were to theirs. Naturally, it's a gay moment: Two men meet cute, fall hard, and break up. Seavey's splicing of time and dialogue, gorgeously rendered by Michael Urie and Robin De Jesús, turned those archetypes into an indictment of selfishness that's blisteringly new.
6. The Effect (Barrow Street Theatre)
In Lucy Prebble's thriller, a new antidepressant shows unexpected results when two test subjects fall madly in love. For the manufacturer, this suggests a blockbuster "Viagra for the heart." For the young couple — who may be on placebos — it suggests something more fundamentally human. Is love what we tell ourselves we are in, or does it tell us?
7. The Harvest (LCT3)
A group of young Evangelicals from Idaho prepares for a missionary trip to the Middle East: Sounds like the setup for a satire. But Samuel D. Hunter's play is drenched in compassion for people trying to believe in something bigger than themselves. Along the way they learn that religion is like an alcoholic parent: the only available solace for the cruelty it inflicts.
8. A Life (Playwrights Horizons)
Too often in cutting-edge plays, the first thing cut is human feeling. But in Adam Bock's shocker of a comedy-drama, the big structural surprises cleared space for a huge emotional payoff. That's all I can reveal, except that under Anne Kauffman's steely direction, the cast, including David Hyde Pierce and the suddenly everywhere Brad Heberlee, filled Bock's big ideas and then some.
9. Red Speedo (New York Theatre Workshop)
When a highly promising but dim-witted swimmer gets involved in a doping scandal, who's the victim? Lucas Hnath's play posits the disturbing answer that morality can be too costly for people with very few choices in life. In Trump World, all we're good for is competition.
10. Notes From the Field (Second Stage Theatre)
In a year marked by political drama, Anna Deavere Smith returned with another in her series of journalistic-theatrical mash-ups. This one, about the intractable school-to-prison pipeline, took both halves of her genre equation to terrifying extremes, as if history itself, via her uncanny impersonations, were onstage.