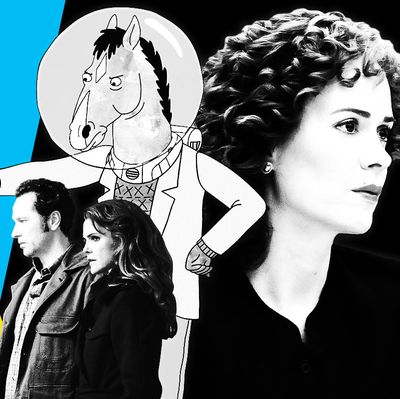 Photo-Illustration: Vulture
Over the next few weeks, Vulture will be publishing our critics' year-end lists. Today, we're looking at the best TV shows and episodes.
1. "Separation," The Girlfriend Experience (Starz)
The most narratively complex single episode of an ongoing series since Louie went to China. It works as a psychological X-ray of the show's heroine, a play within a play, and a meditation on voyeurism, exhibitionism, sex, and acting.
2. "Fish Out of Water," BoJack Horseman (Netflix)
Most of this episode was set in an underwater film festival, which allowed the series to stage the animated equivalent of a late-period Charlie Chaplin movie.
3. "The Club," Atlanta (FX)
Rapper-protagonist Paper Boi's club is bought out by a more established rapper who owns an invisible car, and damned if he doesn't drive that thing recklessly.
4. "The Magic of David Copperfield V: The Statue of Liberty Disappears," The Americans (FX)
One of the best single episodes this spy drama has produced — a series of farewells, starting with a major character's departure and climaxing with the end of a tumultuous period in the main family's life.
5. "Marcia, Marcia, Marcia," American Crime Story: The People vs. OJ Simpson (FX)
A tour de force performance by Sarah Paulson anchors this beautifully shaped chapter, which tells a key part of the O.J. Simpson trial through prosecutor Clark's beleaguered point of view.
6. "Holly, Jolly," Stranger Things (Netflix)
The rawest, most dread-filled hour of the year's most engrossing horror pastiche, this episode channeled Poltergeist, Close Encounters, and a good portion of Stephen King's fiction about the paranormal.
7. "Darkness Is Your Candle," The Get Down (Netflix)
The simplest, most on-message episode of this enormous, unwieldy 1970s hip-hop nostalgia fantasy. The 1977 New York blackout turned it into a sort of "bottle episode," circumscribed by history rather than any particular space.
8. "Hope," Black-ish (ABC)
Invoking the spirit of 1970s sitcom auteur Norman Lear, this was a grimly funny and briefly anguished half hour. The centerpiece was a monologue about the promise and anxiety of the Obama years.
9.  "Episode 4," Horace & Pete (LouisCK.net)
Starts with an astonishing seven-minute monologue delivered by guest star Laurie Metcalf. That it manages to recover from and even build upon this socko opening is a testament to the talents of all involved.
10. "Mulder and Scully Meet the Were-Monster," The X-Files (Fox)
Darin Morgan, the resident playful postmodernist on The X-Files' writing staff, was up to his old tricks here, sustaining multiple storytelling voices and nestling narrative parentheticals within each other.