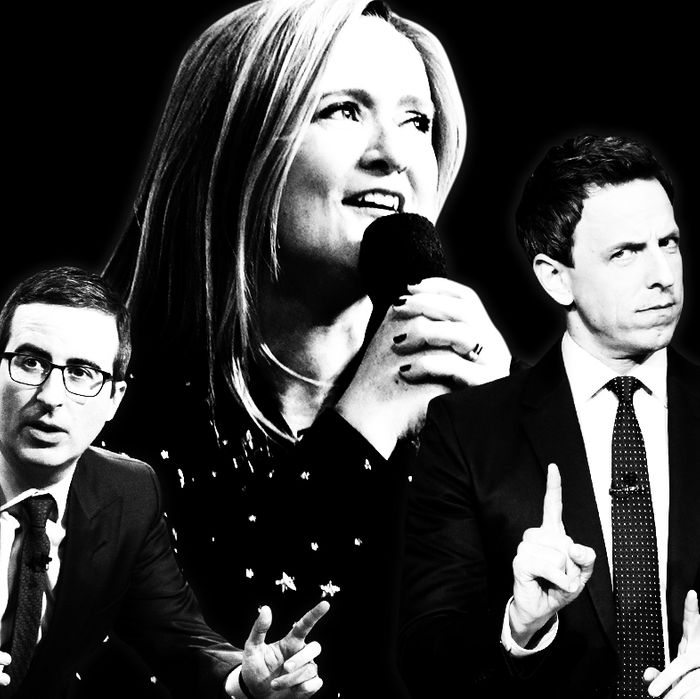 2016 was the year when the most engrossing, all-encompassing reality television show was the presidential election, and late-night hosts on all networks had a big decision to face: How should they cover politics? Some, like Jimmy Fallon, Jimmy Kimmel, Conan O'Brien, and James Corden, stuck with their usual routine and (mostly) stayed apolitical. For political comedians, it was an opportunity to become the heir to Jon Stewart after his departure from The Daily Show. As the year proved, that host wouldn't necessarily be Stewart's successor, Trevor Noah. Instead, Samantha Bee and Seth Meyers became the lodestars of liberal political humor, in part because they both had a strong sense of what they wanted to say.
To that end, this list is a ranking of the most important clips on late night, a consideration of both resonance and form. We decided to go with the most significant moments we'll remember in late night during an election campaign that was, quite simply, batshit. That includes segments like Samantha Bee floating out a surprisingly believable conspiracy theory that Donald Trump can't read and Jimmy Fallon running his fingers through Trump's hair — both of which were distinctly on brand and top this list.
1. Samantha Bee's Trump Conspiracy Theory
Sometimes it's not just what you say, but how you say it — and for many on the left, comfort and gentility just weren't going to cut it. In that way, Samantha Bee has become the voice of moral outrage: If you're in a zoo, she's the person who will look around and remind you that it stinks. For this segment for Full Frontal, Bee concocted her own conspiracy theory about Donald Trump: that he can't read. It was brilliant because she decided to play his own game, where anything can seem true if you say it enough times. Samantha Bee had the best clip in a breakout year that works both as commentary on Trump's tactics, while also seeming kind of plausible.
2. Jimmy Fallon Messing With Donald Trump's Hair
It was the hair mussing heard around the world. Interviews have never been Fallon's strong suit — he tends to be better off playing games with his celebrity guests. He tried to apply the same sort of levity to his Donald Trump interview in mid-September, a move that struck many as complicit at worst and tone-deaf at best. In a year of viral moments, this one sticks out for its cluelessness, but perhaps also points to the uncomfortable reason why Fallon is beating all of his rivals.
3. Seth Meyers's Post-Election Recap
The election had a lot of late-night hosts scrambling to put together cogent and thoughtful responses, the TV equivalent of a hot take. Seth Meyers is one of the best at this. In this response to the election results, Meyers made it personal, getting emotional talking about what Hillary Clinton's election would have meant for his mother. He also acknowledged how he didn't take Donald Trump seriously until it was too late, as well as the fact that a number of people, namely women, people of color, and immigrants, would be at greater risk than he.
4. Trevor Noah's Interview With Tomi Lahren
How you felt about this interview said a lot about what you think discourse should look like. Noah invited Lahren, a right-wing personality from the Blaze, onto The Daily Show for a conversation about politics and race. For some, it was a genuine attempt at a thoughtful dialogue between two people with opposing views. For others, it was giving a racist rhetorician a platform to air her views. Depending on your perspective, Noah either "destroyed" her, was "racist" against her, or offered a mostly anemic response. Either way, what it did signal was a way forward for Noah and The Daily Show, which has still been struggling to find its voice.
5. Laura Benanti's Impersonation of Melania Trump
This quick hit from The Late Show after Melania Trump's RNC speech had shades of Tina Fey's skewering of Sarah Palin during the 2008 campaign. Her face contoured for the cheap seats in the back, Laura Benanti's Melania addressed the accusation that her national address had taken a passage from Michelle Obama's eight years prior. The speech itself was just a string of famous lines and catchphrases from Braveheart to Dr. Seuss to Fresh Prince of Bel-Air. It was savage.
We're constantly swamped with information, and it's helpful to have someone like John Oliver breaking down an issue of international importance like a funny Wikipedia entry. In this case, he played the native Brit giving us Americans the idiot's guide to Brexit. (Both Seth Meyers and Samantha Bee have taken their cues from Oliver in terms of longer-form ripostes on political topics.) Oliver will often take a muckraking look at more abstruse topics like credit reports and auto lending. With the Brexit vote, he introduced the main players (such as one Nigel Farage), indulged in irrational hating on the European Union, and most importantly, explained why it would be insane for the U.K. to leave the E.U.
7. Seth Meyers's A Closer Look on the Birther Controversy
It took a minute for Seth Meyers to find his groove as a late-night host, but with his A Closer Look segments, Meyers's political commentary provided some of the sharpest, swiftest takes in late night. That became clear with one of his most popular segments of the year, which looked at Donald Trump denying that he had started the birther controversy. He presented a long list of evidence that, in the aggregate, pointed to an eminently fair assessment that Donald Trump was lying. "We try very hard to be fair. Some people believe fair is you have to make an equal amount of jokes about both sides," Meyers explained in an interview with Vulture. "That's not our take on fair. Our take on fair is to say things that are true and that we can back up with facts."
8. Samantha Bee's Post-Election Statement
In contrast to Meyers, Samantha Bee had a more pointed post-election analysis, calling out white people — and more specifically, white women — for voting for Donald Trump. She raged with the clarity and fury of an American Studies major. If there is anyone who is in tune with the righteous indignation of leftists on the internet, it's Samantha Bee.
9. Larry Wilmore's Farewell

Oh, Larry Wilmore, we barely knew thee. The host of The Nightly Show didn't really find his footing, but still he provided a gently acerbic voice in late night. "Our show going off the air has to only mean one thing: Racism is solved," Wilmore wryly noted when he announced the show had been canceled. In this farewell on The Nightly Show, Wilmore answered the question people had about why his map was upside down: "At The Nightly Show, our chief mission was to … see the world in a way that may not make everybody comfortable and to present it with a cast of people who don't always get to have a voice on that."
10. James Corden's Carpool Karaoke With Adele
This was the year that James Corden really leaned into his theater-kid-turned-late-show-host brand. (In fact, he's so good at it, there have been rumors that he might take over Stephen Colbert's time slot.) It meant a lot of musically themed sketches, including an ambitious number with his soulmate, Anna Kendrick, and rap battles with Anne Hathaway and Kevin Hart. But perhaps most importantly, the segment he started last year with Mariah Carey — Carpool Karaoke — has become an official stop on every pop star's Album Promotion Tour, with Lady Gaga, Britney Spears, Bruno Mars, Michelle Obama (okay, she's not a recording artist, but still) all taking a spin with Corden. Above them all stands Adele.