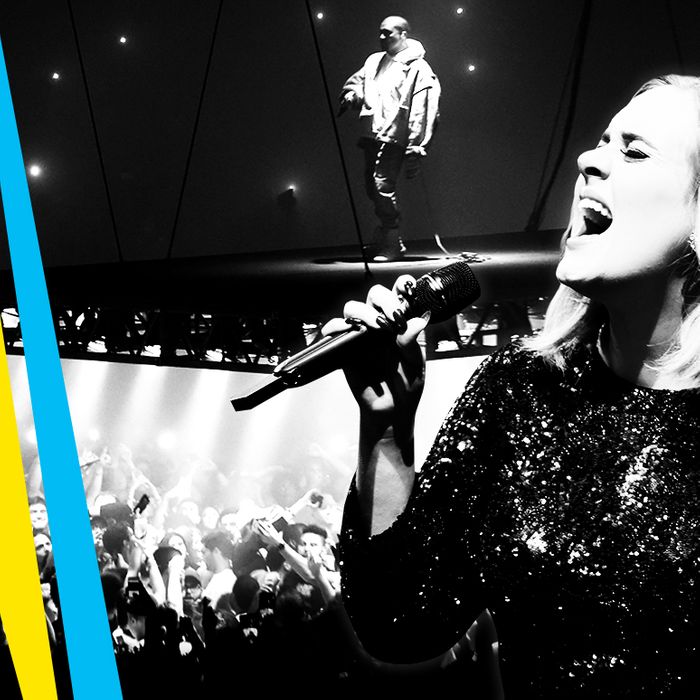 You had to be there.
Photo-Illustration: Vulture
While scoring concert tickets may be more of a hassle than ever — despite the law's best efforts — live music has never been easier to find. 2016 saw a boom in the festival scene, with New York City alone adding three new weekend-long events to the already crowded turf wars. (Pour one out for FarmBorough.) Both locally and beyond, concerts this year seemingly got trippier (for Childish Gambino, quite literally) and more personal for fans, while also increasingly unsafe, and, as the world just saw in Oakland, more susceptible to mass tragedy than many in the business would care to admit. Dozens of artists, from Bruce Springsteen to Beyoncé, used their onstage platforms as springboards for social justice, be it rallying support to elect Hillary Clinton leading up to the election, or protesting (silently or otherwise) the south's anti-LGBTQ laws in the spring.
Below, we relive the best concerts of 2016 that Vulture was in the crowd to see — for that reason, they're all in New York City and New Jersey venues.
1. Bruce Springsteen, MetLife Stadium (August 25)
If you're from New Jersey, there is but one rite of passage: See Bruce Springsteen at home — preferably at the Stone Pony, but anywhere will suffice. When I saw Bruuuuuce this summer at the football stadium in the heart of North Jersey, it ended up being his longest-ever show with his beloved E Street Band in the United States. Four hours, sharp. He went on to break the record just a few days later at the same venue, but for that one night, you could sense a uniqueness to the history in the making.
There's nothing like a Springsteen crowd, just as there's no one like the man they all gather to worship. I'm no Springsteen diehard; my continued Bruce education comes from my mother, a longtime fan of the Boss who, like me, is Jersey through and through but hadn't seen him in some 30-plus years. Her last encounter with the Jersey folk hero, ironically, came when he first toured The River. Decades later, I sat by her side and watched him perform much of that album, and during that time the nearly-40 year age gap between me and my mother seemed to vanish.
At every Springsteen show exists a fountain of youth that flows from the 67-year-old rocker, through his storied band, and then out into the crowd, perhaps forming the proverbial river in question. It's what I imagine gave Nils Lofgren the energy to complete the many revolutions of his famous guitar spin as the night approached midnight; it's also probably how the crowd of boomers were still on their feet for the last firework while most of the "kids" ached in their seats. Earlier this year, Vulture ranked all 314 Bruce songs; that night, it felt like I heard half of them.
This concert, the best of the three at MetLife, had everything: Tom Morello and Bruce dueting on "American Skin" to move me to tears; Springsteen and his wife Patti Scialfa singing "Tunnel of Love" to each other; "My City of Ruins" dedicated to the victims of the earthquake in Italy; a rollicking eight song encore that included a "Shout!" exercise; a tribute to Clarence Clemons, with his nephew, Jake, there to fill in on sax; and, to top it all off, a marriage proposal between two fans during "Jersey Girl" while the fireworks rang out over the stadium. Outstanding as the whole spectacle of it was — this is the kind of concert music historians canonize — I spent most of it watching my mom shine in her element. For that, seeing Bruce will stand as both my favorite mother-daughter memory and the best concert experience of my life. If you ever get a chance to see a Springsteen show, do it.
2. Green Day, Webster Hall (October 8)
Seeing Green Day at the Webster Hall (capacity: 1500) isn't just a show; it's like seeing Green Day perform at your high school prom. Stadium-level bands playing small, inexpensive venues just doesn't happen. (Green Day generally only do when they're performing as their side band Foxboro Hot Tubs, or for a damn good cause.) But before embarking on a stadium tour next year, the band played a handful of low-key shows to promote their new album. It'll almost certainly go down as the closest many will ever get to them in person; it's the best I've come to catching the remnants of Mike Dirnt's sweat flung from all his bass-slapping. You have to remember: Green Day were inducted into the Rock and Roll Hall of Fame last year. They haven't had to pay their dues in a venue like this for some time.
Yet, here they were — face-to-face with lifelong fans, on a victory lap. They played just three songs from that new album, instead focusing on their history. The band dusted off songs from as far back as 1991's 1,039/Smoothed Out Slappy Hours and Kerplunk, pulled out deep cuts old and newer ("Stuart and the Ave"! "Letterbomb"!), revisited classic crowd-pleaser covers ("Shout," "Hey Jude," "Satisfaction"), and never even played "Wake Me Up When September Ends." Billie Joe Armstrong described the night as an "underground show" and nothing could tarnish that familial feeling Green Day are still fighting hard to preserve.
3. Kanye West, Madison Square Garden (September 6)
At a time when artists are retreating further and further into themselves and away from their fan bases (see: Justin Bieber's entire year), Kanye sought to make a tour that closed that gap — or at least created the illusion of a bridge. For his Saint Pablo Tour, Kanye famously designed a floating stage that he spends the show traveling back and forth across. I've never seen anything like it before, not quite to this scale. It makes it so that there's never a bad seat in the house, because Kanye will always come to you. But it also means there isn't a best seat; to take in the full Saint Pablo experience as it was intended, you wanted to be on the floor. The spectacle of having Kanye fly overhead at all times — often within arm's reach, as many fans stupidly found out — invited an unexpected punk standard to the rap show: moshing. At every Saint Pablo show, the floor below Kanye erupted into several pits where, on any given night, you might knock into a Kardashian or LeBron. And when his stage would move, his disciples would follow him across the floor like a herd of sheep and start another pit wherever he paused. I attended this show by myself, and yet I've never felt less alone in a crowd.
4. Adele, Madison Square Garden (September 19)
It's a shame to call Adele's first successful world tour just a "concert" and her simply a "singer." Going into an Adele live show, you expect an elite vocalist and all that that implies: big ballads, showy numbers, long sequined gowns, the works. Older folks in the audience — and there were plenty — might've wanted a stuffy Oscars repeat, and Adele hit all those beats, because that's what she does. But none of that fluff is the meat on the bones of her show.
That honor goes to Adele's wit, self-deprecating humor, and notorious sailor's mouth. She may have spent an equal amount of time engaging in tangential banter as she did actually singing. And her material was always fresh: Adele does new joke-y riffs at each stop, so every show feels personalized. ("I don't know about you, but I can't always understand what Bob Dylan's saying," she wisecracked at mine before "Make You Feel My Love.") Rare is the pop star who can both dazzle you all night and still make you feel like they wouldn't be above grabbing a beer with you post-show. That's Adele.
5. Beyoncé, Citi Field (June 8)
While Adele's world tour comes off as a one-woman comedy show to great effect, Beyoncé's is the polar opposite: There are countless women (and men) responsible for a Beyoncé show and, on her Formation Tour especially, it's hiding in plain sight how the sausage gets made. Whenever a bulb on a camera screen shorts out, a stitch in a costume bursts at the seam, or Beyoncé even sneezes, the work shows. It's what makes a Beyoncé concert an event, and half the experience is in getting there; you prep, primp, and pregame for Beyoncé. Her shows are a group effort — at some point, we'll have all put in work to steer this ship. But Beyoncé is and will always be the captain and anchor, and when she leads her dancers and crowd alike with military precision, there's a superhuman quality to her that makes Beyoncé one of the greatest living performers on the planet. Unlike Adele, you'll never relate to her, and that's entirely the point.
6. Rihanna, Barclays Center (March 27)
Everyone deserves to see Rihanna live at least once, but if you've only caught her before the Anti era, I'd recommend going again. Right now, Rihanna is in her prime. It's a strange proclamation to make about an artist eight albums deep into her career, but the Rihanna of 2016 only just now feels like she's honed her voice. That stands both creatively and literally — vocally, Rih has never sounded better. She's at the top of her range on songs like "Love on the Brain" and, in person, nothing is lost sans production magic. Rihanna's Anti Tour was designed to make a set piece out of her voice; it's the star of the concert's third act, which features a trilogy of ballads to close the show. Meanwhile, her surroundings are muted — there's a backdrop that mimics soap suds falling from the sky, some abstract neon-lit shapes scattered about, and an all-white ethereal stage meant to evoke heaven. But not much else. All eyes, and, more now than ever, ears are on Rihanna. For the first time, everything's work work work working.
7. Alabama Shakes, Panorama Festival (July 22)
A recording of Brittany Howard's voice alone has the force to shake buildings, but there's nothing like hearing the real thing in person. At the inaugural Panorama Festival (a.k.a. Coachella East), Howard was a woman possessed. She'd breathe fire from deep within her lungs to let out those unmistakable growls and shrieks, lead her band on guitar while still harnessing the power of her voice, and occasionally break to apologize for not breaking enough, for not visiting New York enough, and for not feeling like enough to deserve the banner year the Shakes just had coming off a Grammy nomination for Album of the Year back in February.
That last part is total nonsense, and the confident character that consumes Howard whenever she gets back to singing quickly banishes all self-doubt. The Shakes played us through the sunset and into the cooler night, as if they radiated all the heat in the air then took it back with them. It's gotten to the point where they don't even have to play "Sound and Color," but rather end on "Over My Head," and you'll still feel like you got the full Shakes experience.
8. Kendrick Lamar, Panorama Festival (July 23)
I got to be in the crowd the night Kendrick debuted his new stage design, and I haven't stopped thinking about it since. Looped clips of vague political-adjacent imagery edited together with pop culture hallmarks have become a thing of the Tumblr age. It should've died once Lana Del Rey stopped using the style and yet Kendrick seems to have resurged it. His new live show — which I've now seen twice —   uses what are essentially GIFs of George Bush tripping, Nancy Reagan finger-wagging, Bill O'Reilly losing his shit, and other political freak shows juxtaposed with images of Pam Grier, Tupac, and Ellen DeGeneres dancing with a then-Senator Obama. He breaks the chaos with one lasting image: Kendrick's own two critical eyes leering back and forth, like the eyes of Doctor T. J. Eckleburg, surveying the crowd. He watches you watch him, creating another visual cycle. On any stage, this would look impressive; having it projected on the 170-foot-wide wall of video screens towering over a festival setting made it a moment. Kendrick's live rapping has always been a cut above the rest — his stage is now worthy of him.
9. Chance the Rapper, The Meadows Festival (October 2)
If you watched Chance's SNL performances this weekend — or any of the many magnificent televised numbers he put on this year — then you don't need me to tell you he knows how to command a stage. In person, in front of a festival of thousands that rivaled the crowd there for Kanye's (ultimately abbreviated) set, Chance was like a pastor leading a congregation. His current Magnificent Coloring World Tour is a hybrid of traveling gospel choir, rap show, and the Muppets. There are actual singing, piano-playing human-scale puppets — one's a heckling lion named Carlos — incorporated to make this more live theater than a concert. Half the time, it doesn't make sense and probably isn't supposed to. (Acid rap, hello.) The rest of the time, his show takes you to church, offers a spiritual awakening (religion optional), and will make you want to spend every Sunday at service with Chance.
10. Tegan and Sara, (le) poisson rouge (May 9)
(Le) poisson rouge is a small venue in Greenwich Village that fits about 700 people on a good night. It's the definition of intimate — the stage is just about level with the crowd — and in Tegan and Sara's hands, the place felt more like their living room. In fact, a running joke throughout the night was inspired by a group in the front row who stood within arm's length of the twins and had camped out on a some curbside couch all night to score that coveted spot. They were lifelong fans, they explained, about which Tegan and Sara had no doubt. (Sara had even less doubt that that couch was probably bed-bug-infested and begged them to shower immediately and keep their distance. She wouldn't let them live it down.) It's the kind of awkward charm that kept me torn between never wanting them to stop chatting with us but also never wanting them to stop pulling out deep cuts from their long, rich discography.
11. Anderson .Paak, Panorama Festival (July 23)
If Anderson .Paak wins a Grammy for Best New Artist next year, I hope that, in addition to the two (!) phenomenal albums he put out this year, it's because his live show was taken into consideration. Anyone who's seen him will tell you he's a once-in-a-generation live act. There's no faking the funk with this young student of the craft; live, he's pretty much a machine with more momentum and charisma than it should be possible to possess. I saw him on a day that boiled over 100 degrees. He wore a long-sleeve Team USA Olympic jersey, was dripping in sweat, and somehow still pivoted from bandleader to member of his own band on the drums with ease — this, all while singing effortlessly and extending the stories told on Malibu's "The Season / Carry Me" without missing a breath. Meanwhile, I struggled to catch mine just from watching him in awe.
12. DJ Khaled, Panorama Festival (July 22)
Much has been written about the decline of regional rap. If it's true, DJ Khaled begs to differ. I saw him twice this year, once opening up for Beyoncé's Formation Tour and, again, with what should've been a headlining set at Pano Fest. Both times, he handed over his floor to the local heavyweights — Fabolous, Swizz Beatz, and French Montana the second night at Citi Field — but Pano was a uniquely special hometown reunion for the Miami native. Aside from bringing out T.I. and his then-pregnant fiancée, which would've been enough, he gave up more than half his set time to the man who kick-started his career: Fat Joe. Better yet, Joe brought Remy Ma with him. It's as if Khaled saw the lineup, crossed out his own name, and wrote Terror Squad in its place. Joe and Remy performed most of Khaled's set, including "All the Way Up" (Remy freestyle included) and "Conceited," all from inside a too-small indoor dome that had the energy of a basement rap battle. It's the best apology for being 20 minutes late I've ever seen.
13. Purity Ring, Governors Ball (June 4)
The 2016 Governors Ball will forever be known as a washout, the year the festival was forced to cancel an entire day's lineup due to rain. Not just any day — Kanye Day. I have a better memory: frantically running on Saturday from Miguel's set once the clouds opened up and the torrential downpour started to the only stage with a tent on site, half a field away. Hundreds of us were packed under cover like wet dogs; if you were part of the five-foot-and-barely-above crowd, like me and my friends, you could hardly breath. The rain persisted for another 45 minutes, during which Purity Ring were treated to an audience much larger than what they're used to. They fed off it, letting their laser show stage effects turn the tent into an outdoor rave; surprisingly, Megan James's voice travels far. I was soaked head to toe, pushed and pulled in every direction the crowd danced, and felt more alive than I had all year.