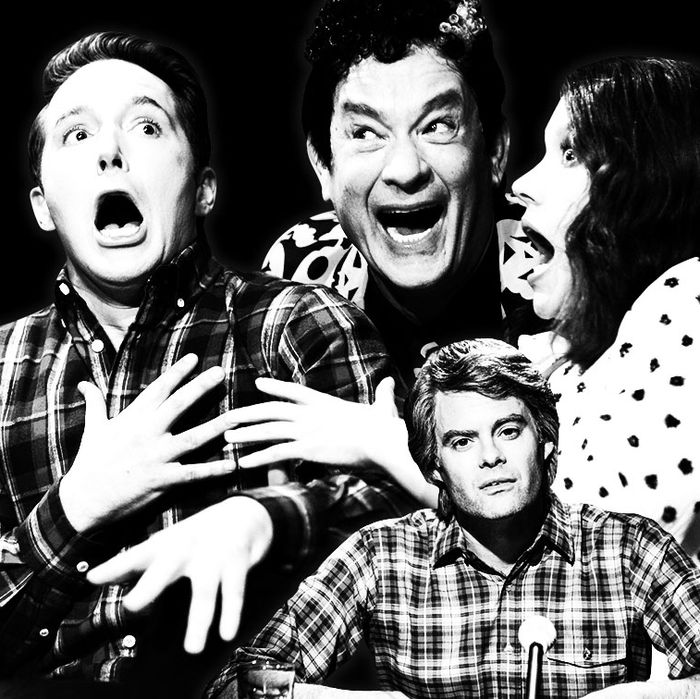 Photo-Illustration: Vulture
Without Key & Peele, which represented the high-water mark for technical proficiency in American sketch comedy, this year's entire sketch landscape feels different. Thankfully other shows have picked up the slack, most notably Saturday Night Live, which is having its best season since Kristen Wiig, Andy Samberg, Jason Sudeikis, and Seth Meyers left. Streaming platforms such as Netflix and Seeso are also giving more sketch comedians than ever a platform, helping the field remain strong. Here is the best of the best of it.
1. "Wells for Boys," Saturday Night Live
Unlike most sketch shows, which tend to come out of a single vision, SNL at least tries to give a platform to different voices. As a result, every so often, a writer comes through and is able to create their own world — a new tone that is unmistakably them. Julio Torres is still in his first year on the writing staff and has already achieved that: He wrote or co-wrote "Melania Moments," "The Sink," "Diego Calls His Mom," and "Through Donald's Eyes."
Still, nothing he's done — or, as the ranking suggests, anyone's done — has matched "Wells for Boys." Co-written with Jeremy Beiler, it's an uncommonly rich sketch. Though it has the same beats as a typical SNL commercial parody, it shines in the specificity of the story it's trying to tell, and by how well written and well performed it is. "Wells for Boys" is subtle, but filled with plenty of hard laughs. It's the best sketch of the year.
2. "iPhone Charger,"* Portlandia
This sketch manages to pull off an impressive balancing act: It first finds comedy by contrasting the mundanity of the plot with the elaborateness of the structure, as the entire thing is in sign language. The twist is then a sort of reverse-twist, since a place where everyone communicates through sign language becomes less remarkable as you realize that it's something that really does happen. The sketch finds comedy in the unlikely place of building understanding.
3. "Black Jeopardy," Saturday Night Live
It's a point of pride for SNL writers if they can revisit a sketch they have done before and find something not just new, but arguably better than ever before. That's what happened with "Black Jeopardy" the week Tom Hanks hosted. The sketch captures the reality that people of the same class have a great deal in common, regardless of background, and tacitly points out how people in power pit the working class of different races against each other. Like all political sketches from before the election, it feels a million miles away now, but it will be remembered. 
4. "Juan Likes Rice and Chicken," Documentary Now
As a rule of thumb, I'm fine with calling a full episode of a show a sketch — as I did with last year's list — if it felt that ultimately the episode was primarily exploring only one comedic game or idea, as though it were a sketch with a lot of room to spread its legs. Not all Documentary Now episodes fit that criteria — I wouldn't even say the best ones — but some do, and considering the team, they are often great. Written by Seth Meyers, "Juan" is a pitch-perfect Jiro Dreams of Sushi, Chef's Table parody, but what makes it so special is how it uses its source material not just for comedy but for real pathos. Thanks in large part to Fred Armisen's immersive performance, the episode is touching without feeling cheap.
5. "Sam Paradise,"* Characters 
Most sketches operate in a sort of verse-chorus-verse-chorus-bridge-chorus structure. "Sam Paradise," the highlight of Tim Robinson's Netflix Characters special, operates more like a crescendo and then a perfect diminuendo, building the Rat Pack–esque Paradise up, only to take him down so, so, so, so far. Robinson's is a comedy about the fragility of masculinity, and nothing captures that better than the last beat of this sketch. 
(Go to the 1:10 mark of Robinson's special.)  
6. "Haunted Elevator," SNL
I probably wrote more about the David S. Pumpkins sketch than anyone, but that was because even I was trying to come to terms with how much of a phenomenon it was right out of the gate. It is a silly, weird bit, but it works because of how deliberate it is with its pacing. (This is what set it apart from the equally funny, but more random seeming "FBI Simulator.") David Pumpkins is the definition of an instant classic. 
7. "Toast,"* Characters
Search Party is a good TV show and John Early is great in it, but I found myself wanting even more of him — specifically, him at full comedic strength. Thankfully there's his Characters special, and particularly this scene, which captures his gift at playing characters that are progressive and yet still narcissist monsters. 
(Go to the 22:10 mark of Early's special.)   
8. "Farewell, Mr. Bunting," SNL
The sketch obviously is best the first time you see it, but upon rewatching, I mostly love to see the beginning. It is incredibly silly to watch just how super-straight everyone is playing it and to see all the sly shots of fans. Still, you don't get many twists like "Farewell, Mr. Bunting." 
9.  "Parker Gail's Location Is Everything," Documentary Now
With all the space of a half-hour show, Documentary Now is able to combine a big performance and the high concept of a writer's sketch. Written by Bill Hader and John Mulaney (it is so John Mulaney), the episode quickly reveals itself as more than a Spalding Gray's Swimming to Cambodia parody, but a sharp look at storytelling as an art form.
10. "I Can Get a Picture,"* Inside Amy Schumer
Much of this season of IAS deals with the celebrity Schumer acquired since the previous season. And though the result was less exciting across the board, this sketch (written by Schumer) does a great job capturing how scary newfound celebrity can be. It's an impressively terrifying sketch.
(You can watch the sketch here. It's the first of the episode.)
11. "Joe Pera Talks You to Sleep," Adult Swim Infomercials
At its best, comedy, like a Magic School Bus, can shrink you down and allow you to explore another person's mind. No sketch this year better captures that than stand-up Joe Pera's guided meditation through the gently absurd and the absurdly gentle.
12. "Voters for Trump," Saturday Night Live
Maybe it's because of how the election played out, but looking back, so many political sketches just don't seem as essential anymore. That's not the case with "Voters for Trump," which has a fundamental thesis that seems truer than ever. It's a sly bit of political satire.
13. "Chiggers," Characters
Silly yet pointed, Natasha Rothwell achieves a compelling tone with this sketch. It doesn't let up on satire, but it's still willing to have fun in the process.
(Go to the 11:30 mark of Rothwell's special.)
14. "The Hallway From Hell," Comedy Bang! Bang!
Scott Aukerman & Co. at Comedy Bang! Bang! were always good at building comedy around tropes, no matter how benign. This is a sketch about how people are always walking through hallways in crime shows, but it becomes so much more.
14. "Finest Girl," Saturday Night Live
I truly believe that, regardless of its box-office numbers, Popstar was the strongest mainstream comedy in years. "Finest Girl" isn't the funniest song in the movie — though it's up there — but it is the one that got an SNL sketch. Vanessa Bayer takes an already funny song and completely knocks it out of the park with her subtly unhinged performance.
16. "Necropolis," Adult Swim Infomercials
Necropolis is filled with a lot of weird, Adult Swim–esque details, but what makes it work is that those details don't just seem like random shit — they all fit in the strange universe the writers created.
17. "Mobile C-Inside," Inside Amy Schumer
A very funny send-up of the bizarre tone commercials have settled on recently. The confusion is fantastically embodied by three great performances.
18. "The War in Words," Maya and Marty
Maya Rudolph and Martin Short's variety show aspired for a classic style, which is looser and broader than the sketch shows they each got their start on. Still, Mikey Day, who has since hit the ground sprinting in his first season as a performer at SNL, was the head writer on the series, and he nailed it here. On display is his ability to expertly heighten even the simplest of premises.
19. "Within the Actors Workshop,"* The UCB Show
The production of The UCB Show is frustrating, but there is still a lot of fun here. Let's call it catchphrase post-modernism, where it subverts the idea of having a line that repeats by having it be just so aggressively silly. Still, it gets stuck in your head.
20. "Debate Cold Open," Saturday Night Live
Being tied to the news cycle is always a double-edge sword for political comedy: It makes it vital but it also can make it instantly feel dated, as the story is no longer top of mind. It's a problem only made worse by the speed of the news cycle these days. Though a lot of the SNL debate coverage loses its excitement after the election, in this first debate parody you can still sense the anticipation. I liked Alec Baldwin's Trump (at first, as it's gotten kind of goofy now), because he was able to capture both Trump's larger-than-life quality and grotesqueness.
* This indicates that the sketch doesn't have an official name, so I made up a seemingly appropriate title.