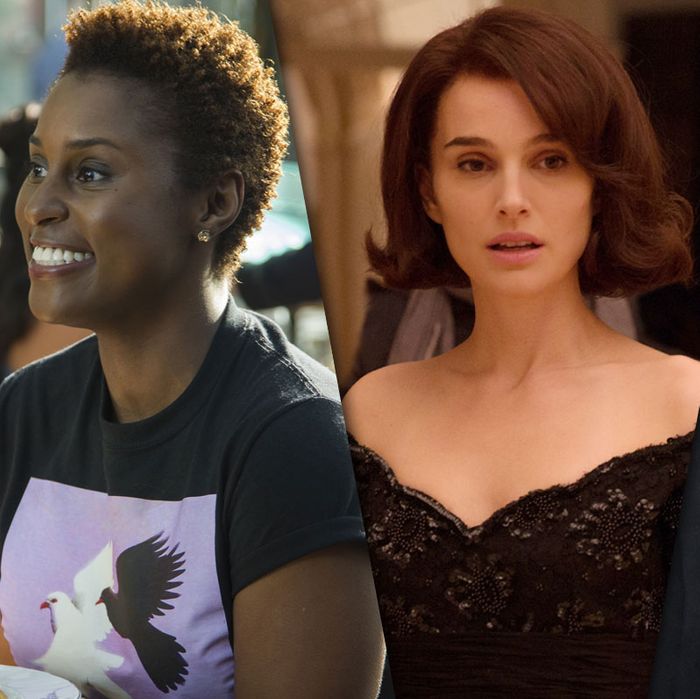 L-R: Issa Rae in Insecure, Natalie Portman in Jackie, Tom Hanks in Sully
Photo: HBO, Twentieth Century Fox, Warner Brothers
The Golden Globe Award nominations are always at least a little unpredictable, and this year was no different. The expected top contenders on the film side — La La Land, Manchester by the Sea, Moonlight — all got the love most awards-season trackers were expecting, while, as predicted, newer shows dominated the field on the TV drama side.
Also as usual, in each medium, some unexpected names were announced (Nick Nolte for Graves?) while some went notably and entirely unspoken. (Sorry, Tom Hanks. Sorry, Sully.)
Here's a more specific rundown of the surprises and snubs on both the movie and TV sides of the Golden Globe Awards slate.
TV

Only five shows were nominated for best comedy? The best TV drama category is dominated by new series: The Crown, Stranger Things, This Is Us, and Westworld will all compete against the old veteran, Game of Thrones. All of that went down exactly as predicted. But weirdly, after nominating six shows for best TV comedy last year, the Hollywood Foreign Press Association narrowed that field back down to five, in a year that may have been the strongest for TV comedy in recent memory. Atlanta made the list, so did Black-ish for the first time. But everything else was a repeat. While Mozart in the Jungle, Transparent, and Veep are all deserving, sticking with just five slots left no room for the likes of Insecure, or Crazy Ex-Girlfriend, or Fleabag, or Better Things, or Speechless, or a bunch of other great shows we could name if you let us keep naming shows for the better part of this morning and afternoon.
Winona Ryder got a Golden Globe nomination! She was nominated for best lead actress in a TV drama for Stranger Things, which marks her first Globe nomination since she won back in 1995 for her work in The Age of Innocence. Comebacks are possible!
Unfortunately, none of the kids from Stranger Things were nominated. The kids were the real stars of that Upside Down production, and Millie Bobby Brown arguably does the strongest work of anyone in the cast. But they were overlooked by HFPA voters. At least they'll (presumably) still get to come to the awards show since Stranger Things was nominated for best drama. (Hopefully this time, they won't have to hand out peanut butter and jelly sandwiches.)
Nick Nolte was nominated for Graves. What's Graves again? Just kidding. We know what Graves is. It's the Epix* comedy in which Nolte stars as a former U.S. president who suddenly reassumes the spotlight just in time to potentially thwart the political ambitions of his wife, played by Sela Ward. Yes, we know what Graves is. We're just not sure that anyone else in America does, and we definitely were not expecting to hear Nolte's name announced this morning.
Billy Bob Thornton was nominated for Goliath. What's Goliath again? Again: We know what Goliath is. It's an Amazon series that stars Thornton as a hard-drinking, broken-down lawyer attempting to get his life back together. Our Matt Zoller Seitz wrote that Thornton is, predictably, great in it. Still, hearing his name was a bit of a surprise.
Issa Rae for Insecure! The HBO series may not have cracked the best comedy category, but at least its star and creator — a woman who really could turn the world on with her smile — landed a nomination for best lead actress in a comedy. Last year's winner, Rachel Bloom, is here, alongside Emmy juggernaut Julia Louis-Dreyfus; Golden Globe fave Sarah Jessica Parker; previous Globe winner Gina Rodriguez, repping Jane the Virgin for the third consecutive year; and Tracee Ellis Ross scores her first nomination for Black-ish. That's a strong group.
Where's Phoebe Waller-Bridge? Yet as strong as that group is, it's a bummer that Waller-Bridge — whose voice defined Fleabag, a series I thought for sure would appeal to Globe voters — is not in it.
The women of Westworld and This Is Us rule; the men, not so much. Evan Rachel Wood, Thandie Newton, Chrissy Metz, and Mandy Moore were all nominated for their performances on the two most buzzy shows of the fall season. But their male counterparts — Anthony Hopkins, Jeffrey Wright, James Marsden, Milo Ventimiglia, Sterling K. Brown, who was nominated for The People v. O.J. Simpson — got shut out.
It's a good day for the stars of The Americans. On the heels of their first-time Emmy nominations for their work on the best drama on television, Keri Russell and Matthew Rhys also got recognized by the Globes for the first time for their portrayals of Elizabeth and Philip Jennings.
On the other hand: Why isn't The Americans nominated for best drama? Shows like Westworld may still have that new (robot-driven) car smell, but The Americans was more consistently nuanced and absorbing. It deserved to be here more than some of the other, fresher fare the HFPA opted to honor. By overlooking it and leaning into the recency effect, Globe voters actually look like they're behind the Emmy curve on this one.
MOVIES
Female-led films were snubbed in the drama categories. This year's musical/comedy nominees boast three female-led contenders in La La Land, 20th Century Women, and Florence Foster Jenkins. The dramas? Not so much. Where last year the Globes recognized the intimate but powerful Brooklyn and Room, this year none of the dramatic contenders — Hackshaw Ridge, Manchester by the Sea, Moonlight, Hell or High Water and Lion — features a female protagonist. Most egregiously missing from the list were Jackie (which scored only a single nom, for Natalie Portman) and Hidden Figures (which got a supporting nod for Octavia Spencer, but nothing for star Taraji P. Henson). For the HFPA to snub two films that center on pivotal women in American history, in favor of hypermasculine narratives, feels especially icky this year.
No thanks for Hanks. The HFPA's love affair with eight-time nominee Tom Hanks is on a break this year. The actor's work in Clint Eastwood's Sully was not recognized with a lead actor nomination, part of the film's complete Globes shutout. Interestingly, Hanks hasn't won at the Globes since 2001's Cast Away (another plane-crash movie) and last received a nom for 2014's Captain Phillips (in which he played a merchant mariner). If there's anything we've learned here, it's that Globes voters have mixed feelings about Hanks starring in transportation-themed dramas.
Silence was shut out, too. Martin Scorsese's faith-based endurance test was utterly shut out by the HFPA. Was Silence hampered by screening so late into the season, giving it no time to build momentum? Or is this the first major sign that Scorsese's rigorous picture may prove too hard to take for major awards recognition?
Deadpool did it. This irreverent comic-book hit snagged two significant nominations for best comedy or musical and best actor … which is two more than were given to Sully or Silence. Oscar isn't likely to take any cues from this feat, but it's still a remarkable postscript given how little Fox wanted to make the Ryan Reynolds franchise-starter.
Nocturnal Animals had a big day. Most Oscar pundits have deemed Tom Ford's stylist thriller too polarizing to put a big dent in awards season, but the HFPA found Nocturnal as beguiling as one of Ford's perfumes, handing it nods for best director, best original screenplay, and best supporting actor for Aaron Taylor-Johnson (over his better-reviewed costar Michael Shannon, no less). With all that accomplished, you might have expected a nomination for best drama, too, but we doubt Team Nocturnal is complaining today.
The Weinsteins' late contenders faltered. Harvey Weinstein can be happy that the studio's biggest Oscar vehicle, Lion, scored key nominations, but neither Michael Keaton in The Founder nor Matthew McConaughey in Gold got any recognition. The Weinsteins are taking a very tentative approach to releasing both movies, and this won't help their cause.
Jonah Hill got nominated for War Dogs! In the last few months Warner Bros. mounted a quiet lead-actor campaign for Hill for his over-the-top performance as a brash young arms dealer in Todd Phillips's summer dramedy. Their strategy included, among others events, an intimate party for voters at the Chateau Marmont, hosted by Hill's pal Leonardo DiCaprio, and a Vulture-moderated chat with SAG-AFRTA members in mid-November. The effort seems to have worked: Hill, who previously was nominated by the HFPA for 2012's Moneyball, scored a nom alongside an impressive roster of A-listers — Ryan Gosling, Hugh Grant, Ryan Reynolds and Colin Farrell — which, by the way, sounds like an amazing cast for War Dogs II.
* This post originally misstated the network that airs Graves.