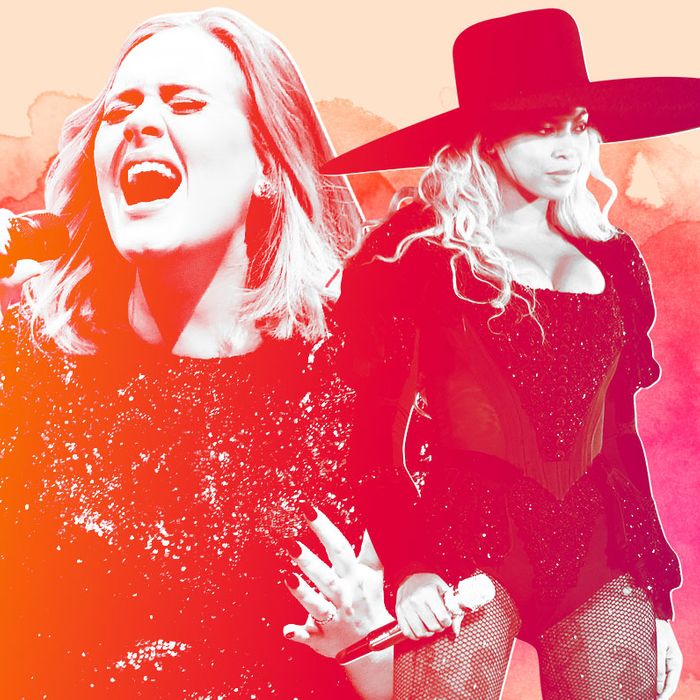 It's going down.
Photo-Illustration: Maya Robinson/Vulture and Photos by Getty Images
It wasn't so long ago that we all watched Taylor Swift win Album of the Year for 1989, shade Kanye West in her speech with the precision of a sharpshooter, then happily accept your collective applause. In fact, it was the 2016 Grammys — just this past February! — a much simpler time before the tide rapidly turned and swallowed Swift. As we all try to put this upside-down year behind us, it's time to look ahead to the future: the 2017 Grammys. On Tuesday, December 6, the nominees will be announced for the 59th Grammys, to take place on February 12 and hosted for the first time by James Corden. For fandoms worldwide, however, the 2017 Grammys will forever be known as the Adele-Beyoncé Super Bowl. Below, we make 11 predictions for what to expect from next year's Grammy nominations. Check back on Vulture at 8:30 a.m. ET for the full list of nominees.
It'll be all about Beyoncé versus Adele …
Get ready for the diva showdown of the decade: Adele's unprecedented 25 and Beyoncé's visual masterpiece, Lemonade, will almost certainly go head-to-head for Album of the Year, a situation that probably already has Adele feeling torn. But who will win? It's a case where both sides are so unusually stacked, the two albums are so arguably even (in terms of just the music, which is all that will be considered in AOTY), and both artists are such critical and commercial behemoths that could drive Grammy ratings sky-high. But there is one small detail tipping the scale for Beyoncé in both ways: She's never won Album of the Year. On the one hand, that means she's due and, as Kanye will tell you, should've already won for her game-changing surprise album. On the other, if you're being superstitious, perhaps that means she never will win. Adele, meanwhile, previously won AOTY for her last album, 21, so she's a proven Grammy star.
… but don't count David Bowie out.
Sure, Adele and Beyoncé might seem like odds-on favorites for Album of the Year, but there's an upset waiting to happen — except it's one that few could actually get upset about if it happened (not even the BeyHive). David Bowie's final album, Blackstar, feels like a sympathy nomination, but it's not that simple. Even before Bowie's death just days after the album's release, Blackstar was getting rave reviews (it's now close to topping several year-end lists), making it an AOTY contender all along. Bowie's death only gives the Recording Academy added incentive to correct themselves because, sadly, Bowie has never won a Grammy for an individual album or song. He's won one for a music video (1985's "Jazzin' for Blue Jean") and then a Lifetime Achievement Award in 2006 (thus a win for his entire career). Don't be surprised if voters lean toward honoring a recently deceased legacy act, in a year he arguably deserves it, over two young pop acts with hopefully many albums ahead of them.
As for other rock acts that could challenge Beyoncé (again) and Adele, Radiohead have long been favored by the Grammys (they have three AOTY noms) and A Moon Shaped Pool has been a critical hit. Then there's Iggy Pop's supposed final album, Post Pop Depression (though he's never been a Grammy darling), and Coldplay's sales success A Head Full of Dreams.
This is Drake's year.
Drake only has one Grammy to his name, but it's a big one: Best Rap Album, for 2013's Take Care. Now that Drake has proven himself a commercial juggernaut, he's poised to clean up at next year's Grammys, where he'll likely earn his first-ever Album of the Year nomination for Views. It's unquestionably the biggest rap album of the year so far — Views was No. 1 for 13 weeks this year, and he's the year's most-streamed artist — a genre he'll likely dominate at the Grammys. Drake should also see a nomination for his first No. 1 song, "One Dance," in Record of the Year, the same category he missed out on last year for "Hotline Bling" due to an alleged paperwork mishap. Let's not forget that Drake also buttered up the Grammys by putting a song on Views called "Grammys," all about his accolades. That might seem presumptuous to some, but it's exactly what the Grammys like to hear.
Rihanna might be this year's dark horse.
Adele, Beyoncé, David Bowie, Drake, and possibly Radiohead are your best bets for Album of the Year, which would seem to fill out the category. But Rihanna's Anti is not to be overlooked. It's the best-reviewed album of her career, it spawned one of the year's biggest songs in "Work" (perhaps a Record of the Year contender), went No. 1, and has the added bonus of taking risks. Staunch as the Recording Academy may be, they like their pop stars to show growth. The Grammys have also already given Rihanna a previous AOTY nom, for 2012's Loud, an album that never even went No. 1. If Rihanna sneaks into Album of the Year this year — and thus making the category lean heavy toward pop, a move the Grammys traditionally don't like to do — it shouldn't come as a shock.
The same goes for Justin Bieber's Purpose, another 2015 best-seller that should garner some love for Biebs in the other major categories (an almost-guaranteed look for "Sorry" in Record of the Year), where he's generally been shut out in the past. Though an underdog, even Solange's A Seat at the Table isn't totally out of the question to be a serious disrupter in higher categories outside of R&B — any nomination would also be her first.
A rule change could mean big things for Chance the Rapper.
For the first time ever, next year the Grammys will open up the field to include streaming-only albums. To be clear, that doesn't mean your friend's SoundCloud mixtape can now compete with Adele (not at the Grammys, anyway). The Grammys still won't award anything completely free, but if you're Chance the Rapper and you released your latest album, The Coloring Book, exclusively on paid subscription service Apple Music, and have yet to sell it, well then, dammit, you're now Grammy-eligible, too. Chance fought long and hard to play by his own rules and still somehow co-exist with Grammy guidelines, and while the Recording Academy has said it didn't explicitly bend to him, it has made it so that Chance has a legitimate shot. But not so fast: The Grammys are notoriously slow to change, which might mean this sudden rule amendment ends up being a courtesy for now — an initial acknowledgement of streaming's no-longer-ignorable impact, rather than a true award-worthy celebration. It'll likely affect Chance the most in the major categories, but look to see his name among the rap nominees and, possibly, Best New Artist.
Lots of big names will be missing.
Keep in mind that the Grammys doesn't align with the calendar year. Only albums released between October 1, 2015 and September 30, 2016 are eligible to be nominated for next year's Grammys. So don't be surprised when a lot of your faves don't make the cut tomorrow. It's not that new releases from Lady Gaga, Bruno Mars, the Weeknd, Metallica, the Rolling Stones, Miranda Lambert, A Tribe Called Quest, and Leonard Cohen weren't Grammy-worthy — on the contrary, expect to see this crop resurface this time next year — they just all missed the 2017 Grammy deadline. There will, however, be one name intentionally missing: Frank Ocean chose not to submit Blonde and Endless for Grammy consideration as his "Colin Kaepernick moment" — a way of protesting the institution's history of excluding artists of color in its most prestigious categories.
Competition is stacked for Song of the Year.
As we do every year, a reminder that Song of the Year goes to the songwriters, while Record of the Year goes to the performer (a.k.a the artist). Adele's "Hello" is the front-runner here and likely the one category she won't have to compete with Beyoncé in — unless the Grammys once again relegate Bey to R&B over pop, where she belongs — as "Formation" is more of a traditional Record of the Year fit. But it won't be an easy win: Adele will have to go up against David Bowie's prophetic "Lazarus," which took on a much more devastating symbolic context after his death. Then there's Maren Morris's country-gospel stunner "My Church"; Justin Bieber's acoustic singer-songwriter-y "Love Yourself" (co-written with Ed Sheeran); Radiohead's "True Love Waits" (though its very long history may complicate things); Lukas Graham's schmaltzy graduation bait "7 Years"; and Tim McGraw's emotional, uplifting "Humble and Kind." There's also a smaller chance that a different Beyoncé song, "Freedom" or "Daddy Lessons" maybe, gets thrown into this already crowded field.
The Chainsmokers are probably going to be a Grammy threat.
Let out your groans now because there's no escaping it: The Chainsmokers will be Grammy nominees before the year's over. "Closer," featuring Halsey, was the biggest song of 2016, chart-wise, as it reigned at No. 1 for 11 weeks. The Grammys like bankable songs and will likely reward them with a Record of the Year nomination. But even beyond that award and looks in the EDM/Dance categories, the Chainsmokers also have a good shot at a Best New Artist nomination — even if they've yet to release a debut album — thanks to a streak of hits.
Kanye may end up inevitably disappointed … 
For as much as Kanye harps on the Grammys for being culturally irrelevant, the Recording Academy has historically been kind to him. He's won 21 — the most of any rap artist — and been nominated 57 times, though this year may see him come up short once again. It's unlikely The Life of Pablo will get nominated for Album of the Year (the one Grammy that's continuously evaded him), thanks to mixed reviews and that haphazard rollout. (Not to mention, he's already said he won't attend if Frank Ocean doesn't, which Frank isn't.) In fact, he may get shut out of all the major categories and, worst case, then lose to Drake in the rap subfields. Even in the year that the Grammys will finally recognize streaming innovations, it seems Kanye might still be ahead of his time.
… but don't count Taylor Swift out.
Kanye can't quite take all the credit for making Taylor Swift famous, but he can say he kept her name in the news for the duration of her year off. There's no Grammy for Best Media Blitz, but no worries, Taylor stealthily found another in. Rather than follow up her Album of the Year with more Swift-branded music, she flew under the radar to make her hits this year, co-writing her ex Calvin Harris and Rihanna's summer earworm "This Is What You Came For." Had she truly relinquished all cred to her pseudonym Nils Sjoberg, she'd also have to forfeit Grammy bragging rights. But because she's since slapped her name back on it, a Grammy is once again within reach (particularly so if "TIWYCF" gets a Song of the Year nom, which, hey, you never know). There are also her videos for "Out of the Woods" and "New Romantics," but nothing is contending with Lemonade in the visual area.
Prince will be honored somehow.
While Prince may not be eligible for a regular nomination, he won't go unrecognized. Believe it or not, Prince was never made a Lifetime Achievement Award recipient while he was still alive to accept it, but, posthumously, he's a shoo-in. The Grammys gave Michael Jackson a Lifetime Achievement Award the year after his death, meanwhile most of this year's other monumental deaths in music — David Bowie, Leonard Cohen, Merle Haggard — have already had the honor bestowed upon them. (Purple Rain is also already in the Grammy Hall of Fame.) Lifetime Achievement awards aren't announced until closer to the February ceremony, but expect Prince's name to be on it and for Beyoncé to hopefully be involved in the obligatory tribute.