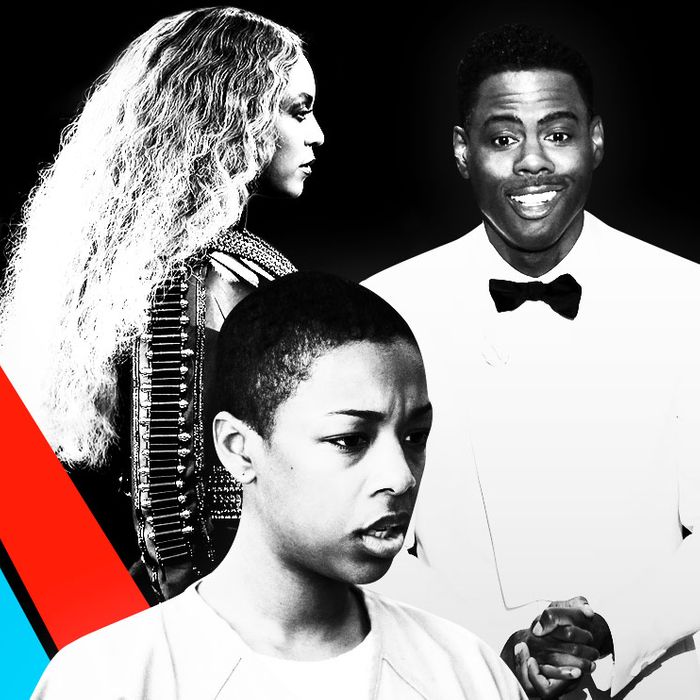 In 2016, TV got noticeably blacker.
Photo-Illustration: Vulture
It's no coincidence that one of television's best years was also the year it got noticeably blacker. In 2016, TV showed and talked about race in unprecedented ways: Multiple acclaimed series were created by black women, two black comedians hosted late-night shows (we miss you, Larry!), there were more black leading roles than ever, a wave of black actors raked in nominations for their work, and the line between headlines and plotlines was blurred to a shocking degree. In no other year could Insecure and Atlanta have debuted within weeks of one another, could Trevor Noah finally hit his stride on The Daily Show, could Beyoncé and Kendrick Lamar give such pro-black live performances, and could Ava DuVernay tell two completely different, essential stories about black life. In 2016, black auteurs got reactionary — because they had to be — and more uniquely vocal than ever.
Below, Vulture looks back on the moments that defined this very black year in TV. But first, a note about the meaning of "very black." Death at the hands of law enforcement, for example, is not intrinsic to black life, but it's a tragedy that far too many black people experience; dying for being black is Very Black. In 2016, that unavoidable reality became a focal point for stories told in many shows, several of which we'll highlight.
Beyoncé's Black Panther–themed Super Bowl performance (February 7)


The day before the Super Bowl, Beyoncé released her pro-black manifesto "Formation." The next day, she performed it on the biggest night in American television — the Super Bowl's halftime show — wearing a recreation of Michael Jackson's black-and-gold military-inspired regalia from his own Super Bowl performance two decades earlier. Her dancers and marching band were dressed in modernized Black Panther uniforms and, together with Beyoncé as their leader, raised their fists in the iconic Black Power salute. It's the first (and likely last) time the word "negro" has ever been shouted on a Super Bowl broadcast with such resolute pride — a performance so unmistakably political and black, it had police and white nationalists demonizing Beyoncé as Public Enemy No. 1 for weeks.

Kanye West's spiritual SNL performance (February 14)
Yes, Kanye publicly aligned himself with Donald Trump, declared racism a moot point, and became a Bill Cosby apologist in 2016. But first, for a few brief minutes in February, he held onto the last shred of his black card by bringing the black church to the church of Lorne Michaels. Kanye turned the Saturday Night Live stage into a faith-healing service for his spiritual hymn "Ultralight Beam," with gospel singer Kirk Franklin as his pastor, acting out the performative miracle of ridding Kanye from suffering as he lay collapsed on the ground. Behind them, a gospel choir led by Fonzworth Bentley (yup, him) sang them to salvation. As if the moment wasn't black enough, Chance the Rapper used his featured verse to publicly shame the Chicago police officer who murdered Laquan McDonald in October 2014.

Kendrick Lamar's prison-themed Grammys performance (February 15)
Seeing Kendrick Lamar bound and shackled on a prison block is about as evocative an image as it gets. Couple that with the fact that it happened at the 2016 Grammys (where Kendrick swept the rap category) in a performance partly set to the enraged "Blacker the Berry" and a momentary African tribal medley that served as a visceral reminder of the transparent line between the prison-industrial complex and slavery, and you've got the year's blackest awards show performance. It ended with an indictment of police brutality in a brand-new verse dedicated to Trayvon Martin so brutally poignant (and ultimately prophetic, as the events of the summer proved), it stunned the room.

Black-ish's police-brutality episode (February 24)
There's no blueprint to parenting, and there's even less of one when your child is black. What can a parent of a black child say to make them feel safe in an unsafe world, where the gravest harm can be inflicted by those meant to serve and protect? The Black-ish episode "Hope" aimed to open up a necessary dialogue about talking to your kids about police brutality. This isn't a conversation only parents of black kids have — all should have it — but for them, it's not optional. The way Dre and Bow advise their kids on how to handle watching innocent black people killed by police, how to engage with law enforcement, how to protest, and how to heal in times of hopelessness isn't a one-size-fits-all solution. But it's a jumping-off point. "Hope" was an after-school special that actually felt special.

Chris Rock's #OscarsSoWhite monologue (February 28)
In a year when not a single black person was nominated in a major Oscars category, there was no better host than Chris Rock to make everyone in the room feel uncomfortable. It wasn't a public shaming, exactly — more like side-eye you couldn't escape. Kind of like this spot-on joke about Hollywood's brand of racism: "It's not the racism you know. Hollywood is sorority racist. 'We like you Rhonda, but you're not a Kappa.'" Burn.

The People vs. O.J. Simpson's "nigger, please" (March 1)
True story: During the O.J. Simpson trial, after Christopher Darden tried to have the N-word banned from use in the courtroom, Johnnie Cochran tore him a new one, then turned to him and smugly said, "Nigger, please." Those same two words made it verbatim onto FX's The People vs. O.J. Simpson. Rarely do we get to hear a hard "-er" iteration of the word on TV, unless it's spoken by a racist or it's used in a Quentin Tarantino movie. Rarer even is the shock of hearing a black man say it to another — though, as all black people know too well, it's commonly used to berate each other exactly as Cochran did to Darden.

The Carmichael Show's Cosby episode (March 13)
To black people, Bill Cosby used to represent the pillar of black fatherhood. He and Cliff Huxtable were one and the same. That's why it's been so difficult for black communities to reckon with decades of accusations against Cosby; it's like accepting your father figure is a monster. In "Fallen Heroes," The Carmichael Show tackled the Cosby conversation that's happened in every black family's living room: Is it still acceptable to like Cosby's art? By addressing the question from every angle, Carmichael treated it as an issue of morality without any easy answers. The real triumph of the episode is that it dedicated its full runtime to Cosby, rather than make it an afterthought. That was a risk, especially given the show airs on Cosby's old home of NBC, but one that paid off.

Larry Wilmore telling Obama, "You did it, my nigga"  (April 30)
If you can't keep it 100 with the president of the United States, have you ever truly kept it 100 at all? That's the quandary Larry Wilmore seemingly attempted to solve as host of President Obama's final White House Correspondents' Dinner, where he closed his bit by saying directly to Obama, "Yo, Barry. You did it, my nigga." Outrage over the breach of political correctness swiftly followed from both sides of the racial spectrum, but all the moment really proved was that Larry's president is black (for now), his Lambo's probably blue, and he'll address Obama as any black man would another regardless of who's watching, thank you very much.

The Roots reboot (May 30 to June 2)
Although plenty of canonically white shows were revived this year (and every other), 2016 saw an egregiously small number of black-centric reboots by comparison — but that doesn't mean there were none. It doesn't get blacker than Roots, the historic 1977 mini-series about the legacy of an enslaved, semi-fictional man named Kunta Kinte, so it's only fitting that it got a monster, well-received remake simulcast on multiple networks. That's eight hours of black history! And it didn't even roll out in February.

UnREAL botching the first black Bachelor (June 6 to July 18)
There has never been a real-life black Bachelor and now, thanks to UnREAL, there likely never will be. One of the major arcs of season two involved the fictional reality show Everlasting casting a black Bachelor for the first time. This could've gone smoothly, given UnREAL's acclaimed first season, but it all went haywire when the show tried to be too woke, plopping in a Black Lives Matter subplot to up the stakes. One of Everlasting's producers tries to manufacture drama by calling the cops on the black Bachelor, but ends up unintentionally getting his black cousin shot by police, thus leaving black trauma viewed only through the lens of white guilt. It was irresponsible race-baiting at best, but also a clumsy attempt at a meta message to Hollywood: Casting for diversity is meaningless if the people behind the camera remain white. 

Poussey's murder on Orange Is the New Black (June 11)
Beloved TV characters die all the time, but their deaths aren't always ripped from the headlines. Orange Is the New Black fans learned that painful lesson during the show's fourth season, which premiered as police shootings of black people spiked over the summer. Season four saw a lawlessness to the way inmates were treated by once-friendly correction officers, culminating in a rookie officer killing Poussey during a prison-wide protest. She's pinned to the ground, suffocating, gasping that she "can't breathe" — a chilling reference to Eric Garner's murder. It's a too-close-for-comfort statement of solidarity with the Black Lives Matter movement that stunned audiences.

Black actors win big at the Tonys (June 12)
In a corrective to this year's glaring #OscarsSoWhite, the Tonys were dominated by people of color. Black actors took home all four of the major acting awards for musicals — Leslie Odom Jr. for Best Actor, Cynthia Erivo for Best Actress, Daveed Diggs for Best Supporting Actor, and Renée Elise Goldsberry for Best Supporting Actress — representing two of the year's most diverse, inherently black stories on Broadway: Hamilton and The Color Purple.

In ESPYs speech, NBA stars criticize police brutality (July 13)
Just days after Alton Sterling and Philando Castile were brutally murdered by police on-camera, four of the NBA's biggest stars used their platform for something bigger than sports. Carmelo Anthony, Chris Paul, Dwyane Wade, and LeBron James began the 2016 ESPYs with a cold open that both reacted to the summer's unrest and made a call to action for other athletes to speak out against racial injustice. In a night that honored the late Muhammad Ali, their unprecedented moment of activism felt appropriate, particularly at this awards show.

Jesse Williams's super-woke BET speech (June 26)
There are woke baes, and then there's Jesse Williams. While receiving a humanitarian award at the 2016 BET Awards, the Grey's Anatomy star thoroughly proved why he's so deserving of the honor. In a trailblazing speech that doubled as spoken word, Williams dropped truth after truth about how America has regressed on matters of race and why anyone who argues otherwise isn't to be trusted. He laid out his list of demands as a member of the resistance — legitimate freedom being at the top — and advised anyone looking to stand in the way to "sit down." It's the mic drop of the year.

Michelle Obama's powerful DNC speech (July 26)
The catchphrase that dominated the 2016 election started at the Democratic National Convention, and it was coined by Michelle Obama: "When they go low, we go high." Hope did seem high then, but a feeling of lowness hung in the air. It's been that way since the Obamas first stepped into office, inside a house appropriately deemed White. Michelle expertly noted the irony in her deeply moving speech: "I wake up every morning in a house that was built by slaves and I watch my daughters, two beautiful intelligent black young women, playing with their dogs on the White House lawn."
Luke Cage's pop-culture references (September 30)
The great black thing about Luke Cage — aside from it being a show with strong parallels to Black Lives Matter — is that it's tailor-made for black nerdom. It's the Gilmore Girls of black literary references, an encyclopedia of name-drops from Ralph Ellison and Donald Goines to all the Harlem Renaissance standards, not to mention a treasure trove for history buffs and hip-hop heads alike, with recurring mentions of Crispus Attucks and Gang Starr. It's also got its foot in the modern language of blackness with slang rolling off every character's tongue from Cottonmouth's "Bye, Felicia" to an especially memorable scene where Mariah Dillard says she has no time for "chickenheads" and calls Misty Knight a "trick." Sweet Christmas, the black pop-culture references run deep.

Luke Cage and Insecure acknowledging black Greek life
TV has long created fake sororities and fraternities to represent nationally recognized ones (looking at you, Greek), but they've generally been stand-ins for white institutions. A Different World's Hillman College did its part to make up for the lack of historic black Greek life; decades later, the real thing has finally crossed over into the fictional realm. Both Luke Cage and Insecure made quick-witted references to the National Pan-Hellenic Council sorority Alpha Kappa Alpha, each show mocking those who take their membership seriously long after college. In Luke Cage, Misty Knight took shots at her superior, Inspector Priscilla Ridley, for letting her "soror" Mariah Dillard "skee wee on out" of an interrogation. (Priscilla later corrects Misty that "actually, it's 'oo-oop,'" meaning they're both Deltas.) In Insecure, Molly is an actual AKA — her bedroom walls are adorned with the flag — and attends a party with Issa full of other Greeks, where Issa proceeds to clown her for it. We've come a long way from Kappa Lambda Nu.
Lucious Lyon's misguided lecture (October 5)
Empire doesn't have the greatest track record when it comes to marrying politics with its nonsensical world. (Remember when Cookie dressed as a gorilla for a Black Lives Matter–adjacent rally?) The third season has done little to improve that, but it briefly tried to find the right tone after Andre was falsely arrested outside of his own home and charged with trespassing, raising questions about whether the arrest was racially motivated. In what's intended to be both a teachable moment and an "I told you so," Lucious forces all three of his sons on a trip down memory lane to Philly because he thinks raising them with wealth has made them forget they're still just black men in America. It's a valid (if patronizing) concern that's undercut by Lucious's relentless spite, of course. If only Andre, Jamal, and Hakeem had Dre and Bow Johnson for parents.
Ava DuVernay's 13th foreshadows the election (October 7)
Ava DuVernay's damning look at how mass incarceration is just slavery by another name would've been prescient at any time. But because the documentary premiered on Netflix in the month prior to the election, and included criticism of both Donald Trump and Hillary Clinton, it took on a whole new relevancy. One particularly striking scene that compared the white supremacy at Trump's rallies to a lynch mob reads especially eerie postelection, reflecting a terrifying part of American history that could repeat itself these next four years.

Atlanta's "B.A.N." satire (October 11)
Just when you thought Rachel Dolezal was behind us, Donald Glover reintroduced transracial identity into the cultural discussion by spoofing it to death. There were no 30 minutes of television in 2016 blacker than "B.A.N.," an episode of Atlanta that looked like a late-night special on Centric and felt like a consummate "F.U.B.U." moment. There are parts of black culture that will never translate to White America; "B.A.N.," with its faux commercials sending up Swishers, Miss Cleo, and even police brutality, was black entertainment too black for even BET. To then watch Paper Boi destroy social-justice warriors and p.c. culture on matters of who and what black people should care about with his usual blasé ease made Atlanta the year's most gloriously self-referential show.

Atlanta's Juneteeth episode (October 25)
There are "black" shows and then there are "Southern black" shows. Atlanta is often the latter — and not just because it's set in Georgia, though the setting greatly informs the show. To pull off an episode about something so distinctively black as Juneteenth without ever explaining what it is, you have to broaden the scope. "Juneteenth" does that by being less about black history and more about black present, which, currently in Atlanta, includes one of the largest concentrations of black wealth in the country. Atlanta takes great care to accurately represent class warfare and no episode did this better than "Juneteeth," which showed Earn and Van trying to get a seat at the table of the bougie to finesse better opportunities for their daughter. If you thought of Atlanta as just one sprawling impoverished black hood, this episode shattered that false perception.

Kim Kardashian learning how to do black hair (October 30)
The first time Kim Kardashian realized her daughter is black, it inspired a blog post about the perils of raising black children in a racist world. Two years and a Black Lives Matter awakening later, Kim still hasn't quite got the hang of being a white parent to biracial kids. In an illuminating episode of Keeping Up With the Kardashians, Kim chalked up her inability to do North's hair to it being "curly," rather than acknowledge that it's because North has black hair. She's then seen hiring black celebrity hair stylist Kim Kimble to teach her how to braid. The result? Another awkward, honest glimpse at mixed-race parenting from the most blended public family on the planet.

Insecure exposing racism in the workplace (October 30)
Insecure is a show about dissecting personal relationships, but its first season also put Issa and Molly's professional lives under the microscope. For Issa, that meant using her subconscious voice to eviscerate her white co-workers under her breath, though Insecure was clear that there are levels to the veiled racism that operates in a workplace. While white people have "secret white meetings" and send "secret white emails" at Issa's nonprofit, they have the same "secret white meetings" with certain black people about other black people at Molly's law firm to get them to do the backstabbing so the white bosses don't have to. It's the sort of casual racism black people are accustomed to, but HBO has rarely shown.

Van Jones's postelection "white-lash" speech (November 9)
Processing the aftershock of the presidential election in real time is no easy task, especially when much of America looks to you for guidance through the smog. Political correspondent and activist Van Jones was live on CNN during Election Night, and he communicated black America's sense of terror and despair with immediacy and grace. His thoughtful reaction stings even worse now that reality has sunk in: "This was a white-lash against a changing country. It was a white-lash against a black president, in part. And that's the part where the pain comes."

Dave Chappelle hosting Saturday Night Live (November 12)
Just days after the election, Dave Chappelle made his SNL hosting debut. The timing couldn't have better and Chappelle used it to his full advantage, forgoing the usual cold open for a mini stand-up routine. It was shrewd, dropped several N-words, and told it like it is, the show's white audience be damned: "We'll just let white people figure this out among themselves." Later that night, SNL hit its stride in a sketch about an Election Night party, where Chappelle and Chris Rock were the only people of color invited. It provided an everlasting reminder that, hey, black people have most definitely endured worse than Donald Trump.

Annalise Keating getting her weave done (November 17)
Ask any black woman and she'll tell you that she's spent half her life sitting in a chair at the salon. One of the longest, most dependable relationships many black women have is with their hairdressers, though it's rarely depicted on TV. Black hair maintenance, in the wrong televised hands, can go terribly wrong. How to Get Away With Murder got the process right by showing Viola Davis's Annalise Keating getting her weave installed, one sewed-in track at a time, by a character played by Mary J. Blige. In treating her self-care as a therapeutic ritual, Shondaland once again normalized one of the intricate realities of black sisterhood.

Trevor Noah confronting Tomi Lahren (November 30)
What does it look like when two people from completely different backgrounds face off about humanity's most divisive thread of existence? Well, it's a lot like Trevor Noah challenging right-wing ranter Tomi Lahren on her racist hot takes. Noah's digs were tactful, measured, and, for once, funny; each one flying right over Lahren's head in Noah's best Daily Show interview yet. The lesson is clear: To beat a bigot at their own game, you can only deal them a hand they'll play to defeat themselves.
President Obama's Daily Show exit interview (December 12)
It's considered a career pinnacle for a TV host to interview a sitting president. It's another thing entirely when it's America's first black president and the first black host of The Daily Show. In his final weeks as president, Obama spoke with Trevor Noah for an entire episode, touching on everything from the Russian hack to Obamacare. In breaking that routine to ask Obama a personal, tricky question about navigating racism as a minority leading the majority, Noah gave a national platform to a conversation black people regularly have in private.

Michelle Obama's final White House interview (December 19)
Over the course of the Obama administration, Michelle Obama was rarely interviewed by a fellow black woman. Her final interview from the White House changed that when she sat down with the most famous black woman alive: Oprah Winfrey. In conversation, the two talked candidly about the radical act of being black women in power and having to dismantle the racist stereotype of the Angry Black Woman by accepting the challenge of "living out loud." With another interviewer, neither topic may have ever come up.

Honorable mentions: SNL's "Black Jeopardy" with Tom Hanks; Chewing Gum's Tracey constantly saying out loud what black people are usually thinking about white people; Atlanta's "Black Bieber"; SNL's "The Day Beyoncé Turned Black"; Insecure's gang member neighbor; Larry Wilmore's Nightly Show farewell; HBO's Confirmation; Insecure alluding to the "down low" stereotype; Pitch breaking major league baseball's glass ceiling; OWN striking gold with Greenleaf and Queen Sugar.