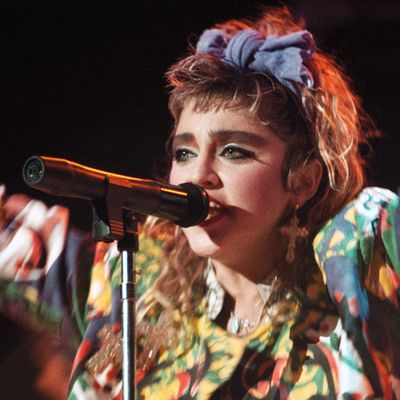 Photo: Jim Steinfeldt/Getty Images
No biopic could tackle all of Madonna's life at once, so Elyse Hollander's Blonde Ambition, the unproduced script at the top of this year's Black List, takes on the star's origin story. When Ambition introduces Madonna in the early '80s, she has a different look — more punk than pop, with dark brown hair — but she's still the cool-girl musician able to shapeshift between corporate boardrooms and club appearances. The script's Madonna is desperate to ditch her band and cut her first album with Sire Records and a hip producer named Jellybean. Some of the dialogue is clunky — "If not you, then who? If not now, then when?" is an oft-repeated mantra — but the plot takes Madonna from a Russian Tea Room waitress to her performance of "Like a Virgin" at the first MTV Video Music Awards. Vulture was able to obtain a copy of the script; here are the highlights:
1. It's almost a love story. John "Jellybean" Benitez is the movie's leading man. At the script's start, Madonna is waiting tables and moonlighting as a pop-punk singer downtown, while Jellybean is a high-profile producer with fans at Billboard. Lacking a singular sound, Madonna begs Jellybean to mix her homemade tracks. "Holiday" is their first hit, but their romance continues through Madonna's early career. They become a pair of industry outlaws: He's Latino and she's a woman, but both are trying to take their underground sound mainstream. The difference is that she's a saleswoman: No man in the script is as ambitious as Madonna, who pushes Jellybean away when he wants her to trade her career for their surprise pregnancy. She has an abortion and continues chasing her dreams instead. "Twenty years from now," she eventually sneers at him, "the only thing you'll be remembered for is being my ex."
2. The Emmys are in it. Before Jellybean and "Holiday," there were the Emmys, Madonna's band, which included Stephen Bray and brothers Ed and Dan Gilroy (the latter of whom she once dated). In the script, Madonna's the lead singer and headstrong hype woman; when the guys start to question her authority, she dumps Dan for Jellybean and leaves the band's bad management behind.

3. Hair dye plays a crucial role. For half of the script, Madonna is a brunette who's constantly being ignored for peroxide-blonde Soho socialites. Her decision to go blonde comes in a moment of rage after she's been passed over again by label honcho Seymour Stein. As she's armed with a bottle of hair dye, Madonna's roommate asks her what she's up to: "Making sure no one mistakes me for that shy Michigan girl ever again," she says.

4. There's some Cher shade. The script suggests the Madonna-Cher beef began on a red carpet with Nile Rodgers. Early in the film, Madonna seeks out Nile as he enters an event. When she shoves an Emmys tape in his face, Cher takes it, signs it, and quips that the band should change their name. As Madonna's career takes off, Cher goes from an antagonist — she calls Madonna "a flash in the pan at best" — to a backstage hanger-on.
5. It's almost as much about MTV as it is about Madonna. Blonde Ambition is Madonna's origin story, but the script also shows the early days of MTV. Jellybean discounts the channel's influence, but the script takes pains to show that Madonna was always an early adopter. The movie stops in the moments after her "Like a Virgin" performance at the first VMAs, binding Madonna's image with MTV's brand for life.