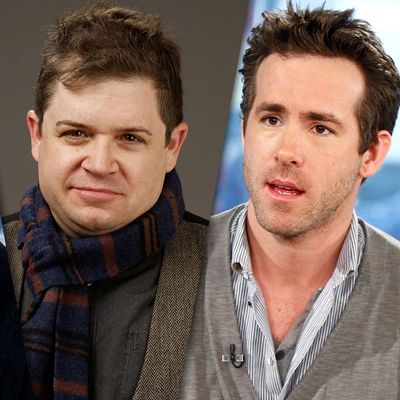 Winona Ryder, Patton Oswalt, and Ryan Reynolds.
Photo: Getty Images
No matter how seasoned the actor, auditioning is terrifying. Damp with flop-sweat, you throw yourself before a panel of overtired and impatient casting directors, who hold your fate  in their hands like a fragile butterfly. It's a nervewracking experience in any setting, but when the stony-faced judges sitting across from you happen to be Joel and Ethan Cohen, it's an entirely new stress nightmare.
The brother-brother filmmaking team has a reputation as stoic and reserved; Fargo showrunner Noah Hawley had to consult Ethan's personal friends to confirm that the man's terse review of the pilot script — "Yeah, good" — was indeed intended as praise. Across various interviews and other public appearances, several actors have shared tales of losing their cool or just coming up short when auditioning for the two titans of American film. We've compiled some stories from around Hollywood of botched Coen auditions, from off-tune singing to ill-conceived audition tapes.
Ryan Reynolds
As the producer and star of Deadpool, the Canadian actor had a rosy 2016 by anyone's measure. But during a recent back and forth with Empire's Taraji P. Henson for Variety, the lovable Canuck recounted one of his less-proud moments. Turns out Reynolds's last audition was for the Coen Brothers — either for Inside Llewyn Davis or Hail, Caesar!, he's not totally sure — and they weren't biting. "It wasn't the right fit, mostly because they're very high class," Reynolds said. "They were just quietly shaking their heads, like, 'What are you doing here? Do you have a SAG card? Or do you have the Canadian version? How did you get here?'" A humbling experience to be sure, and just so everyone knows — Canadians join ACTRA.
Casey Affleck
Whiffs of scandal haven't prevented Casey Affleck from becoming the front-runner in this year's Best Actor race for his searing performance as a closed-off custodian in Manchester by the Sea. He's got your basic components of screen acting down, but carrying a tune gives him some trouble. When auditioning for the title role in Inside Llewyn Davis, Affleck was called upon to sing a few bars, and the traumatic recollections of his teen years kicked in immediately. "In the back of my head, I was having flashbacks of being in the musical director's room in high school," Affleck told Variety. "I knew I couldn't, but I sang for them anyway. That was the end of that." It's a situation Llewyn Davis himself would know all too well.
Zac Brown and Jim James
Plenty of real musicians worked on and around Inside Llewyn Davis: Justin Timberlake played Llewyn's upbeat frenemy, Marcus Mumford of Mumford and Sons produced the soundtrack alongside T-Bone Burnett, and a handful of bona fide recording artists tried out for the role of Llewyn. Country superstar Zac Brown and My Morning Jacket front man Jim James both auditioned, and while their musical chops weren't cause for concern, the Coen Brothers found their skills as thespians lacking. "We saw Jim James for the role, we saw Zac Brown, we saw a lot of [musicians] who were all wonderful, but to carry the lead in a movie like this …" Burnett told Vulture back in 2013. "Whatever Oscar did, it was an extraordinary feat of art, I'd say."
Patton Oswalt
Full-time comic, part-time actor Patton Oswalt made no bones about his slavish devotion to the Coen Brothers when he appeared on Marc Maron's WTF podcast in 2011. As the two men effused over the brothers' morally murky black comedies, Oswalt recalled the time he unsuccessfully went out for a role in their 2009 film A Serious Man, flying to their '60s-styled offices in Minnesota to read for the role of Arthur Gopnik, the hapless brother of equally hapless title character, a part that eventually went to Richard Kind. But Oswalt was still emphatic about his love for the movie, comparing the experience of going through the story of put-upon Jewish suburbanites for the first time to "reading a great novel." He added, "I can't articulate it, how fun it was to read the script."
Marc Maron
On that same episode of WTF, Maron revealed that he had also thrown his hat into the ring for a role on A Serious Man. Maron stared down the Coen Brothers and read for the lead, losing the role to Michael Stuhlbarg, whose career took off shortly thereafter. Like his guest, Maron was wowed by what he saw as an innovative and unusual screenplay. "When I read that script, I was like, How are they gonna make a movie out of this?" Maron said. (He added that his youth spent among conservative Jews in New Mexico gave the script a special resonance with him.) Missing out on the gig didn't stop Maron from breaking into screen acting, or landing his own show, but it's easy to imagine a very different path for his career and for the film.
Winona Ryder
Winona Ryder was a hot commodity in 1994, when she auditioned for the Coens' old-fashioned screwball comedy The Hudsucker Proxy. Ryder stated as much during a sitdown with Charlie Rose to promote The Crucible, commenting that she had gotten pretty much every role she'd wanted except for one. She worshipped the Coen Brothers, she said, and though she read for the role of romantic lead Amy Archer multiple times, it slipped through her fingers, going to Jennifer Jason Leigh instead. Ryder described the lost opportunity as "the one huge devastation" of her career. What a shame, too; Ryder's natural dry wit would have fit perfectly in the deadpan universe of the Coens. Though after Stranger Things, we suppose there's still time.
Josh Brolin (kind of) 
Josh Brolin was working with Robert Rodriguez and Quentin Tarantino on Grindhouse when the actor first got wind of No Country for Old Men. He figured he'd receive a couple scenes over email, put together a little audition tape, and cross his fingers. But when he approached the directors about shooting the audition using his trusty camcorder, they went whole hog: Rodriguez shot the audition on his expensive movie camera, while Tarantino fed Brolin line readings. "I think they got a little carried away with the lighting," Brolin recalled during an interview in Parade. "Plus, they put Marley Shelton, who played my wife in Grindhouse, in the foreground, and she was taking up three-quarters of the screen." Even the most lavishly produced audition tape of all time didn't do the trick; Brolin revealed they passed on him for the role, but did ask him who did the lighting. It wasn't until a couple months later that the Coens finally warmed up to the actor and cast him in the film, and that meeting was characteristically strange: Brolin discussed poetry with Ethan, and Joel didn't say a word.