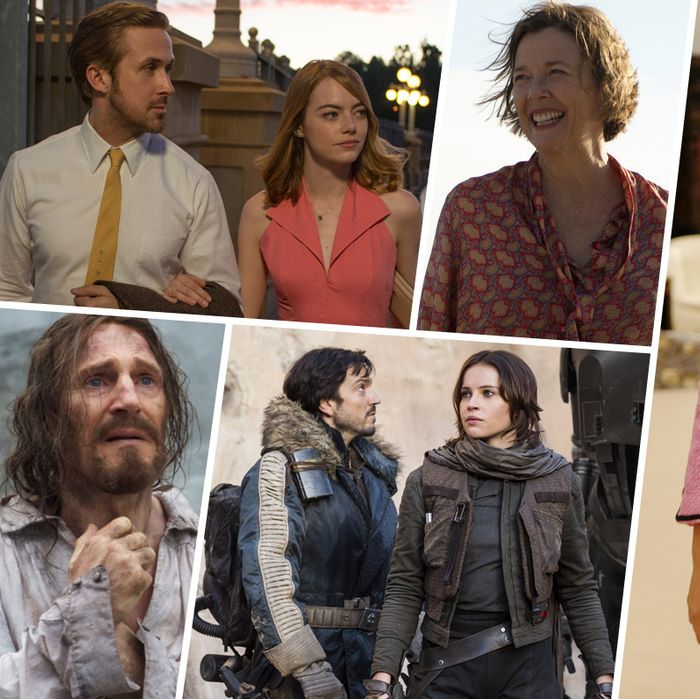 Photo: Black Label Media, Annapurna Pictures, Paramount Pictures, Lucasfilm, Twentieth Century Fox
Another long holiday weekend is upon us, serving as a much-needed extended break from work for many — a weekend filled with last-minute party planning, or an early night in pajamas with Netflix. So as 2016 (thankfully) nears its end, keep in mind that movie theaters during the holidays make for a great virtual escape, either with or without your friends and family. In that spirit, we've compiled a list of films that you may want to see this weekend.
La La Land
Statue season is upon us, and Damien Chazelle's musical La La Land is a strong contender for Best Picture. An old-fashioned romance between an aspiring actress and a jazz musician takes us on a whimsical trip through Southern California. With its beautiful, choreographed dreamscapes, the backdrop of Los Angeles almost looks like a mirage. The charisma and talent of both Ryan Gosling and Emma Stone reinforce the movie's strengths. In all its vivid techicolor glory, the camera seems to dance along with the actors to capture a vintage, jazz-era Hollywood.
Rogue One
There's little work that needs to be done to convince the Star Wars franchise's diehards to watch this film, but as the first stand-alone film in the Wars universe, this film faces some different challenges than the others. References and cameos from the other films are peppered throughout Rogue One, a little treat for all those encyclopedia heads. Gareth Edwards seems up to the lofty challenge of directing a Star Wars film, and although some critics thought he served up dynamic action sequences, others thought very differently.
Jackie
This intimate portrait of Jackie Kennedy follows her public and private mourning after the assassination of her husband, President John F. Kennedy. Natalie Portman's incredibly expressive face, partnered with her exquisitely refined beauty, evoke Kennedy's distinct mystery and secrecy. Portman's vulnerable, confident performance is the backbone of the film, as Kennedy searches to regain faith through the pain and trauma of defining her husband's legacy. Our own David Edelstein calls the film "brutally intimate and admirably brittle" — almost like a metaphor for the holidays.
20th Century Women
This film's action unfurls with a narrator sharing her memories of the late '70s. Edelstein settles on one adjective to describe 20th Century Women: irreducible. That description is apt, given the performances of three actresses: Annette Bening, Elle Fanning, and Greta Gerwig. Bening's character, Dorothea, is a single mother in her 50s who enlists the other two women to probe different facets of her son's life. The three women explore love and freedom in Southern California while also exploring their own limits and capabilities.
Silence
At last, Martin Scorsese brings us Silence. Conscious of missionary work's roots in colonialism, Scorsese depicts two Jesuit priests, played by Andrew Garfield and Adam Driver, facing persecution in Japan for propagating Catholicism. Both actors prepared extensively for their roles with intensive religious studies and losing substantial amounts of weight. After 30 years of work, Silence has finally arrived in 161 minutes of glory.
Toni Erdmann
A father tries to rekindle his relationship with his adult daughter. It sounds like a common, seen-before plot to a myriad of films, but the German Toni Erdmann breaks the conventional story line with its outrageous and witty humor. The juxtaposition between the serious, focused daughter, played by Sandra Hüller, and her flamboyant, eccentric father, played by Peter Simonischek, propel this unexpected comedy to a Best Foreign Language Oscar front runner. Its imagination and ingenuity are sure to produce some hearty laughter.
Passengers
Chris Pratt and Jennifer Lawrence star in Passengers as two, well, passengers awakened 90 years early while aboard a spacecraft traveling to a distant colony — but how they are awakened, and why, becomes the crux of the narrative. It'll anger some people, that's for sure!
Arrival
Amy Adams dominates the big screen once again in Denis Villeneuve's Arrival as Louise Banks, a linguists professor. She is tasked with uncovering the language of extraterrestrial beings when 12 spacecrafts appear inexplicably around the world. Like most sci-fi films, the buildup is the fun part of watching the story unfurl, and it's one of the smarter space movies of the year.
Manchester by the Sea
Kenneth Lonergan doesn't hold back with this tearjerker, for audiences and for himself. This sad film may pair well with your equally dismal holidays or provide a bleak contrast to the holiday cheer. Casey Affleck plays Lee Chandler, an uncle who is forced to take care of his teenage nephew after the boy's father dies. Seemingly unfit for the role, his life is upturned by the unsolicited development, and Affleck drinks his way into a deeper despair.
Fences
August Wilson's original 1983 play was revived on Broadway in 2010 with Viola Davis and Denzel Washington, both of whom won Tonys for their roles. Now Washington has adapted the play to film, with many of his Broadway co-stars reprising their roles. Despite the challenge of translating it from the stage, the film has already proven itself a strong Oscar contender in multiple categories. Denzel plays Troy, a former baseball star turned sanitation worker, who rules his home with an iron fist. Viola Davis's performance as his wife, Rose, has already made her the seeming front runner in the Best Supporting Actress race, and the critical reception has been almost unanimously favorable.
Loving
Loving tells the true story of Richard and Mildred Loving, an interracial couple who became the face of the campaign to strike down anti-miscegenation laws. Ruth Negga and Joel Edgerton's performances capture the couple's affinity for each other, but Loving does not just wrap up with the simple message that "love prevails." As Edelstein notes, the film's pacing captures a slow, stunning intimacy that lingers long after its end.
Paterson
Adam Driver makes it to this list twice, this time as Paterson, a blue-collar bus driver in Paterson, New Jersey, in Jim Jarmusch's Paterson. Driver's ascended to the top of his craft in the five years since Girls premiered, and earlier this week, Vulture's Kevin Lincoln explained how he became one of our best young actors. As both a bystander to conversations aboard his bus and a witness to the city around him, Driver's Paterson filters the world through his observations. A beautiful examination of the inner world of an artist, Paterson is one of Jarmusch's best films.
Moonlight
If there is any film to watch this holiday season, let it be Moonlight. Barry Jenkins's tender coming-of-age film chronicles a young man's self-discovery of queerness, masculinity, and identity while growing up in Miami. A trio of actors — Alex Hibbert, Ashton Sanders, and Trevante Rhodes — play our hero Chiron at different stages of his life, each of them capturing his profound sadness and unspoken desire so fluidly that the character's essence imbues each part of the film. The weighty silences and lingering gazes inspire a visceral reaction as Moonlight unfolds.