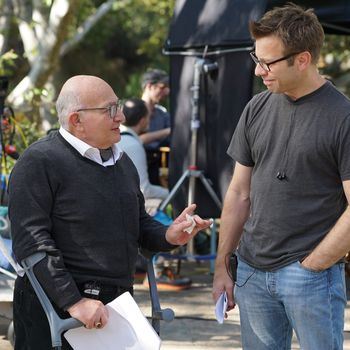 R-L: Director Ben Lewin and co-executive producer Mark Kunerth filming the episode "R-o Road T-r Trip."
Photo: Eric McCandless/ABC
LOS ANGELES — Speechless actors John Ross Bowie and Micah Fowler are working through a scene for a January episode of the ABC comedy on the Fox lot. In it, we see JJ's (Fowler) mischievous side for the first time: During a stop at a crafts fair during a family road trip, somebody mistakenly assumes the DiMeos are selling water from their car, which gives JJ an idea to peddle off the family's junk — yoga pants, a curling iron, among other items — out of their truck. Impressed by his son's initiative, the father (Bowie) and son start conspiring.
Between takes, director Ben Lewin stands up from his seat and walks over to the actors. "Micah, don't smile this time," he tells the 18-year-old newcomer. "Just think."
JJ, who uses a wheelchair, has a nonverbal form of cerebral palsy which means Fowler (who also has cerebral palsy, but can speak with some difficulty), relies solely on his facial expressions for his performance. "Sometimes I just want JJ to say it," says Fowler, during an interview in his trailer, acknowledging that depending on only his face to perform can get tough.
It helps that his director understands him. Lewin, 69, the writer-director of the 2012 critically acclaimed film The Sessions, survived boyhood polio and uses crutches to walk. "It's a real challenge to give the audience a sense of what's in your mind and what's developing in your mind when you can't speak," Lewin says of working with Fowler on the scene. "What I was trying to get out of him was, he was seeing all this stuff laid out and as they see it laid out, he realizes this is all crap, how am I going to sell this? So I was just trying to get the sense of the idea brewing."
Before Speechless — the ABC comedy starring Minnie Driver and Bowie as Maya and Jimmy, the heads of the DiMeo family, raising JJ and their two other children in Orange County — the Australian indie filmmaker's American TV résumé was limited to one episode each of Ally McBeal and Touched By an Angel. Lewin's approach to actors is simple: Treat each one individually.
"Everyone has got a different shtick, a different set of issues, and you work each person in different ways," he said. "It's not very obvious, but I don't relate to Micah as a special-needs actor. Of course, there's a whole kind of physical element to it, but you'd be amazed how that just disappears. My kids, for instance, don't cut me any slack whatsoever. Get your own bloody coffee! So I'm not inclined to cut anyone slack because they need more than someone else." For his part, Fowler is acutely aware of how rare it is to work with a disabled director (Lewin is one of two disabled directors who are members of the Director's Guild of America). The experience taught him, he says with a big smile, that "no dream is too high."
The warmly received show is ABC's newest family comedy to succeed at presenting family life from a specific perspective. In this case, creator and showrunner Scott Silveri (Friends, Perfect Couples) mined his own family for comedy — his older brother has cerebral palsy and he has two younger siblings. Silveri had tried to tell their story for years, but had trouble landing on a tone that didn't feel preachy.
"It's a tough tone to pull off," Silveri says. "I also didn't want it to be beat-for-beat my family." There are some direct connections, though: 16-year-old Mason Cook, who plays middle-child Ray, is modeled after Silveri. And the element that gives the show its distinctive point of view was inspired by the Silveris: "Embracing being different and not apologizing for it — not even a little bit," he says. "Not only did we not feel less than, we felt special. There were other families on our block that had a kid with a disability. But there weren't any families who laughed harder than us."
Growing up in the '70s, he and his family didn't have the types of online and community support that exists today. "This kind of funny and sweet thing happened where I went to read about families like ours and met a lot more people who went through the same thing," he says. "What I found was that we fit into these clichés, and there was something oddly comforting about that."
He discovered there were many loving, tough mothers who will do anything and everything to protect a special-needs child the way Maya (Driver) does, harassing the school principal about installing a wheelchair ramp and meticulously orchestrating every moment of JJ's first date. Driver was drawn to the part of Maya because of how unusual she was. "She has to fight very hard," Driver says. "She's in a difficult situation. But she also makes me laugh. She's got a weird charm."
Lewin knows mothers like Maya — he had one. "I had this mixed relationship with my mother, and in a way, she made me who I am, and in the other way, I wanted to run to the other side of the earth from her," Lewin says, laughing. "I think the show really does get into that dynamic. I had an out-of-control mother. I guess I was lucky I wasn't her husband."
Lewin is the comedy's first disabled director, but Silveri has notably assembled a team of people who have personal experience caring for others with disabilities. Several of the show's writers have either siblings or children with disabilities, and Silveri hired two consultants with disabilities. The writers have gone on field trips to physical-therapy centers and listened to guest speakers in their office. The show also struck up a partnership with the Cerebral Palsy Foundation for feedback on story lines and scripts.
"It's important for us to make this show as realistic as possible," Silveri said. "They don't have veto power, but they make us aware of things we should be sensitive to since we are here to entertain and be funny. This is not a documentary, but we do want to get it right."
Bowie, who also has a recurring role on The Big Bang Theory, remembers hearing about Speechless during pilot season from actors who thought the subject matter was too risky. "This is either going to be really, really sentimental or it's going to be really tasteless," Bowie recalled of the chatter about the show. "I thought to myself, Okay, what if it's neither, or what if it's a decent balance of both? Wouldn't that be a show I'd want to watch?" Then he read the script and caught onto the show's dark sense of humor. "Really early on in the script there's a moment where Ray calls JJ a bully," he recalls. "I've never seen a kid who uses a wheelchair called a bully. I really wanted in." When Bowie met Fowler and realized playing with nonverbal cues would become a cornerstone of the comedy, he readily welcomed the challenge.
In earlier iterations of the pilot script, JJ spoke through an augmented speech device on an iPad, but that "didn't feel as fun to dramatize," Silveri says. Then, the producer met a young woman with cerebral palsy (who later became one of the consultants on the show) who uses a communication board like the one JJ uses on the show, and a human aid to verbalize what she is expressing. "They had this great rapport and it was another dynamic to play with, another person to help add to scenes," Silveri says.
Inspired by his meeting, Silveri created a character, Kenneth, played by comedian Cedric Yarbrough, as JJ's aide. "Instead of a computer," Silveri says, "we have one of the funniest guys on the planet." Because having Fowler use the board can become repetitive and drags out jokes, Yarbrough is given license to speed-read. "If we simply had him reading off the board, realistically we'd get about three pages done for every Wednesday night," Silveri says, laughing. "You think as a writer you want this blue-sky canvas to do whatever you want, but it's actually fun to work inside a box. It's like a puzzle: How are we going to have two characters communicate when only one is speaking, and what's a fun way to keep it active? Micah is so good and so expressive that a lot of times in editing we will cut the line and just have a look sell it. It worked in the silent movies for a long time."
That's what ultimately drew Lewin to Speechless: its unexpected mix of humor and compassion. "I wouldn't want to work on a show that made you cringe, but I like to work on a show that almost says the wrong thing on a fairly regular basis. It bangs into political incorrectness," Lewin says, "and that tickles me."