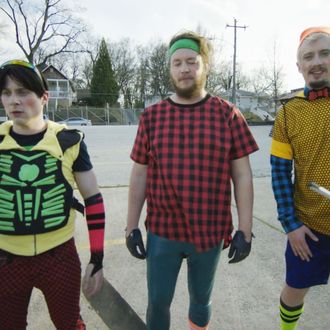 Sketch troupe Million Dollar Extreme.
Photo: Adult Swim
Adult Swim is making a bit of a name for itself of late, and not necessarily in a good way. The button-pushing comedy network made headlines again today when Splitsider reported that it has canceled the controversial sketch show Million Dollar Extreme Presents: World Peace after one season. The series, which has a manic and violent style on par with other so-called "anti-comedic" Adult Swim series, is different in one key respect — its creator, Sam Hyde, is a vocal and active member of the so-called "alt-right," a white-nationalist movement which has been given voice by Donald Trump's election. The show's content, provocative in the anti-comedy style, frequently invoked the messages and imagery of the alt-right and, according to The Atlantic and Splitsider, caused many Adult Swim employees and stars to push back, and in some cases revolt, threatening to quit if the show continued.
The news is just the latest bump in the road for the network and for network head Mike Lazzo, who recently came under fire for misogynist comments he made while attempting to defend Adult Swim's lack of female creators; comedian and Adult Swim star Brett Gelman subsequently spoke out against Adult Swim and took on a personal boycott of the network, citing both the network's misogyny and Million Dollar Extreme's alt-right affiliations as his reasons for leaving.