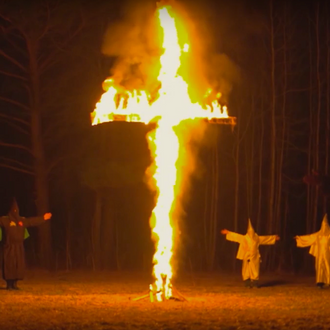 After changing the show's title from Generation KKK to Escaping the KKK: A Documentary Series Exposing Hate in America to assuage viewer concerns about the program's tone and intent, A&E has now pulled the plug on the upcoming series entirely, having discovered from third-party producers that payments had been made "to some participants in order to facilitate access" during shooting. According to The Hollywood Reporter, the network released a statement regarding the decision Saturday afternoon, outlining the information that came to light Friday regarding cash payments made to people who took part in the filming of Escaping the KKK. The statement says in part:
Our goal with this series has always been to expose and combat racism and hatred in all its forms. However, A&E learned last night from the third-party producers who made the documentary that cash payments – which we currently understand to be nominal – were made in the field to some participants in order to facilitate access. While we stand behind the intent of the series and the seriousness of the content, these payments are a direct violation of A&E's policies and practices for a documentary. We had previously provided assurances to the public and to our core partners - including the Anti-Defamation League and Color of Change - that no payment was made to hate group members, and we believed that to be the case at the time. We have now decided not to move forward with airing this project.

A&E takes the authenticity of its documentary programming and the subject of racism, hatred and violence very seriously. Just because this particular show goes away, the issues of hate in America do not. We will still seek to fight hate in America through on-air programming including town halls and documentary programs produced in partnership with civil rights organizations, as well as continue to work with the civil rights community to facilitate a deeper dialogue on ending hate through comprehensive educational and outreach campaigns.
The show's first look trailer has subsequently been taken down from A&E's official YouTube channel.