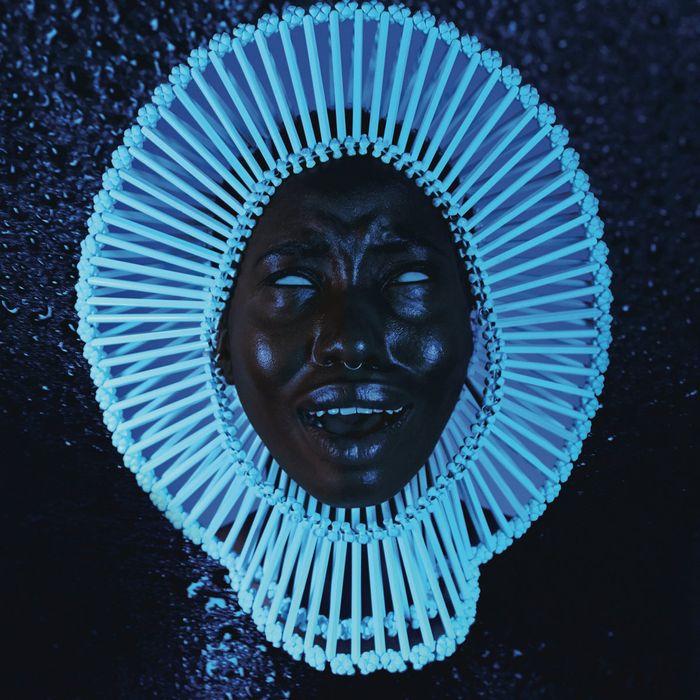 Though it began as a lark, Donald Glover's work as Childish Gambino has gotten grander in scope with every subsequent release — the messiness of his original mixtapes tightened into more workmanlike lyricism as time passed. His 2011 debut studio album Camp added a (gauche) outsider approach to the textbook celebratory rags-to-riches rap album bolstered a year later by Royalty, a mixtape that made inroads with the very hip-hop audience he seemed eager to supersede before. By 2013's short film/screenplay/studio album Because the Internet, it seemed like Childish Gambino was an exercise in pivoting from TV renown into rap stardom through sheer force of determination.
All of this effort makes a mystery out of the last year and a half of Gambino comings and goings: After threatening to quit rap in 2015 ("I feel like Childish Gambino is a period that should come to a close," he told the Today show), Glover popped up in a series of respectable acting, producing, and directing projects from FX's Atlanta to Magic Mike XXL on the big screen, lending further credence to the notion that his music career might be over. Gambino would resurface unexpectedly this year through PHAROS, a multimedia experience out in California's Joshua Tree Park that presented a surprise new album to diehard fans in a bath of haunting lights and sounds. It's the loftiest product launch yet for a performer whose last studio album urged fans to read a story alongside the songs and comb his website's code for Easter eggs.
Ultimately, Glover kept his promise about quitting rap, as the rest of us would learn upon the unveiling of his third studio album "Awaken, My Love!" The new songs abandon the post-Drake, left-of-the-dial sonics pieced together over Because the Internet and Camp in favor of brash, druggy funk. Opener "Me and Your Mama" dives backwards in time after floating in on a bed of twinkling keys, choir vocals, and pillowy 808s, as an impish, tribal guitar-and-drum stomp cuts into the serene scene two minutes in, and Glover makes his entrance, not as conquering nerd rap king but as howling, pleading, screaming loverman professing affection like dying words after a shot through the back.
Awaken dispenses with the Childish Gambino of albums past as well as most of the sound and subject matter of his nearest fellow gold-selling hip-hop acts, but this isn't to say its conventions are unconventional. It doesn't sound like much else out this year, but it sounds a lot like classic P-Funk. "Me and Your Mama" is notice that these aren't the "Telegraph Ave" and "3005" guys anymore. Suddenly, it's 1978, and they're Funkadelic, mid–"Who Says a Funk Band Can't Play Rock?!" Bits of homage surface elsewhere:  The acoustic guitars and crowd vocals of "Have Some Love" make it a dead ringer for Maggot Brain's "Can You Get to That?," and the noodling guitar riff of "Boogieman" feels like a hyped up take on the same album's "Hit It and Quit It." Second single "Redbone" owes a rib to the Bootsy Collins classic "I'd Rather Be With You." Awaken is a studious '70s funk experiment but the obviousness of the reference points doesn't take away from the sharpness of the playing or the cleverness of some of the writing.
Part of the genius of Clinton and his gang of mothership oddballs is that they often wrote on two levels. You got searingly direct words for life on songs like "If You Don't Like the Effects, Don't Produce the Cause," but there were also times they'd stash political and social commentary inside seemingly upbeat songs like "Chocolate City" and "One Nation Under the Groove." "Awaken, My Love!" strikes a similar balance between veiled and overt social outreach. "Zombies" uses a metaphysical monster story to call out cold capitalists, but "Riot" follows, fearfully musing about a fiery conclusion to the mounting racial and political strife cable news has offered a window into over the last four years. "Redbone" works at dual purposes as Gambino repeats the paranoid refrain, "Stay woke, niggas creeping." At first pass, the lyrics scan as concern for the safety of a pretty woman, but like Common's "I Used to Love H.E.R.," there is a sense beneath the surface that the woman is a representation of black America at large. All of this is miles sharper than the offbeat, sorta-magical realism of Because the Internet (which Atlanta has pulled off largely without tripping into absurdity) and more relatable than the nerd rage and thumbed noses of Camp.
This is, without a doubt, the most accomplished batch of songs of Donald Glover's musical career. The easy pliability of the accompaniment here suggests his team of background players might not have been put to their best use making bits of things for the man to rap over. The wailing guitar leads (Ludwig, Goransson, is that you?), dubby grooves, chugging almost-metal riffs, and heartening soul that coarse through these songs feels like the result of collaborators having fun making music, not designing pop-radio nuggets as battering rams to storm mainstream hip-hop's gates. This is the first time Glover, a guy who has been painfully clear about music not being the craft that butters his toast, actually showed up with an album that sounds like he doesn't care what anyone thinks of it.
Beneath the hood of any smooth ride, though, is always an engine working harder than it lets on. Donald Glover's not a natural soul singer, and there are moments throughout "Awaken, My Love!" where flubbed notes ("Me and Your Mama"), silly voices ("California"), and hero worship (tell me "Riot" isn't textbook Lenny Kravitz) feel less like a gutsy singer letting the seams show and more like an actor straining to play a character. It can lend the album a silliness that doesn't always feel intentional, and this is a fault that has haunted this project in all its permutations. That said, for a guy whose writerly flaws used to be gross sexism and exhausting solipsism, Gambino only falling prey to a series of odd vocal affectations feels like progression. It's humanizing, anyway, to see a successful guy like that continue to push himself. The beauty of Glover, and the Gambino project, by extension, is that he never stops trying.