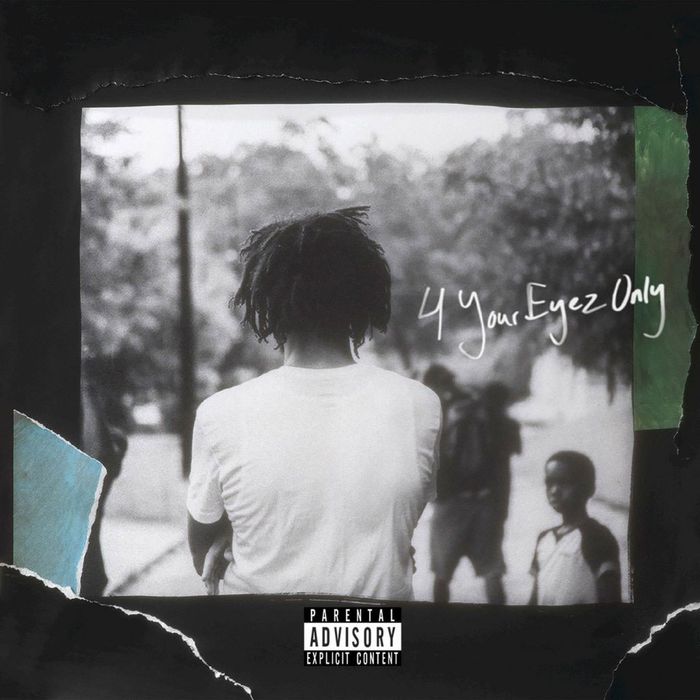 "J. Cole went double platinum with no features" is the rare internet rap-nerd aphorism that works perfectly on both literal and satirical levels. On one hand, it is a statement of chart fact: The North Carolina rapper-producer's last album 2014 Forest Hills Drive ducked standard operating procedure with its lack of famous guest performers and cruised to a formidable 2 million equivalent units sold earlier this year. But the saying is also a dig at the artist's fan base, which is home to a certain cloying brand of rap crusader that sees him as a light in trying times for smart introspection in the art form. The barb suggests Cole is corny, and his fans cornier still for idolizing a guy who dreams about Martin Luther King Jr. signing to his record label, and sells a line like "She shallow but the pussy deep" as biting social commentary.
The truth is Cole deserves the accolades and a fair amount of the ridicule. He is a capable rapper and a good producer who, in arranging his discography as a monument to classic conscious rap through referential sample choices and stylistic cues, has entombed himself in the pitfalls of the stuff. He respects women ("Crooked Smile") unless he's chastising them for not respecting themselves ("No Role Modelz"). He preaches acceptance ("Love Yourz") but is reticent to acknowledge the hurtful power of slurs ("Villuminati"). Cole came back this month with "Everybody Dies" and "False Prophets," two surprise tracks that rattled sabers at trap teens and called out unnamed colleagues he believes have lost their way. They're proof he buys into the defender of the faith business as much as his listeners do, but neither party seems to understand that rap flourishes better without strict rules and boundaries.
All of this makes the ease and maturity of the new 4 Your Eyez Only a shock. In the space between 2014 and now, J. Cole got married and had a daughter, the latter completely in secret, and the ten songs on his new album present a change in his artistry to match the changes in his story. Fatherhood is historically the jelly filling for even the toughest of rappers; nothing warmed Eminem's frosty facade on record like his daughter Hailie. Life as a new parent hasn't made J. Cole a more sentimental songwriter so much as iron out the ideological kinks of his art. The songs about women come from a different kind of awe and admiration now. The two-part "She's Mine" finds the rapper in gobsmacked glee about the new additions and fighting back separation anxiety on a tour bus. (A few times this warmth verges on schmaltz: One song's chorus actually goes, "I wanna fold clothes for you, I wanna make you feel good.")
4 Your Eyez Only isn't just a survey of the artist's growth into a family man, it's a patchwork of stories about finding maturity out of necessity. The songs about marriage and fatherhood dovetail with social and political commentary to explain why J. Cole can't be the bull-headed wiseguy of old anymore. "Neighbors" stresses over race and class as Cole moves into a nice neighborhood and worries about his wealth leading people to mistake him for a drug dealer. "Immortal" and "Ville Mentality" examine the dangers of the job of being a rapper and fantasize about an early exit, the former in death and the latter in retirement. Eyez finds Cole tiptoeing around traps that ensnared friends, family, and heroes, fearful of loss as he greets new life.
On a technical front, this album delivers some of the best rapping J. Cole has ever committed to tape. "Immortal" is thoughtful and insular, but the delivery is grand; it's a deceptively layered party song about the strain of being a guy who makes 'em for a living (in the same way that Kendrick Lamar's "Swimming Pools (Drank)" was a radio hit about the perils of hitting the bottle too hard). Again, there are no features, but Cole is better suited to the task of performing for 45 minutes alone than he was two years ago. He still lacks a certain grace as a rhymer, but there's no dreck like "Cole heating up like leftover lasagna" or "She tellin' him she missed her period like typos" killing every song's momentum, although "She's Mine Pt. 1" comes dangerously close with "The head game is stronger than a few Excedrin."
The upshot of Cole being such a voracious student of his medium is that he gets better with every release. Many major-label rap catalogues open on a great release and spend a decade straining to recapture the magic, to diminishing returns, but J. Cole started out on the schlocky commercial instincts of Cole World (The Sideline Story), learned how to make great singles with Born Sinner, grasped the structure of great albums with 2014 Forest Hills Drive, and pulled together the wisdom and range to populate one of his own with 4 Your Eyez Only. The new album is far from faultless: For a guy who just put out a song tearing into Lil Yachty and Lil Uzi Vert for making music that moves crowds without much budging brains, Cole sounds leagues more animated over the trap-style beats here than the sleepy orchestral stuff elsewhere on the album. He's an austere guy who does best when he's cutting loose, so Eyez is an exercise in getting the knotty, emotional songs as sharp as the radio jingles. It feels like he finally landed.