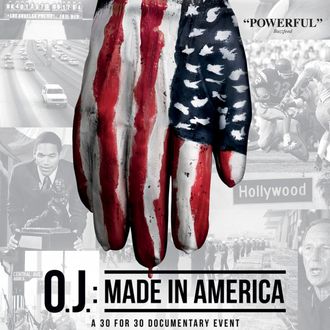 The American Film Institute has spoken: ESPN's O.J.: Made in America isn't really a TV show and it isn't really a film, but it's definitely very good. The institute released its year-end top 10 lists, and gave the nearly eight-hour documentary a special honor (literally called "AFI Special Honor"), without assigning it a specific label. AFI's movie list (which they release in alphabetical order) wasn't limited to awards-season front-runners like La La Land and Moonlight — Zootopia and Sully made the cut as well. See the full top 10 movies list below.
Arrival
Fences
Hacksaw Ridge
Hell or High Water
La La Land
Manchester by the Sea
Moonlight
Silence
Sully
Zootopia
AFI's top TV shows rounded up buzzy streaming releases, prestige projects, and Atlanta, Vulture's pick for 2016's best show:
The Americans
Atlanta
Better Call Saul
The Crown
Game of Thrones
The Night Of
The People v. O.J. Simpson: American Crime Story
Stranger Things
This Is Us
Veep
But back to AFI Special Honor winner O.J.: Made in America. Just when it seemed like the Oscars had settled this laborious movie versus TV show debate, AFI has breathed new life into it. Thanks, AFI. It's good to know that your team of experts doesn't know what to call it either.