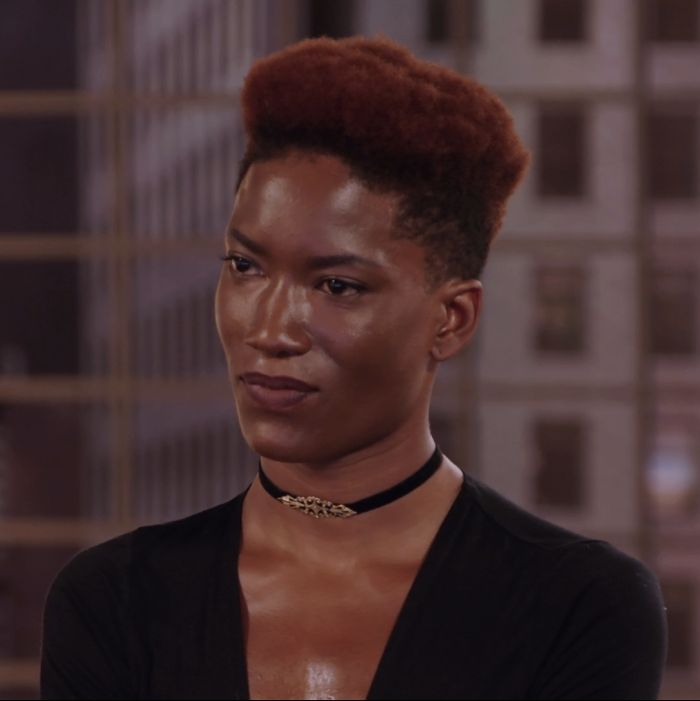 America's Next Top Model pulled out the biggest guns on Monday night — makeovers and the first nude photo shoot! — so it's a good time to address the two biggest, nudest, most pearl-covered elephants in this Rita Ora–hosted room.
Let's start with Ashley Graham's presence as Super Model in Residence. That, by itself, is great. Ashley Graham is one of the most culturally relevant models of the moment, and she embodies this whole "brand" thing nobody can shut up about. Ashley Graham is also one of the most well-known and successful plus-size models ever. So, why, with Ashley's inclusion on the show, and the recent prevalence of plus-size models and plus-size fashion in general, would the cast of cycle 23 not include a single plus-size model? This quandary has been on my mind since the season premiere, but especially tonight, with the inaugural nude photo shoot when the focus is all on confidence and the beauty of the female body.
A much more hilarious oddity to address, however, is the RitAlert. What the fresh hell is this thing? Other questions: Why does Rita have to film her own RitAlerts? Is a tripod too much to ask? What's with her bored, shark-eyed daze? Is it laziness, ignorance, or an intentional insult to the audience that Rita is clearly in the exact same location, wearing the exact same outfit, barely even bothering to pivot her angle in two separate RitAlerts? Are we supposed to be calling them Rit-A-lerts or Rita Alerts? Did Tyra specify in her contract handover that the show had to blatantly mock its new host, whomever she may be, at least 50 percent of the time and Rita Ora was the only one willing to take on the risk for the reward?
The reward, of course, is telling 13 young women how dyeing her hair blonde and frequently wearing red lipstick got her a Rimmel London contract. It's just all so simple, ladies! That's right, it's makeover — excuse me, trademark look — week. The jargon amendment in part four, chapter two, section C of Tyra's contract must forbid use of the word "makeover" because there's no other explanation for the lengths to which Drew and Rita go to avoid saying it while explaining that it's time to make over the girls' looks. Rita insists that most fashion icons have their (patent pending) "trademark style" — Ariana has her ponytail, Alek Wek has her buzzed head, and Beyoncé has her golden waves. Notice that none of those things are dumb (except the ponytail, which is kind of dumb), and that no one's signature style includes an awfully maintained weave. Therefore, these examples are completely irrelevant to ANTM makeovers.
When the contestants find out it's makeover time, they cheer and cheer like they've never seen this show before. When they read the cards revealing their new looks, they cry and cry like they've never seen this show before. For contestants like Binta and Courtney, who already have signature looks, there's just a little shaping up to do. For lucky contestants like Marissa and CoryAnne, a little weave goes a long way — y'know, unless it goes a "Brittany from cycle eight" kind of long way. And then there are the contestants like Tash and Cherish, who have seriously delusional ideas about how much their original hair does for them.
Cherish looks stricken as soon as she reads her card. I get it — I'm also a natural redhead who's never dyed her hair. I empathize with the feeling that she'll lose the thing that makes her entirely unique for a "fiery red" color that anyone could get at the salon. But if someone told me I could be America's Next Top Writer or America's Next Top Ice Cream Taste Tester or America's Next Top Paid to Watch Netflix-er, I'd dye my damn hair. I'd definitely dye it a slightly different shade of red! Unfortunately, Cherish seems to hold the unique color of her natural hair at a much higher standard than I do, judging by what she says to Binta, a black woman of Gambian heritage: "That's like saying they would dye your skin a different color." Well, here's the thing, Cherish: IT'S NOT LIKE THAT AT ALL.
Binta quickly became my favorite contestant when she assured Cherish that she looks like a star now, because she just looked "regular" before. Also, it's not like she got India's "fairy-dust lavender rainbow" card. As for Tash, she's getting a box shave. Given that she already has short, natural hair, that means she's just getting a few centimeters shaved off the side. For some reason, though, Tash thinks she will lose all of her femininity with those centimeters. Her more androgynous twin Cody just has a cheap wig slapped on her head and she's not complaining, but an edgy haircut sends Tash into the bathroom screaming, "I'm a girlie giiiiirl!" Of note: Tash is 27.
Post-trademark-style, Ashley announces that the contestants will be embarking upon yet another ANTM rite of passage: the first nude shoot, photographed by Ellen von Unwerth, which is very cool. Tash immediately worries that she won't be able to feel feminine enough in the buff with her new short haircut. Why don't you ask Jaeda and Jaeda's pixie cut from cycle seven how that attitude works out, Tash? India, on the other hand, is totally fine with being Rainbow Brite's sidekick, Lavender Shine, but she's always said she would never pose nude. When Ashley Graham asks her to cover up her special bits with nothing but a curtain of pearls on national television, she caves immediately. Obviously.
Now I generally love the makeover episode, and I still took great gratification out of these grown women crying about getting professional haircuts. But why, after all 13 women get their trademark looks, and with Ellen von Unwerth on hand, would they take group photos? If nothing else, he group photos mean that we don't get any signature ANTM before-and-after shots. You have your own trademark style, ANTM — use it!
Of course, I haven't mentioned the episode's trademark drama yet, which mostly revolves around a certain group in the house thinking that Courtney is a crybaby who plays the victim.  Unless we're missing some important footage, it seems like this might really be a case of "they hate me because I'm pretty." The girl really seemed sick! Asking people if they could leave your room so you can get some sleep, and then sitting patiently while Marissa screams, "You are not the goddamn victim, and I'm going to leave before I look like a goddamn bully!" seems like pretty reasonable behavior. At least Marissa later apologizes for the "hurtful shit" she said without cause. "Yes, I do have an attitude problem, and yes, you will get checked, but this is not my opportunity to show who's the biggest bitch," she says. No, it is not.
But the twins, who also berated Courtney for wanting to go to sleep in her room, offer no such apology. My favorite scene of the season will probably be Courtney blankly looking at a bathroom door as Tash weeps, "I am a girlie girl! I wear skirts, I get flirty!" But after all that fuss, Tash's photo ends up just fine, though she seemed out of touch with partners Courtney and Giah during the actual shoot. Ashley thinks Tash looks badass, Rita tells Courtney, "I want to be your friend, I want to have sex with you, and I want to be you" (surely the highest of Rita praise), and Law thinks Giah looks like an R&B singer standing next to two models.
In the next photo, the judges think Cody's look is working (while I think her new long hair makes her look definitively less unique). CoryAnne and Tatiana both go from "v. v. pretty" to "supermodel material" with the addition of their respective extensions, and Kyle's look doesn't change much, but she's finally getting the hang of her angles. Paige and Marissa also get positive remarks, although their photo is mostly about India because, as Drew says she had a big day, what with the dying her hair purple and compromising her former principles. I have no problem with a model posing in any degree of dress they'd like to, but Rita applauding India for setting her limits and not moving past them after she's just done exactly the opposite is pretty … well, it's pretty Rita.
The judges really fly through the group photos until they get to the next one, which they just can't love. Binta is missing a neck, Krislian is still resting on sexy and reading as what Rita calls "an online model," and Cherish … well, I actually thought Cherish looked fine, but the judges thought her face looked uncomfortable and her hand looked claw-like.
In the end, Courtney wins best photo, Cherish goes, and Krislian stays. (As though Krislian has any chance of winning this competition with the judges constantly telling her she looks like she's shilling teeth-whitening lights and tummy teas.) Even though I thought Cherish had a little more to offer, I didn't mind her leaving because she's goes out in a blaze of insane statements, starting with, "They told me to dye my hair and dye my integrity because of who I am inside by being a genuine redhead," and ending with, "Have fun picking your winner because I'm a unicorn!" Blaze on, Rainbow Dash.