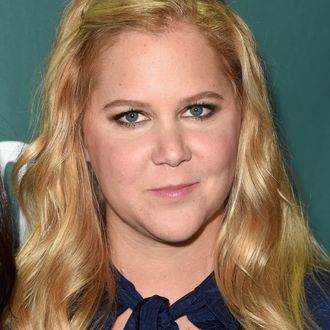 Photo: Michael Loccisano/Getty Images
After it was announced last week that Amy Schumer will be potentially headlining a live-action, child-friendly Barbie movie for Sony, the backlash was swift: Some online commenters claimed Schumer wasn't the ideal body type for the role. But Schumer isn't about to let the trolls have the last word, so she's fighting back with her signature witty gusto to give a middle finger to all of her detractors. "Very very honored to be nominated for two Grammys and to be considered to play an important and evolving icon," Schumer wrote on her Instagram account on Tuesday in the caption field of a photo of her in a swimsuit. "Is it fat shaming if you know you're not fat and have zero shame in your game? I don't think so. I am strong and proud of how I live my life and say what I mean and fight for what I believe in and I have a blast doing it with the people I love. Where's the shame? It's not there. It's an illusion. When I look in the mirror I know who I am. I'm a great friend, sister, daughter, and girlfriend. I'm a badass comic headlining arenas all over the world and making TV and movies and writing books where I lay it all out there and I'm fearless like you can be."
Schumer also made a call to action to encourage others to pity and sympathize with the trolls:
Thanks to everyone for the kind words and support and again my deepest sympathy goes out to the trolls who are in more pain than we will ever understand. I want to thank them for making it so evident that I am a great choice. It's that kind of response that lets you know something's wrong with our culture and we all need to work together to change it. Anyone who has ever been bullied or felt bad about yourself I am out there fighting for you, for us. And I want you to fight for yourself too! We need to laugh at the haters and sympathize with them. They can scream as loud as they want. We can't hear them because we are getting shit done. I am proud to lead by example. I say if I'm beautiful, I say if I'm strong. You will not determine my story. I will.
Sadly, this isn't the first time Schumer experienced backlash about her body image. Last year, after posing for what she called a "beautiful, gross, strong, thin, fat, pretty, ugly, sexy, disgusting, flawless" nude portrait for Annie Leibovitz, Schumer also experienced a wrath of online comments criticizing her weight.