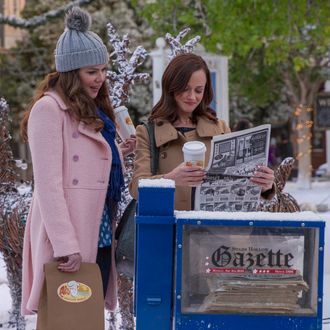 She's got choices, duh.
Photo: Saeed Adyani/Netflix/Saeed Adyani/Netflix
Major spoilers for Gilmore Girls: A Year in the Life ahead.
At the end of Gilmore Girls: A Year in the Life we learn, along with Lorelai, that Rory is pregnant. Before the shock can wear off, the credits roll. But creator Amy Sherman-Palladino now reveals that it doesn't have to end that way, even if that's the last image of Rory we ever see. Though an extension of the revival is not yet in talks and producer Daniel Palladino tells Vulture that they haven't thought much about Rory's future, Sherman-Palladino says an abortion could be on the table. "Rory doesn't have to keep the baby. There are choices here that she can make. It's just the left turn. It's that curveball that life throws you," she tells TV Line. She's aware, however, that an abortion, in the current TV and political climate, might still be controversial.
"The abortion issue is so weird, you know, because it's so testy with the world, especially the KKK world that we now live in. But I think that somebody as smart as Rory is going to take a step back and look at all the angles, and then make her decision, because it's too important a job to make the wrong decision when it comes to kids," she explains to BuzzFeed. Sherman-Palladino's feeling right now is that unless Rory was fully confident that raising a child, alone or not, would make sense for herself and the baby, Rory would not continue with the pregnancy. She adds: "32 is frickin' young, man."