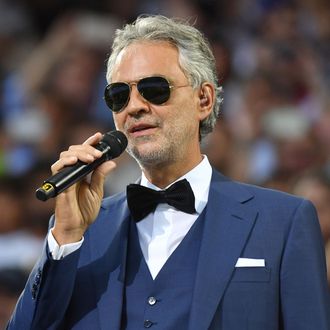 Someone's got to.
Photo: GERARD JULIEN/AFP/Getty Images
It's looking like Donald Trump's inauguration will be heavy on the classical and opera: Andrea Bocelli is reportedly considering adding his name to the small pool of artists who've offered their services to perform on Trump's big day. According to People and TMZ, the Italian tenor is in talks to sing at Trump's inauguration, though the singer himself has not confirmed the news. Reports say he will either only duet with confirmed National Anthem singer Jackie Evancho, or do both the duet and a solo performance. Evancho's mother initially broke the news to TMZ, which now clarifies that "nothing's written in stone" and Bocelli hasn't "signed on the dotted line."
If he does agree to perform at Trump's inauguration, it shouldn't be surprise: Bocelli has had a working relationship with Trump for some time, having previously held a concert at Trump's Mar-a-Lago club in Florida in 2010; Trump then attended Bocelli's massive concert in Central Park the following year. Page Six was the first to report that Bocelli might be meeting with Trump on Friday following Bocelli's sold-out Madison Square Garden concert this week to close the deal on his inauguration performance. As it happens, another new report suggests that Trump's team has been bribing talent bookers with official ambassadorships in exchange for getting artists to perform at his inauguration. For Kanye, though, all it may take is one signed magazine.