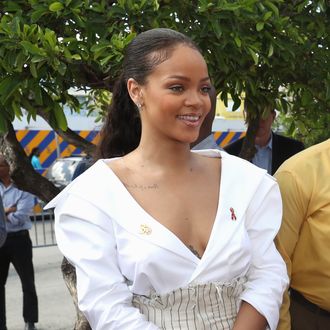 Rihanna, who does not need to be discovered.
Photo: Chris Jackson/Getty Images
While the magical, unstoppable Ri-Ri is happily on the set of Ocean's Eight, bonding with her A-list castmates, some man is out there in the world trying to lay claim to her awesomeness. And no, it's not some spurious ex; rather, it's musical composer and British person Sir Andrew Lloyd Webber. Yes, he of Cats and Phantom of the Opera fame, who claimed in an off-camera moment during the talk show Good Morning Britain today that he saw Rihanna years before she broke and recognized her talent, thus "discovering" her.
Per Stereogum, Webber told the show's co-host, Piers Morgan, that he remembered seeing Rihanna "singing with a sort of karaoke band at a hotel [he] was staying at, Sandy Lane in Barbados" about 12 years ago. Webber then went on to say he and his musical partner Nigel Wright discussed "bringing her back," but decided not to pursue the matter further. And like older white men often do, he expressed this feeling in the worst way possible: "I said to Nigel, 'If we bring her back, you know it's like when you see a picture when you're away and you take it home and you think why did I buy that?'"
Sigh. Well, given how things turned out for Ms. Robyn Rihanna Fenty, I think she was better off not being your "picture," sir. And furthermore, good day to you.