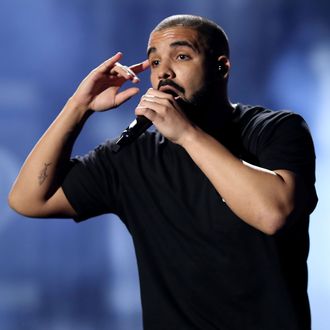 The view from Drake's streaming empire looks great.
Photo: Christopher Polk/Getty Images for iHeartMedia
In the slow and unsteady race to win the streaming wars, Apple Music is starting to catch up to Spotify. Apple tells BuzzFeed that its streaming service has now hit more than 20 million subscribers, up five million from just June. This fall Apple Music got a much-needed redesign with the new update, not to mention two wildly popular Frank Ocean exclusives, which may have contributed to the spike in subscribers. But Apple Music's been on a consistent rise ever since its launch, over a year ago — those 20 million subs now cut Spotify's lead in half. In September, Spotify hit 40 million paid subscribers — surpassing Apple Music's growth at the time. Meanwhile, Apple Music still has a long way to go before it can even dream of matching Spotify's estimated 100 million overall subscribers. (Spotify also hasn't released its full 2016 stats yet.)
But in ending the year so strong (with several Grammy nominations for its exclusives from Drake and Chance the Rapper to boot), Apple sees it as winning the argument that people will still pay for music, just in a completely different form. (In other words, that free tier you've been begging for ain't gonna happen.) One other interesting tidbit: Apple Music says that more than half of those 20 million subs are outside of the U.S., because perhaps Drake's power over Canadians is just that strong.