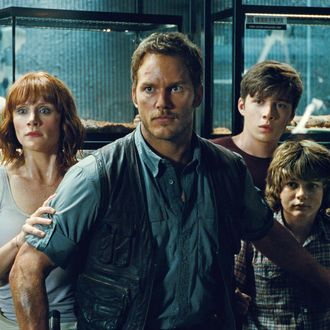 A lot of people saw Universal's Jurassic World in theaters. How many would have rented it instead?
Photo: Universal Pictures
At this point, a Spotify-like game changer has yet to arise in the world of movie rentals. A number of platforms, like Apple, Amazon, and Google, all allow customers to pay a fee to rent films, but they all respect the 90-day theatrical-release window that's been an ironclad feature of movie distribution. But it sounds like Apple could be making a play to change that, a move that would help prevent it from becoming second fiddle to a competitor like Spotify in another digital-media realm.
Bloomberg reported Thursday that Apple is in talks with three of the six major studios — Warner Bros., Universal, and 21st Century Fox — to potentially allow their films to be rented on iTunes as soon as two weeks after their theatrical debuts. These rentals would be considerably higher-priced than the ones available now: Bloomberg threw around numbers in the $25 to $50 range, reminiscent of Sean Parker's Screening Room, which had proposed a $150 set-top box and $50 rentals. (Apple declined to comment to Vulture for this story.)
Parker's service had powerful figures on both sides of the fence, with filmmakers like Martin Scorcese and Peter Jackson in favor and James Cameron against. But if Apple were to make this happen, cutting down the theatrical window by some two and a half months in partnership with distributors, it wouldn't be a question of for or against; such a deal would change the entire dynamic of how movies are distributed domestically. Already, releases have a far shorter theatrical shelf life than they did ten or 20 years ago, when Titanic topped the box office for 15 weekends in a row, a feat that Star Wars: The Force Awakens — which made more money than Titanic domestically — accomplished only four times.
Of course, it remains an open question how enthusiastic consumers would be to pay $50 for a movie just so they can watch it on their couch, and at that price point it might remain more of a luxury option than an everyday feature of your life, like Spotify is. But the fact that this is even a possibility is bad news for theater chains and a testament to the power of Apple, which can force paradigm shifts like this by the sheer power of their influence. Not that Amazon, Google, and Netflix would take any such decision lying down. Once the 90-day window falls, it could be open season on the way we're able to access first-run films.