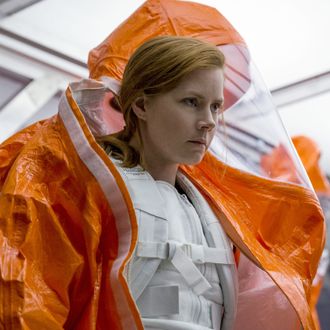 Dr. Louise Banks would not approve.
Photo: Paramount Pictures
The Academy of Motion Pictures Arts and Sciences released a list of 145 eligible contenders for the Best Original Score Oscar this year, which featured three notable absences. In keeping with an Academy rule that argues that scores cannot be eligible if they rely on preexisting music not composed specifically for the film, the scores for Arrival, Manchester by the Sea, and Silence have all been disqualified from the category. Arrival has a score by Jóhann Jóhannsson and only samples one other piece of music, Max Richter's "On the Nature of Daylight," which has been used in several other films. According to Variety, the Academy determined that audiences would be unable to distinguish between Richter's cues and Jóhannsson's. The academy made similar judgments regarding Lesley Barber's work on Kenneth Lonergan's Manchester by the Sea, which quotes from a variety of classical pieces, as well as Kim Allen Kluge and Kathryn Kluge's work on Martin Scorsese's Silence. This is all very good news for the Trolls soundtrack, which is somehow still in the running.