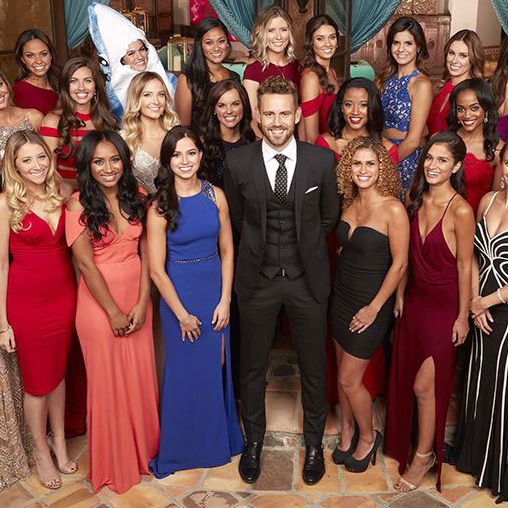 Will Nick find true love … like he had with Andi?
Photo: Craig Sjodin/ABC
The holiday season may officially be over, but another special time of year is upon us: Bachelor season. Monday night's premiere gave us plenty of jewel-toned dresses, stilted opening lines, and reasons to be excited for what's in store for the rest of Nick's journey to find love, lust, or at the very least, more Instagram followers. But who will be the one who (hopefully) accepts Nick's final rose? Here are our picks — whether you're playing by ABC's rules or Vulture's own —  for whom you should draft into your fantasy league, or just root for through the next few wine-soaked months in the Bachelor Mansion and beyond.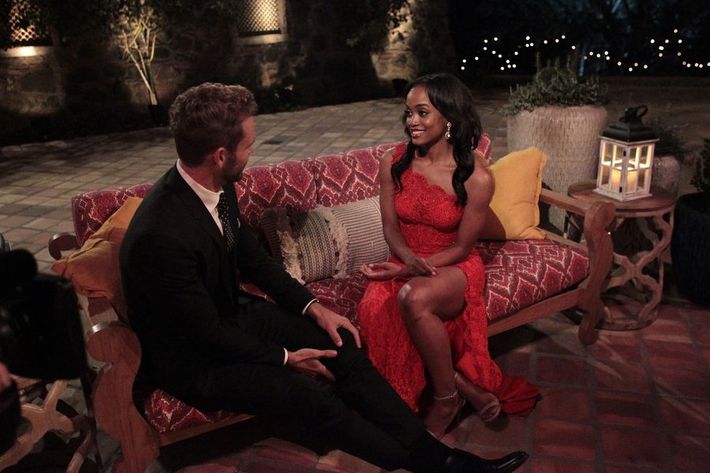 THE FRONTRUNNER: Rachel, 31
Why you should draft her: In general Bachelor lore, whoever gets the first-impression rose usually has a promising run on the show, if they don't win outright, so the fact that Rachel caught Nick's eye on the first night is a good sign. Plus, she's so charming you instantly forget how corny her "fantasy teams" introduction line was.
Strength: She's a career woman — a lawyer like Andi, one of Nick's Bachelorette exes — and Nick is attracted to accomplished and confident women. Also, her arms look pretty toned, so that's a literal strength.
Achilles heel: While Nick says he is attracted to smart, level-headed career women, it's hard to imagine Rachel taking the bar in California so that Nick can go on Dancing With the Stars when this is all over. Also, we're sort of rooting for her to go far and not win, so that we can finally have our first Bachelorette of color. But let's not get ahead of ourselves!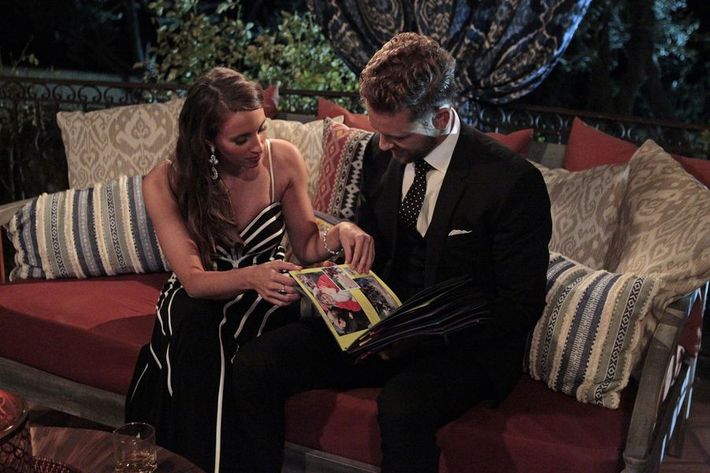 THE GIRL NEXT DOOR: Vanessa, 29
Why you should draft her: While no one is truly your average girl next door in the Bachelor universe, Vanessa's charm, chemistry with Nick, and easy confidence bode well for her to go far. Also, if his ex Kaitlyn is any indication, Nick definitely has a thing for Canadians.
Strength: Much like Lauren B. from Ben's season, who ultimately won Ben's heart while staying out of all the drama in the house, Vanessa seems like someone who can fly under the radar while she's cultivating her relationship with Nick.
Achilles heel: She literally said she hates flowers. When the premise of the entire television show you're appearing on involves receiving flowers for survival, maybe don't bite the hand that feeds you … a rose.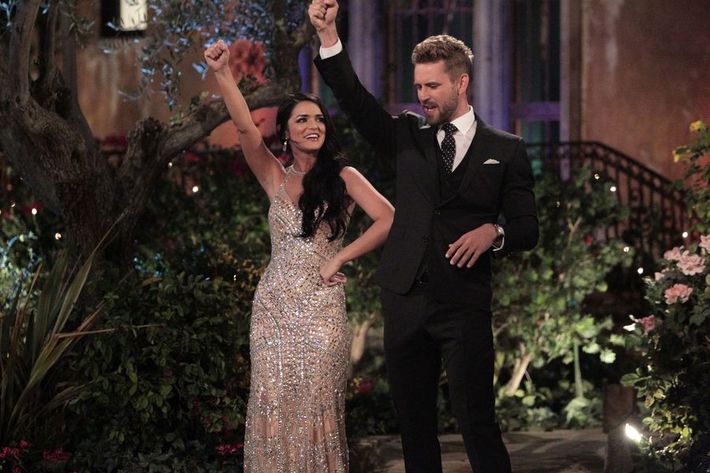 THE SOUTHERN BELLE: Raven, 25
Why you should draft her: Raven's down-to-earth Southern charm, coupled with the fact that she's a young business owner, will likely make her intriguing to Nick.
Strength: Easy to remember name (Raven with the raven hair) to call at rose ceremonies. Also, Nick's first impression of her was "really cute voice."
Achilles heel: Learning to call the hogs on night one is fun, but this small-town girl will ultimately have to be willing to leave Hoxie, Arkansas, (pop. 2,780), behind if she's going to win over Nick.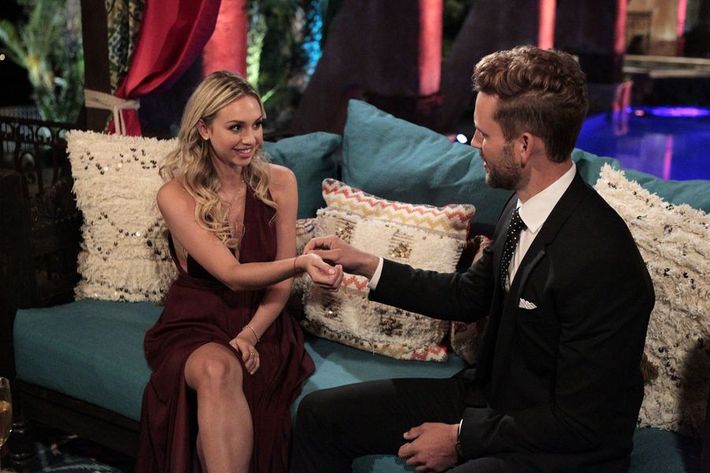 THE VILLAIN: Corinne, 24
Why you should draft her: If Nick's casting as the Bachelor is any indication, The Bachelor loves a good villain. And if you're trying to rack up the points in your fantasy league based on drama in the house, then you'll love Corinne.
Strength: Corinne came to win, and she definitely has never been told to "tone it down" or "maybe be nicer" at any point in her life. Therefore, she is tailor-made for reality TV and your fantasy team.
Achilles heel: Nick will definitely be spooked during hometowns, when he realizes that she has a "nanny" who brings her snacks. Or, more realistically, she'll suffer the same fate as almost all villains: That terrible thing she'll inevitably say or do will catch up with her (but only after she's made it decently far in the running).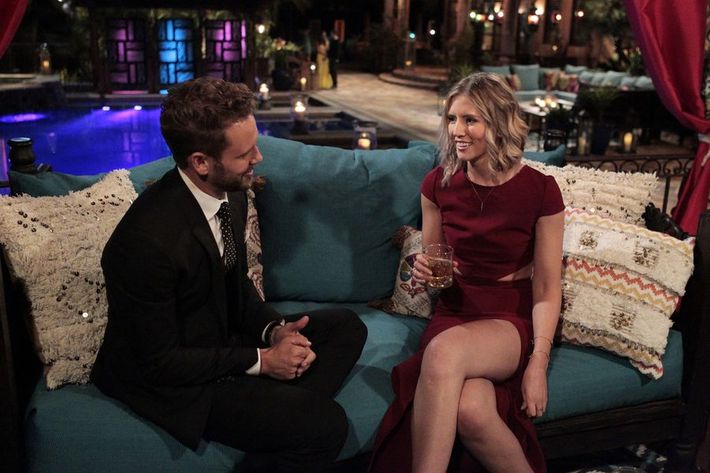 THE WILD CARD: Danielle M., 31
Why you should draft her: She's a laid back neonatal nurse who fed Nick maple syrup, and then licked the rest off her finger — so in a way, she actually got the first kiss.
Strength: She literally saves babies' lives for a living, which is a solid attribute to have in a partner.
Achilles Heel: If his dating track record is any indication, this gentleman does not prefer blondes.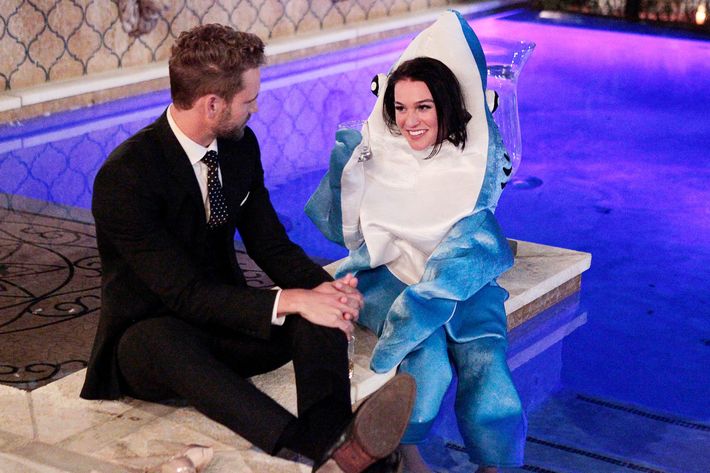 THE DOLPHIN-EST, SPECIAL CATEGORY: Alexis, 23
We're not entirely sure how Alexis will fare in the rest of the season, but if you have an extra "why not" slot on your fantasy team and want to reward true chutzpah, we implore you to draft Alexis, who showed up dressed as a shark but was convinced her costume was that of a dolphin. "Life's too short, have fun with it" is totally the attitude you should take on this show, and in terms of "I got too drunk in the limo on night one" contestants of years past (oh, Lace, beautiful, beautiful Lace) Alexis at least seemed to be having fun as opposed to a total meltdown. So even if Alexis doesn't make it very far, let her perplexing costume be a reminder to us all that there are plenty of other fish in the sea — but that dolphins are neither fish nor sharks.