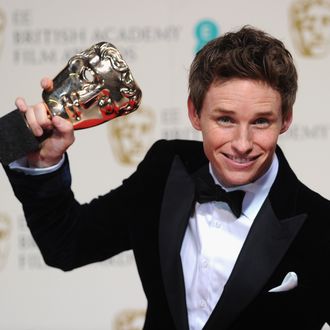 Eddie Redmayne with his BAFTA award, 2015.
Photo: Stuart C. Wilson/Getty Images
The British Academy of Film and Television Arts Awards, or BAFTAs as they're commonly known, are making a massive representational push in coming years. The BBC is reporting that starting in 2019, a film can only be nominated for two main categories — Outstanding British Film and Outstanding Debut by a British Writer, Director or Producer, respectively — if the filmmakers prove they have sought better representational diversity in at least two of four ways: With onscreen characters and themes; in senior roles and crew; in industry training and career progression; and with audience access and appeal to underrepresented audiences.
The BAFTA Awards, which "reward the best work of any nationality seen on British cinema screens during the preceding year," are making the change partly to align themselves more closely with the British Film Institute (BFI), which uses those same criteria in determining film grants and funding, and partly to, you know, be on the right side of history. Additionally, the BAFTAs have recently dropped a requirement that a new voting member must have two existing members nominate them before they can join, which has already widened the pool of potential voting members to include more women, people of color, and younger voting members.
This membership push is similar to efforts in the U.S. made in response to the #OscarsSoWhite controversy of last year; however, Oscar organizers the Academy of Motion Picture Arts and Sciences have yet not undertaken a program like this one, which would affect the actual nomination process. Maybe the BAFTA model will give AMPAS the push it needs to do the same. After all, we love to give our Oscars to Brits; perhaps now we can steal their good-awards ideas in return.