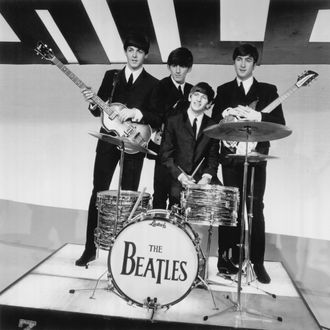 Photo: David Redfern/Redferns
Allan Williams, the Beatles' first manager and booking agent, died on Friday reports the Liverpool Echo. He was 86. In the summer of 1960, Williams gave the Beatles their first gigs at his two Liverpool venues, the Jacaranda and the Blue Angel. At the time, the Beatles were comprised of John Lennon, Paul McCartney, George Harrison, and Stuart Sutcliffe.
According to the Beatles Bible, when the band first asked to play the Jacaranda, Williams hired them to decorate the venue instead — Lennon and Sutcliffe painted a mural for the ladies room — then later allowed them a spot on his stage. Williams would later admit that he didn't see their full potential, writing in his memoir, The Man Who Gave the Beatles Away, "I thought the Beatles were a right load of layabouts."
His opinion, however, changed by the end of that fateful summer. He claimed that he auditioned the band's first drummer, Pete Best, and he personally drove the Liverpool lads in his van to Hamburg in August 1960. Williams booked the group's shows for the first leg of the formative Hamburg residency, but a dispute over fees led to a fallout and Williams was fired.
Later in life, Williams appreciated his place as a footnote is the legendary band's history. Williams told the Liverpool Echo, "I've always been proud of the Beatles and proud and happy to have been just a small cog in the wheel of the most famous group in the world." In the mid '70s Williams published his memoir and also became a hero to fans when he saved a recording of the Beatles playing at Hamburg's Star-Club. The tape, which would later be released under the name Live! at the Star-Club in Hamburg, Germany; 1962, was in a building that was scheduled to be demolished.