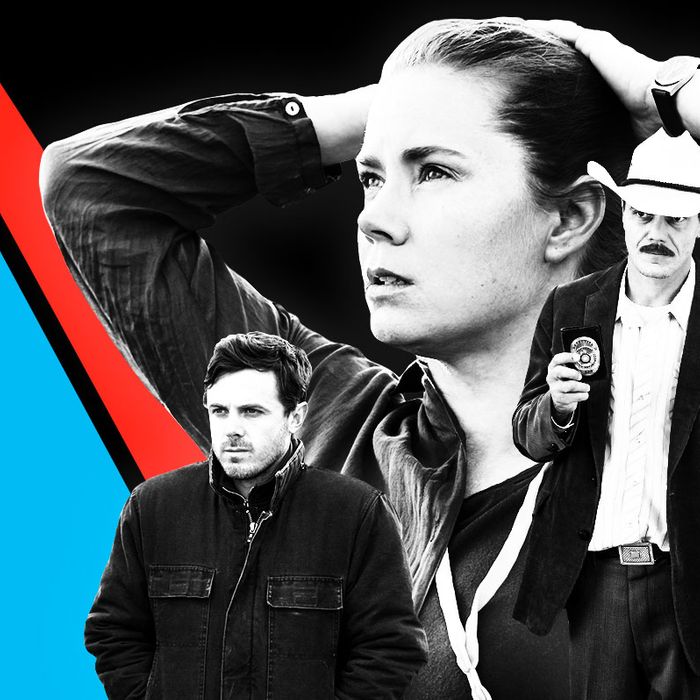 Photo-Illustration: Vulture
Over the next few weeks, Vulture will be publishing our critics' year-end lists. Today, we're looking at the best films and performances.
One of the high points in modern cinema (in the U.S. and in the world, in indie films and in studio "franchise" dreck) is the acting. There are not enough wonderful roles for all the wonderful performers. It would actually be much easier to make a Worst Performances of 2016 list than one that could do justice to all the terrific ones. So this is not a comprehensive list. Feel free to add in the comments any you loved, especially in less well-known films.
Annette Bening, 20th Century Women. To say her performance as an edgy, conflicted mother is the best of her career is to say it's one of the best in, like, decades.
Sarah Paulson, Blue Jay. It's a duet with Mark Duplass (who wrote the film), but the range of emotions on Paulson's face is so dizzying that you can't pull your eyes from her.
Emma Stone, La La Land. In another duet, with Ryan Gosling, Stone is as effervescent as her dazzling costumes.
Ben Foster, Hell or High Water. In this duet with Chris Pine as his brother, Foster plays a self-destructive outlaw who can't stop challenging people, pushing every exchange into the red zone.
Paulina Garcia, Little Men. She anchors Ira Sach's heartrending drama as a struggling Chilean designer and single mother, who smokes as if she's pouring all her rage and grief into that cigarette.
Isabelle Huppert, Elle and Things to Come. We should really just say HUPPERT now, the way they used to say KARLOFF THE UNCANNY or BOGIE. At 63, she's still peaking. She's so expressive (and high-strung) that you can read her skin.
Sandra Huller and Peter Simonischek, Toni Erdmann. The comic duet of one's dreams. She's all edges as a driven business consultant while he — as the dad who wants to restore her sense of humor — is an impudent shambling blob, a Lord of Misrule.
Michael Shannon, Nocturnal Animals. As an enigmatic sheriff investigating a murder in the movie's story within a story, he makes his subtext more intense than many actors' text.
Casey Affleck, Manchester by the Sea. As the guilt-ravaged protagonist, Affleck's fogged-in demeanor somehow signals a world of hurt.
Amy Adams, Arrival. In even the silliest sections of this half-great sci-fi weeper, she uses her otherworldly blue eyes and mysterious brittleness to suggest a woman ravaged by time itself. (She's superb in Nocturnal Animals, too, although the script is unfocused.)
Don Cheadle, Miles Ahead. As Miles Davis, he's thoughtful and feral, intellectual and erotic, bending over his trumpet as if he's thinking each note, saying what he can't say in any other language.
Mahershala Ali, Moonlight. The entire cast of Moonlight is marvelous, but Ali has broken out. As a conflicted drug dealer — a man who's such a mixture of opposite traits that he could be called tragic — he's riveting no matter what he's doing or not doing.
Vince Vaughn, Hacksaw Ridge. Sure, the grumpy Sarge is an old stereotype, but Vaughn has some witty lines and he just crushes it.
Logan Lerman and Tracy Letts, the office scene in Indignation. A long, grueling scene in which, beat by beat, the dean (Letts) leaves the student protagonist (Lerman) fighting to hold his insides together, literally. (I'm not misusing that word.)
And kudos to Andrew Garfield for suffering enough for ten actors in Silence and Hacksaw Ridge. Whatever you did in this or any life, Andrew, you've atoned — eloquently.
Finally, in my list of the Best Movies of 2016, I cite superb performances by the following actors: Greta Gerwig and Lucas Jade Zumann, 20th Century Women; Krisha Fairchild, Krisha; Joel Edgerton and Ruth Negga, Loving; and Royal Hightower, The Fits.