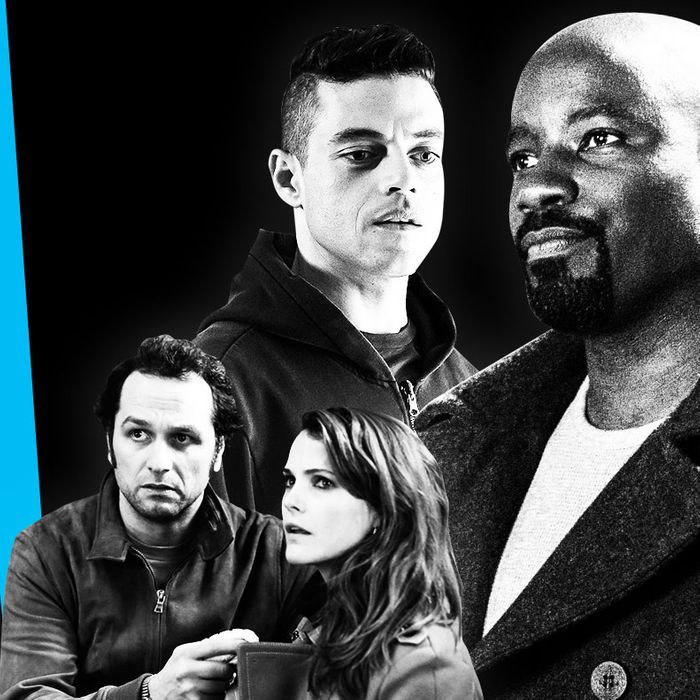 Photo-Illustration: Vulture
"Don't you wonder sometimes 'bout sound and vision?" Judging from the year in television, the industry's showrunners and music supervisors would definitely answer David Bowie's question with a big "yes." Music has been a key part of prestige TV ever since David Chase's astutely curated soundtracks for The Sopranos, but as an ever-increasing number of scripted shows sprawl across a wider range of tones and time periods, the smart deployment of songs has escalated into an artistic arms race. While some shows edge into musical overload — ahem, Westworld and Stranger Things — others craft truly memorable scenes with music as their guide. Below is Vulture's list of the year's ten best musical moments on TV. As Bowie would say, they're to be played at maximum volume.
The Americans: "End of the Line" by Roxy Music
From "In the Air Tonight" and "Tainted Love" to "Under Pressure," The Americans has never hesitated to go for the jugular with the Reagan-era pop that populates its soundtrack, occasionally to a fault. (To be fair, as cloyingly literal as the "Under Pressure" cue was, Fear the Walking Dead's use of "Five Years" and Stranger Things' Peter Gabriel cover of "'Heroes" were far more egregious abuses of David Bowie's memory, especially during a year when any show could grab a song from the late artist's catalogue for a quick shortcut to emotional resonance.) The show's best musical moments, courtesy of supervisor P.J. Bloom, tend to have a quirkier, more complicated bent to them — much like the use of Fleetwood Mac's "Tusk" in the pilot episode's opening espionage sequence.
This season's standout comes in "The Magic of David Copperfield V: The Statue of Liberty Disappears," which ends with Roxy Music's "End of the Line," a deceptively jaunty bit of faux country rock from mid-'70s album Siren. The song's easygoing rhythm and pleasantly lilting melody set the tone for the accompanying scenes, in which everything goes back to "normal" for the show's rival FBI and KGB agents following the white-knuckle saga of Martha Hanson, the hapless secretary who's unwittingly converted into a Soviet agent by Philip Jennings. But the lyrics tell a different story, in which lasting love is an impossibility. That's what these scenes truly depict: At the end of the line, the Jennings' happy-family routine is a sham that's supported by forcing their teenage daughter, Paige, to serve as an informant.
Atlanta: "Elevators" by Outkast
Donald Glover's FX dramedy chronicled the life of an up-and-coming rapper and his inner circle, leavened with a healthy dose of Atlanta's culture and more than a touch of the surreal. What better aural accompaniment could there be than Outkast, the legendary duo whose far-out sounds helped put the city on the musical map? This presented Glover and his music supervisor, Jen Malone, with a stark choice: Atlanta could have stuffed as much Big Boi and André 3000 into the soundtrack as possible, diminishing returns be damned. Or they could do exactly what they wound up doing: keep their powder dry until the last moment of the season, then drop a marvelously atmospheric, relatively deep cut at exactly the moment it mattered most. The scene that "Elevators" accompanies (at the suggestion of editor Isaac Hagy) is one of quiet triumph for Glover's character Earn, who's seeing his first share of financial and interpersonal success. Considering how well-earned the use of Outkast's music feels here, the character's name is entirely apt.
Better Call Saul: "Scorpio" by Dennis Coffey and the Detroit Guitar Band
No show does the musical montage better than Better Call Saul. Like its predecessor Breaking Bad, with whom it shared creators Vince Gilligan and Peter Gould and music supervisor Thomas Golubić, Saul rejects the hoary cliché of advancing the plot in a hurry with a sprinkling of musical sugar to help the medicine go down. Instead, it uses montages to showcase some of the most formally innovative and daring filmmaking on TV, accompanied with songs that would do any crate-digging music nerd proud. The "Scorpio" montage in "Inflatable" is this season's highlight, and in many ways its centerpiece. To the raucous tune of Dennis Coffey's '70s instrumental — sampled by innumerable hip-hop classics, from LL Cool J's "Jingling Baby" to Young MC's "Bust a Move" — Jimmy McGill kisses his brief stint as a buttoned-down lawyer good-bye and starts sporting Saul Goodman's signature wardrobe, i.e. suits as loud and funky as the song itself. The visuals match with rapid-fire splitscreens, frames within frames, and shots of the inflatable tube dancer that inspired Jimmy's makeover, as if they're all moving to the beat. Who wouldn't?
Game of Thrones: "Light of the Seven" by Ramin Djawadi
With a scope, complexity, and sheer epic sweep to rival the interlocking themes that film composer Howard Shore concocted for Peter Jackson's Lord of the Rings trilogy, Ramin Djawadi's Game of Thrones score has a sound as immersive as its sprawling fantasy setting. So when Djawadi threw that all away for the opening minutes of the season six finale, "The Winds of Winter," the effect was shocking. Jettisoning the lush orchestration and ever-so-slightly goth ominousness that characterizes the show's score, Djawadi unleashed "Light of the Seven," a delicate piano ballad that played while Kings Landing prepared for the religious sham trial that would end in death, explosion, and a new ruling order. The instrument had never been prominently featured in Djawadi's score before, let alone given a solo spotlight of this magnitude. The implication was clear: Something unprecedented was about to go down.
Halt and Catch Fire: "Velouria" by the Pixies
In contrast to every other show set during the '80s, Halt and Catch Fire has rarely contented itself with the era's signature smashes. The third episode of the show's absolutely stellar third season was almost wall-to-wall deep cuts: Paul Simon's understated, burbling "The Boy in the Bubble" instead of his '80s staple "You Can Call Me Al"; Gary Numan's obscure "War Songs" instead of his New Wave monster "Cars"; David Bowie's elegant "Absolute Beginners" instead of any of the countless songs that dotted TV's sonic landscape following his death in January. When the episode finally went big to use Talking Heads' "Burning Down the House," it was a tongue-in-cheek puncturing of the characters' delusions of grandeur.
That said, music supervisor Thomas Golubić isn't above using music to express straight-up celebratory emotion. Case in point: The season's penultimate episode features the Pixies' "Velouria," a college-rock classic, at a tech-show after-party attended by Joe MacMillan and Cameron Howe. A key marker of the show's time-jump, the song had an even more important function, namely letting Joe and Cameron shake free of their past and simply revel in one another's company, if only for a few minutes. That kind of conscious unself-consciousness is difficult to capture, but the beaming grins and dancing bodies of actors Lee Pace and Mackenzie Davis, coupled with such a great, goofy guitar-rock love song, pull it off perfectly.
Horace and Pete: "Horace and Pete" by Paul Simon
I'll be perfectly frank: I think Horace and Pete sucks. Its characters are phony, empty vessels that exist to be filled with arbitrary misery and misanthropy by writer-director Louis C.K. — but Jesus Christ, that theme song. Paul Simon's lyrics and music, inverting Gary Portnoy and Judy Hart Angelo's Cheers theme "Where Everybody Knows Your Name" and his own "Bookends Theme," are failure and depression in aural form. The achingly lovely melody seems perpetually poised on the knife edge between smiling and sobbing, while the words feel like the lies we tell ourselves to get through. "Hell no, I can't complain about my problems," he sings, before doing exactly that a few lines later: "Sometimes I wonder, why do we tear ourselves to pieces?" He almost immediately gives up on trying to come up with the answer: "Maybe I just need a drink at Horace and Pete's." By the final notes on Simon's guitar, you can feel self-medication beckoning like an old friend, offering its cocktail of preservation and destruction. "Horace and Pete" achieves the brutal beauty Horace and Pete rarely achieves.
Luke Cage: "Long Live the Chief" by Jidenna
More so than any other Marvel project, music plays a truly superheroic role in Luke Cage. Chronicling the street-level adventures of the blaxploitation-inspired character created by Archie Goodwin, John Romita Sr., and George Tuska, the series is a love letter to the cultural legacy of its Harlem setting, which it rightfully depicts as a hotbed of artistic achievement every bit the equal of fin de siècle Vienna or interwar Paris. A former music journalist himself, showrunner Cheo Hodari Coker named each episode after a different song by hip-hop legends Gang Starr, made the famous Barron Claiborne photo of a crowned Biggie Smalls a major plot point (Coker literally wrote the book on Biggie with his biography Notorious), and worked with music supervisors Adrian Younge and Ali Shaheed Muhammad (of A Tribe Called Quest) to fill each episode with the finest funk, soul, R&B, and hip-hop they could find. The scene in which Cage raids a criminal stronghold while blasting the Wu-Tang Clan's "Bring da Ruckus" is a particular highlight, as well as a wink to the group's well-known love of Marvel Comics, though it loses some points for censoring the word motherfucking to keep things Disney-friendly.
The most impressive moment of all takes place in "Just to Get a Rep" at antagonist Cornell "Cottonmouth" Stokes's nightclub, where musicians from Sharon Jones to Faith Evans deliver performances. Facing a major setback in his quest to dominate the New York underworld, Cottonmouth (Mahershala Ali) stands and watches the dapper artist Jidenna soundcheck one of his most hard-hitting minimal songs, "Long Live the Chief," in its entirety. The contrast of the music's paranoiac menace with the confident boasting of Jidenna's lyrics reflects the precarious position of the cultured crime lord to a tee.
Mr. Robot: "Take Me Home" by Phil Collins
In the second season of showrunner Sam Esmail's technological thriller, things fell apart, and the center could not hold. However, you wouldn't know it from the soundtrack, a remarkably astute selection of melancholy and menacing pop, rock, and electronic music drawn from a wide variety of eras, genres, and countries by music supervisors Amie Bond and Charlie Haggard. This season's standouts included the eerie electronic murmuring of Kraftwerk's "Hall of Mirrors," the ear-splitting assault of Japanese band Bleach's "The Head That Controls Both Right and Left Sides Eats Meat and Slobbers Even Today," and a depressive karaoke performance of Tears for Fears' "Everybody Wants to Rule the World" by Portia Doubleday that turns the song's lyrics from a bemused shrug into a searing indictment. My favorite of them all performs a similarly transformative trick in the season's second episode. It grabs "Take Me Home," the shimmering best of Phil Collins, and wields it like a baseball bat against the one percent, represented by an E Corp executive (Brian Stokes Mitchell) who's forced to burn $6 million in Battery Park. The stunt itself can even be seen as a reference to a real-world musical event: K Foundation Burn a Million Quid, an art piece in which the merry pranksters behind '90s electronic-music outfit the KLF set 1 million pounds earned from their pop success on fire. Both bonfires were ultimately futile protests against capitalist hegemony, but today that sneering catharsis feels both vital and prophetic.
The People v. O.J. Simpson: American Crime Story: "Kiss From a Rose" by Seal
In theory, The People v. O.J. Simpson's soundtrack does everything I don't want soundtracks to do. Midway between a mid-'90s version of a Time-Life nostalgia collection and a Now That's What I Call Music CD, this FX series is accompanied by songs so well-known that it borders on parody. But that's just it: Unlike, say, Stranger Things complementing its simplistic Spielberg pastiche with Bowie covers and Joy Division originals whose emotional content the show couldn't hope to equal, The People v. O.J. Simpson actually wants these music cues to be funny. Using the Beastie Boys' "Sabotage" during the Bronco chase? Robert Kardashian and "Uncle Jucie" partying the night away to the cornball strains of C+C Music Factory's "Gonna Make You Sweat (Everybody Dance Now)"? Marcia Clark enduring sexist headlines about her haircut as Beth Gibbons croaks Portishead's grim trip-hop classic "Sour Times"? These songs are selected because they sound like something a cheesy movie would use, illustrating just how much the all-too-real events were like a cheesy movie to begin with. The best example of all: Clark debuting her disastrous makeover in "Marcia, Marcia, Marcia," oblivious to how poorly it will be received, as the overripe romance of Seal's "Kiss From a Rose" echoes the leading-lady vibe she no doubt feels in her head at that moment. Showrunner Ryan Murphy and music supervisor P.J. Bloom are longtime collaborators, and this is undoubtedly their greatest hit.
Vinyl: "Wild Safari" by Barrabás
"Think back to the first time you heard a song that made the hairs on the back of your neck stand up," Richie Finestra bellows at his record-label employees. "Made you want to dance, or fuck, or go out and kick somebody's ass! That's what I want!" Vinyl showrunner Terence Winter had similar goals, but virtually none of the musical elements of his period drama clicked. This despite the imprimatur of co-creators Mick Jagger and Martin Scorsese, who know a thing or two about making magic with music, and supervisors Randall Poster and Meghan Currier, whose previous collaborations with Winter and Scorsese on Boardwalk Empire and The Wolf of Wall Street were all killer, no filler.
There was one grand and glorious exception, and it had nothing to do with Jagger swagger. Rather, it was the result of an unlikely alliance between demoted A&R doofus Clark Morelle (Jack Quaid) and his mail-room buddy Jorge (Christian Navarro). When the latter takes Clark to an underground dance club, they enter in slow motion to the ecstatic sounds of the 1972 proto-disco song "Wild Safari" by Barrabás. The killer clothes, the fabulous dancing, the beatific smiles on the faces of beautiful people, the irresistible rhythm, the rapturous "WHOA-OH-OH" of the chorus, the sense that an entire world of incredible music has existed right under his nose — you can feel it all hit Clark right in the serotonin receptors, and damn if it doesn't hit you, too. Perhaps my favorite two minutes of TV this year, this sequence demonstrates the life-affirming power and pleasure of music.