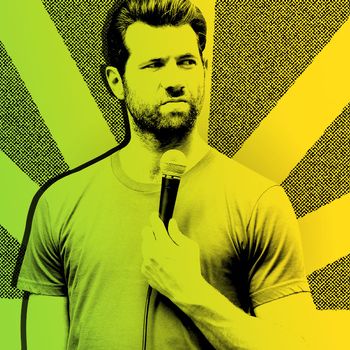 Photo-Illustration: Maya Robinson/Vulture
One day, everything seems normal. The next, the ice caps started to melt, we've elected a reality star to the presidency, and celebrities you had not considered to be sex symbols are appearing on billboards wrapped in a mic cord that is tight in all the right places. The celebrity in question, of course, is Billy Eichner of Difficult People and Billy on the Street, who recently went from shouting into a microphone at unsuspecting New Yorkers while wearing a sweatshirt, to doing so while wearing some fitted T-shirts that accentuate some lumberjack-big arm muscles. Billy Eichner is featured in InStyle. Billy Eichner gets featured in GQ. When did he become a total hunk? Did we miss a crucial turning point in celebrity hotness history?
In order to get to the bottom of things, we used Vulture's favorite method of investigation, the same format that we applied to an investigation of Leonardo DiCaprio's shift into twunkhood, and to Nick Jonas's transition into being a total babe, to pinpoint the exact moment when, all of a sudden, Billy Eichner became a total hunk.
(To be clear, being a total hunk is a specific descriptor. Billy Eichner has always been attractive. The New Yorker once said he had "a handsome face," and they have a very intense fact-checking department.)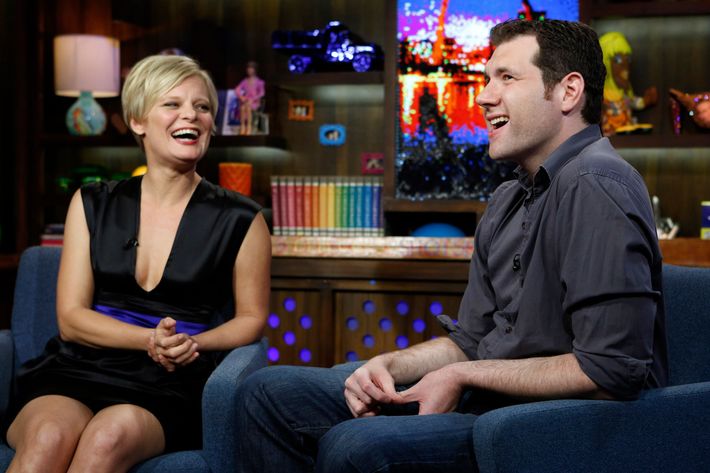 We begin in April 2012, when Eichner stopped by Watch What Happens Live. Billy on the Street had just started dropping videos on YouTube, the country was in the midst of the Republican presidential primaries, the Zac Efron vehicle The Lucky One was hitting theaters, and Billy Eichner was Not Yet a Hunk.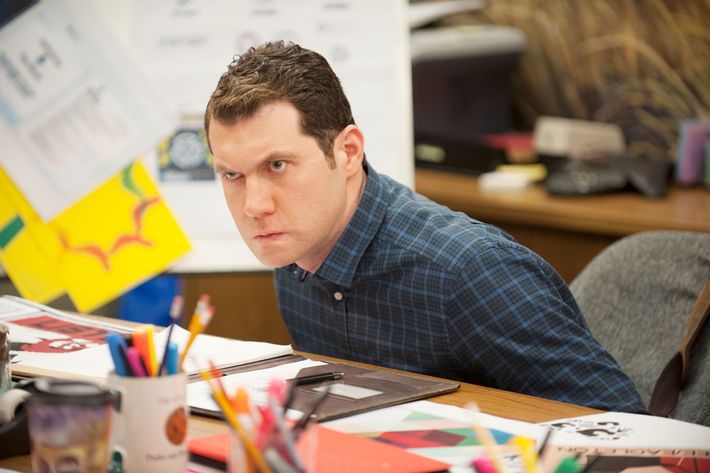 Let's try 2013, when Eichner took on the role of Craig Middlebrooks on Parks and Recreation. Craig's endearingly intense, and he makes good Sex and the City jokes. But unlike Parks and Rec star Chris Pratt, who had recently come into his hunkiness for Zero Dark Thirty, Eichner was Not Yet a Hunk.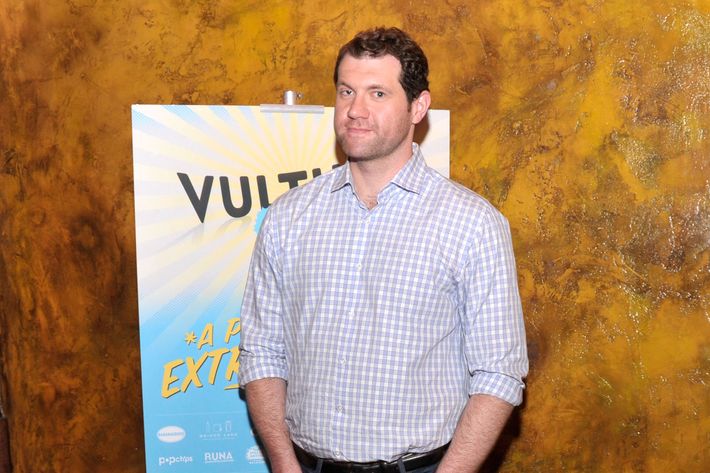 A year later, Billy on the Steet has entered its third season, and things are looking up. Look at that power pose, that knowing smile. In 2014, things are starting to gel. We're at The Beginnings of Hunk.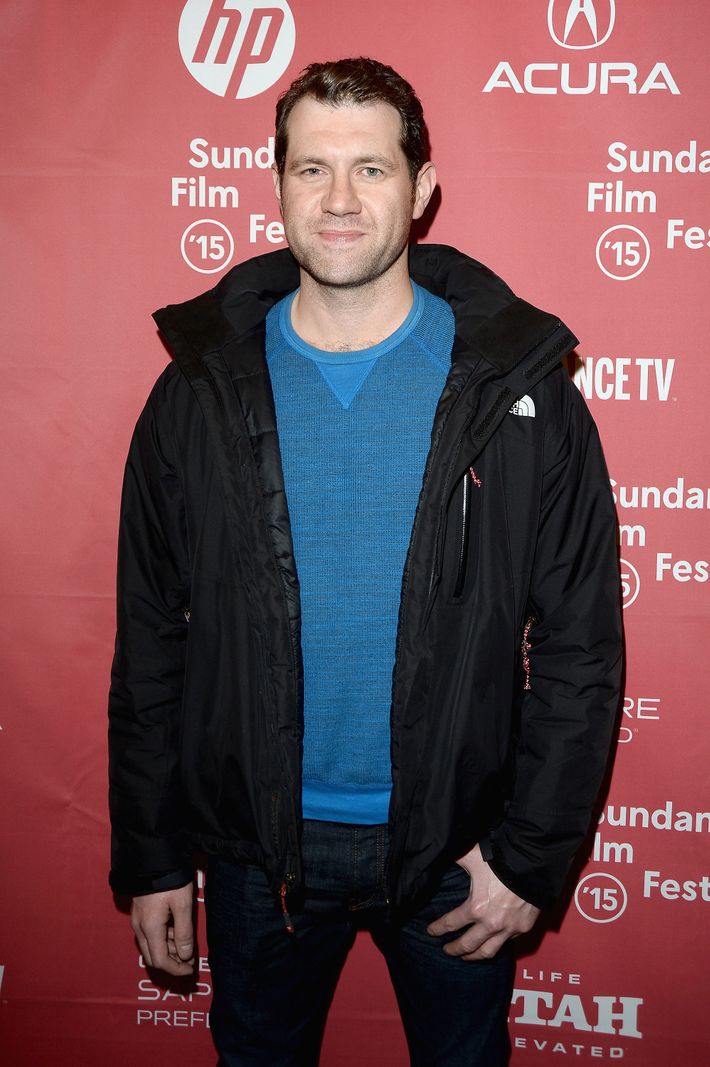 Could 2015 be our lucky year? Let's examine this photo of Eichner at a Sundance party for Sleeping With Other People in January. Again, we're closer. Hunks look great in parkas. Hunks do cool things like attend Sundance parties for creative takes on the classic rom-com. And yet, there's still space to go. Let's leave this at Hunk, Not Yet Total.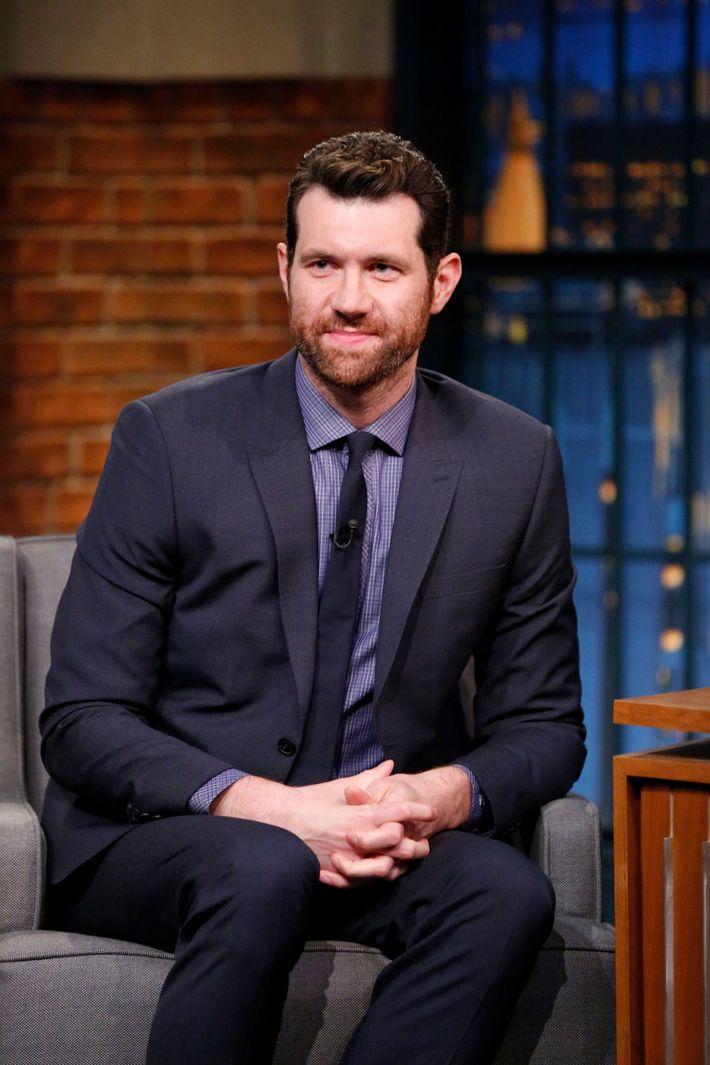 Now that we have a pin in some ascendant hunkiness, let's skip ahead, Westworld-style, to a different timeline. The date: June 20, 2016. Billy Eichner is on Late Night With Seth Meyers. His suit fits nicely. His beard scruff is well-managed. He is definitely a Total Hunk.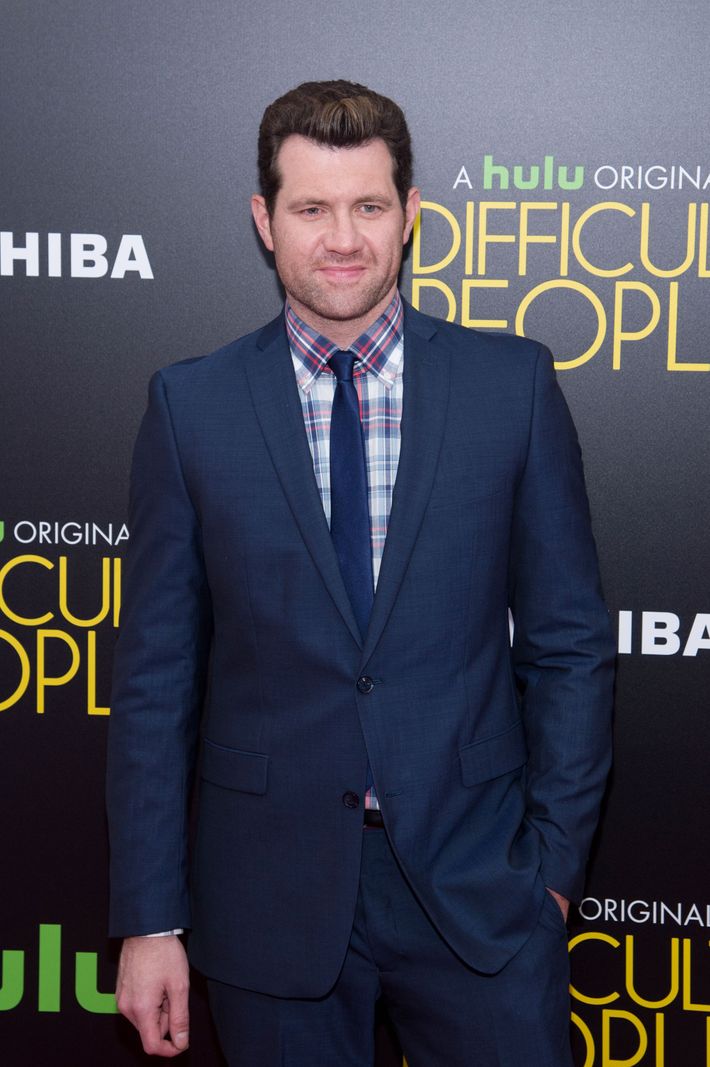 So, now we know that the great Eichner hunk moment started somewhere in either late 2015 or early 2016, we can narrow our search. Let's try July 30, 2015, when Eichner showed up at a premiere event for Difficult People, which was starting its first season on Hulu. The pose is hunky. The tie/patterned-shirt choice is hunky. But we can still do better. We are Near Hunkitude.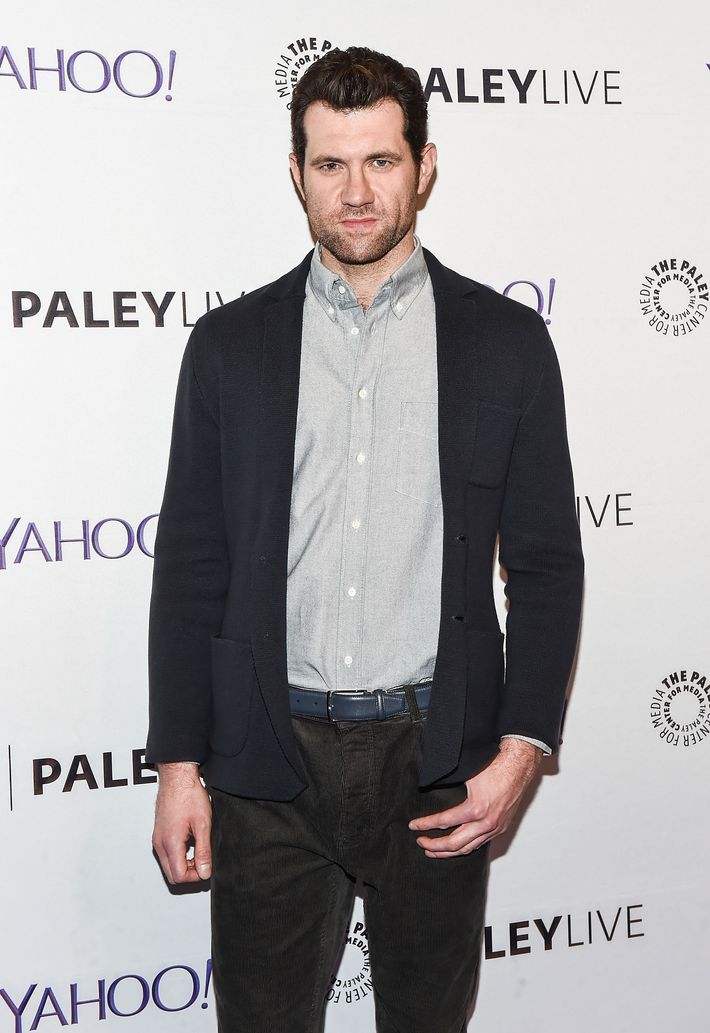 Skip ahead a few months to December 2015. Do you feel something in the air? It's the Christmas spirit, and also the fact that Eichner's hair and beard-styling choices are really coming together. The cardigan's not quite contributing to the great hunk cause, but we'll say something great is in the works. 75 Percent Hunk.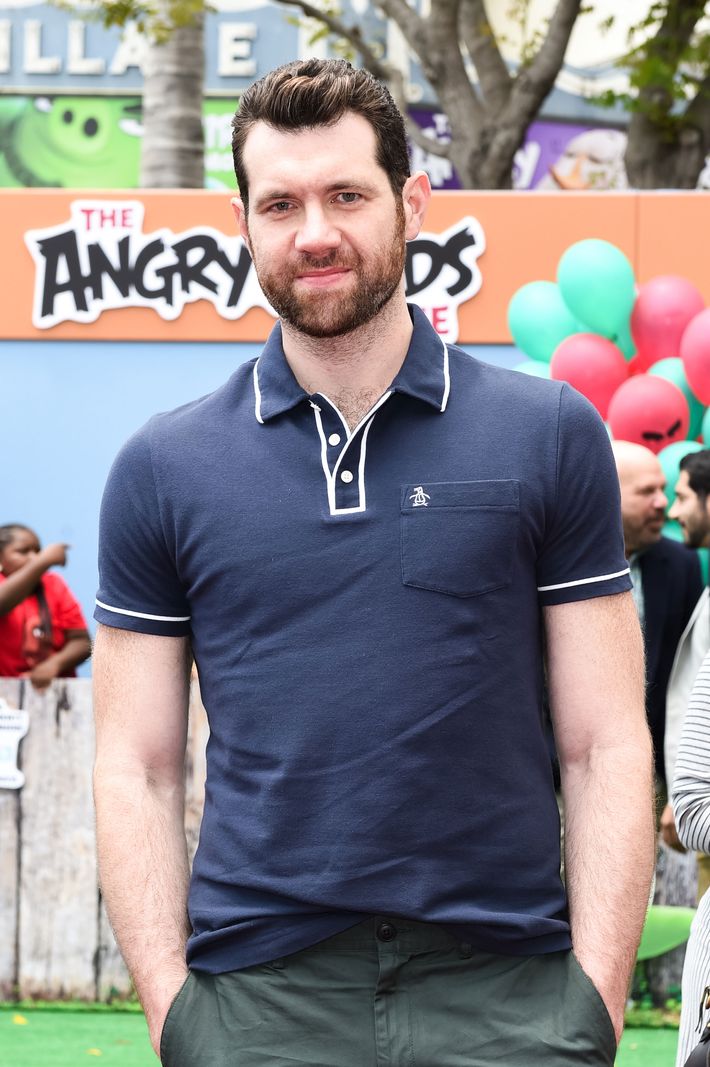 At this point, we know that Eichner was a total hunk in June of 2016, so let's try an event close to that date. On May 7, 2016, Eichner went to the premiere of Angry Birds, a film in which he voiced the character Chef Pig/Phillip, according to IMDb — or perhaps they are two characters, we did not see this movie. Anyway, on this glorious day, the sun is out, and so are Eichner's guns. To quote Kate Hudson, it's all happening. We're at 98 Percent Hunk, But We Can Do Better.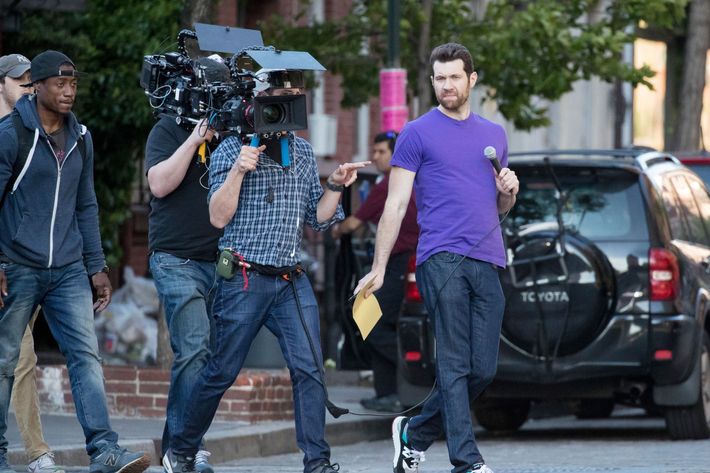 Nine days later, it all happened. While filming Billy on the Street, Eichner strolled around New York in a purple T-shirt. His gaze meets the paparazzi's camera. He walks with purpose. It's a candid moment, striking in its imperfections. The date: May 16, 2016. From this moment forth, there's no denying Billy Eichner has become a Total Hunk.