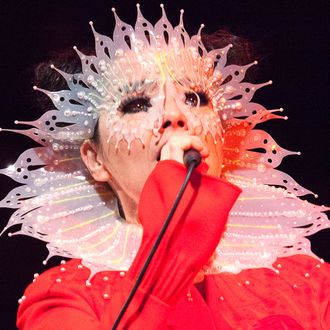 Don't mess with Björk.
Photo: Santiago Felipe/Redferns/Getty Images
Last weekend, Björk took her new DJ-ing gig to Houston's Day for Night festival as a headliner and also one of the only women on the festival's lineup. The underrepresentation of female performers at festivals, of course, is nothing new, and it's not what surprised Björk about the whole experience. Instead, coming back to reviews she says accused her of not really performing — a critique not lobbed against the other men at the festival, like Aphex Twin, for the same work — struck her as a new low. Björk now explains in a letter addressed to "little miss media" that she'll no longer sit by idly and allow women to be torn down, especially not after this "tumultuous" year. "Eat your Bechtel [sic] test heart out," she writes, taking aim at the clichés she says are predetermined by the media for female artists. "Women in music are allowed to be singer songwriters singing about their boyfriends. If they change the subject matter to atoms, galaxies, activism, nerdy math beat editing, or anything else [other] than being performers singing about their loved ones they get criticized," she argues.
Björk says the proof is in the professional validation she believes only came after last year's Vulnicura, a deeply personal album largely about heartbreak. (Vulture called it her "most human" work to date, while slamming her more metahuman MoMA exhbit.) "If we don't cut our chest open and bleed about the men and children in our lives we are cheating our audience," she says is the perception about women in music. Men, on the other hand, are "allowed to go from subject to subject" without fault or shame. She now asks that the world afford her the same opportunity for a "costume change" to "walk out of this role" of singing about heartbreak next year so that she can further subvert stereotypes: "The right to variety for all the girls out there!" Last year, Björk spoke out against bias in music and its criticism, telling Pitchfork her work as producer and writer is often miscredited to the men with whom she works. Read her full new letter below.