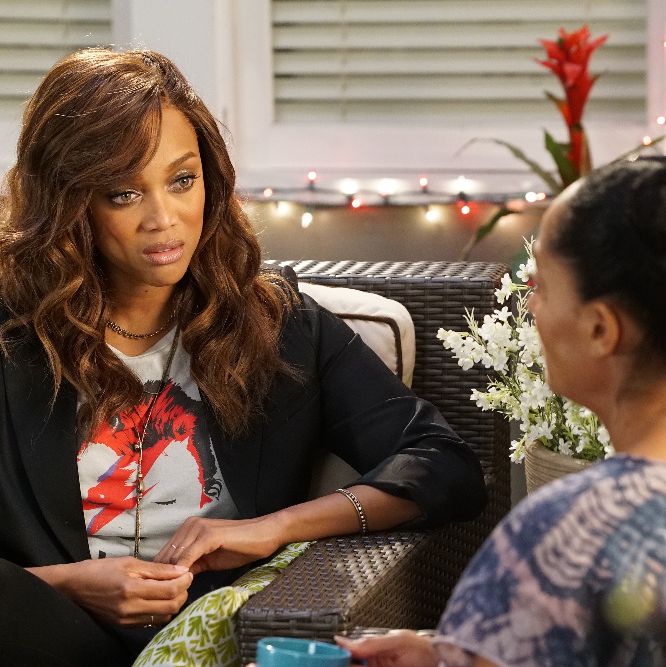 Tyra Banks as Gigi, Tracee Ellis Ross as Bow.
Photo: Ron Tom/ABC
"Just Christmas, Baby" wraps up the first half of the third season with several stories crammed together in a bid to give everyone in the Johnson family something to do, including Johan and special guest Tyra Banks, returning as Dre's best friend Gigi. This time, Gigi is with her boyfriend Napoleon and their new baby, Luca, so I was pretty surprised they weren't the focus of the night. Their story line is the strongest of all the threads, especially since it connects to Bow's fears about starting over as a mother. The episode is a crowded house, but that's what the holidays are for many of us, so I can't hold it against Black-ish.
Dre is especially emotional because it's the last Christmas before Zoey goes to college. To his surprise, Zoey actually wants to spend time with Dre. He wants to make this Christmas perfect for his older daughter, which, of course, means treating Junior like Dre wished he'd never been born. Dre puts Junior in charge of getting the twins under control. They're opening their Christmas presents early and sneaking into Dre's shame cake and sad cookies, a.k.a. all the junk food he's hidden around the house for emotional-eating binges. Junior creates Bear in the Chair, since Elf on the Shelf isn't doing much to dissuade the twins' antics. Surprisingly, it works, even though you'd think the twins would be too old to worry about such Big Brother antics.
Meanwhile, Johan is supposed to be leaving soon and Dre can't wait to get rid of him. Before he goes, he gives out CDs of dystopian Christmas music as his way of participating in gift-giving traditions while fighting consumerism. It sparks a rivalry between him, Ruby, and Pops as to what real Christmas music is. Ruby is shocked to learn that her traditional Christmas songs were composed by Jewish people and Pops insists Mariah Carey's "All I Want for Christmas" was around in 1971. When Pops leaves to create his own holiday playlist, Ruby moves in on Johan. He tries to avoid her by saying he has a cold sore, but Ruby replies, "So do I, darling. So do I."
When Dre and Zoey decorate the Christmas tree with all of her ornaments from childhood, the tree predictably catches on fire after some fuses blow. The tree and part of the living room are destroyed while everyone screams and runs. Dre put Zoey over his shoulder to carry her to safety, but pushes Junior down as if leaving him to die. After Junior extinguishes the fire, Dre tries to deflect and blames his son for ruining a chair as he fought the flames, but Junior has had enough. He silences Dre and tells him he ruined Christmas. Zoey finds Dre eating another one of his shame cakes and tells him it's not their last Christmas together. Next year will be the baby's first holiday, so she'll be back for that. They hug and Junior appears. Dre lets him in on the hug and says he loves them both.
To be frank, I have such a hard time with how Dre treats Junior. The kind of love he shows his oldest son is hard to accept. He's just so mean. We get it: Junior isn't the masculine carbon copy of Dre. He's more like Bow, but if Dre loves Bow and all her quirky ways, he should be okay with seeing those same traits in their children. It's frustrating to see Dre take out his issues on Junior; it's frustrating to see him try to get Junior to "man up." I'm honestly surprised Junior isn't more distant from his father.
As for the rest of the family, it's not clear if Black-ish is preparing us for a lack of Zoey next season — and Johan missed his flight so it looks like he'll be around some more.
The best story of the night bridges the different mothering experiences of Gigi and Bow. Gigi has all kinds of gadgets to help her with her new baby, which, according to Dre, she's wanted for a very long time. (This slice of her backstory reflects Banks's own fertility journey, and I appreciate the way Gigi's character isn't just defined by being Dre's friend.) Bow doesn't think Gigi needs all the equipment like heart monitors and bath pearls that smile when the water is the perfect temperature. Bow's the mother of four children, plus one on the way, and she's a doctor. She tries to get Gigi to rely on instincts and common sense, but Gigi prefers technology and mommy blogs.
Gigi and Napoleon get called away to replace Cher for a charity concert, so Bow babysits little Luca. It's a disaster: He won't stop crying, even after Bow puts him in his kangaroo seat. The only thing that works is the Wreckx-N-Effect song "Rumpshaker." After the fire, Bow calls Gigi back, and it turns out she wasn't at a concert. She was at a hotel, sneaking in a nap. She's exhausted, not only because of new motherhood, but also because she's worried that if she complains, she'll be seen as ungrateful. "When you try so hard to have a baby, you feel like you have no right to complain," she says. It's such an honest and insightful look at a part of motherhood that doesn't often get addressed in black family television. I would love to see Gigi come back to bring more attention to the fertility and motherhood struggles that many black women have.
Gigi confesses that she has all the tech equipment because they help her feel like she knows what she's doing, and Bow admits she's afraid, too. It's been ten years since her last pregnancy, and babies today are stronger, like weed. Gigi didn't want to admit to Bow she needed help because Bow is perfect, but she shoots that idea down. Why do moms have to be perfect? Both women agree to be less judgmental and reach out to each other for support, while Ruby is nearby with the baby, condemning both women for not knowing anything.
Dre wanted Christmas to be perfect so they could have incredible memories of Zoey's last holiday before college and adulthood, but instead, the fire created one of the most long-lasting and memorable Christmases for them all. Perhaps most important, Bow helped rid Gigi of the idea that she has to be flawless in order to be the best her child needs. It's much like Black-ish itself: It's not a perfect show, as this inconsistent season has shown so far, but it's created a lasting legacy.