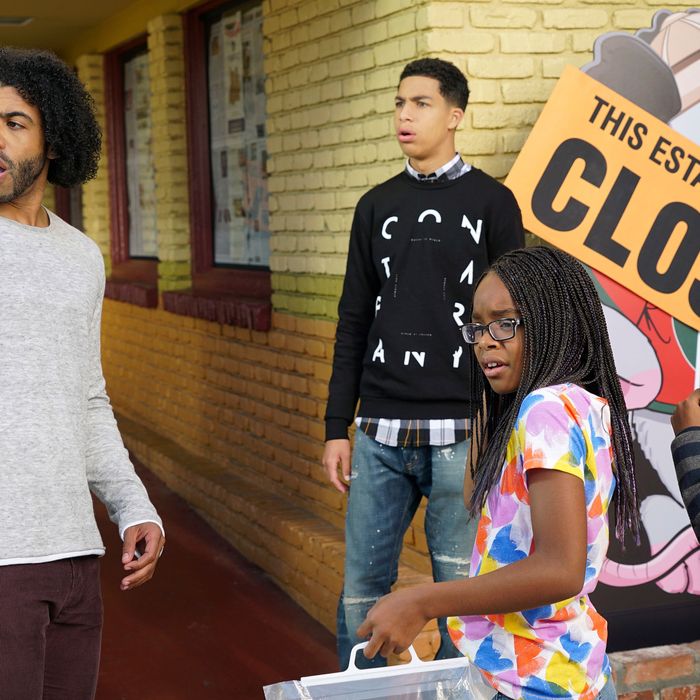 Daveed Diggs as Johan, Marcus Scribner as Junior, Marsai Martin as Diane, Miles Brown as Jack.
Photo: Eric McCandless/ABC
Dre's ego is back … and it's such a downer. Black-ish gives the world a modern perspective of a certain type of black family life, but maybe its real purpose is to show how children can succeed despite the ways parents try to sabotage them. We've seen the way Dre tries to squash any maturation Junior exhibits just to make sure Dre remains top dog, and in "Nothing But Nepotism," he feels compelled to ruin Zoey's internship at Teen Vogue. He claims he does this kind of stuff to make sure his kids understand hard work, but it always comes back to him and his reputation.
Zoey waited too long to get a college internship so Bow asks Dre to use his connections. He doesn't want to because he worked hard to get to where he is professionally, without the benefits of nepotism, and thinks Zoey should do the same. After seeing how the white men at work used connections to rise in the ranks while Charlie is still a junior accountant at age 39 (or 72; he was never allowed to see his birth certificate), Dre eventually decides to get Zoe an internship at Teen Vogue. He tells her supervisor to start her off in the lowest position possible and treat her like scum. Dre wants Zoey to get the full experience of hard work, but after a week, she gets promoted, and Dre can't handle it.
Dre doesn't think Zoey earned the promotion herself, and instead thinks that his reputation as a Wonder Bread — ahem, wunderkind — is fueling Zoey's advancement. Dre goes to the Teen Vogue office to confront editor-in-chief Elaine Welteroth and demand she demote Zoey. He rants that Zoey is unqualified and undeserving, which Zoey overhears. Once again, Dre thinks his way of doing things is more important than his children's success. Sure, his intentions are admirable: He thinks his daughter will appreciate her success more if it comes from hard work and not connections, but he totally overlooks her natural talents. Zoey is smart, fashionable, and keeps up on the latest trends. Of course she's going to do well at a place like Teen Vogue. Eventually Dre and Zoey smooth things over. She assures him she will work just as hard as he did, but her journey may be different.
The story line mirrors baby boomers' resentment of millennials. Older generations worked hard for their children and grandchildren to have easier ways of life, but sometimes get mad when the younger generations enjoy those benefits. At one point, Dre even tells Bow she doesn't know struggle, and although she's supposed to be looking at Dre, it appears as though she's looking directly in the camera at the audience. She says, "I'm a black woman. I went to medical school. I have four kids by a man-baby." Bow definitely knows struggle. Bow's struggle, or even Zoey's, may not be the same as Dre's, but it's still worthy of respect. Millennials may not have the same kind of hardships as their parents or grandparents, but they still have to show and prove themselves in many ways.
While Dre is upset at Zoey's skyrocketing success, he's dismissive of Junior's personal drive. Junior has gone out on his own and found a job at Pizza Possum, a bootleg Chuck E. Cheese establishment. Johan scolds Junior's commitment to capitalism while drinking a glass of wine with his pinky up. On the other hand, Jack and Diane are excited about the possibility of free prize tickets, so it's hard for Junior to tell them the truth about his workplace. After two days of working there, Junior's eyes are open to Pizza Possum's horrible business practices like recycling French fries from customers' plates. The salad is chopped using hands and teeth, and the less we know about what's really in the Possum Blossom, the better.
Johan convinces Junior to become a whistleblower, the same way Johan exposed a certain Spokane NAACP leader for lying about her age. Junior wears a pair of spy glasses to capture an employee licking birthday candles clean from one cake before putting them on another. "Happy birthday, little Henry. I hope you wished for herpes." Junior's video works and the company addresses the health concerns by shutting down the location, much to Jack and Diane's dismay. Everybody knows those places are gross, they complain. Bow even does a drive-by, throwing a cup at him and calling him a pizza nerd. Junior learns a hard lesson: Sometimes doing the right thing makes your loved ones hate you.
Black-ish has been pretty inconsistent this season, but maybe it's just me and my Dre fatigue. The show celebrates its influences, and sometimes Dre harkens back too much to Archie Bunker or George Jefferson–esque put-downs more than necessary. Family can get away with certain types of insults no one else can, as we see when Bow tries to prepare Junior for the harsh things people will call him because of his job. Nevertheless, the ways our parents try to protect us are sometimes just as damaging as outside threats. And as much as Dre's ego frustrates me, I respect the way his family calls him out. By the time the fifth baby arrives, maybe he won't feel the need to hold his kids back so he can stay ahead.