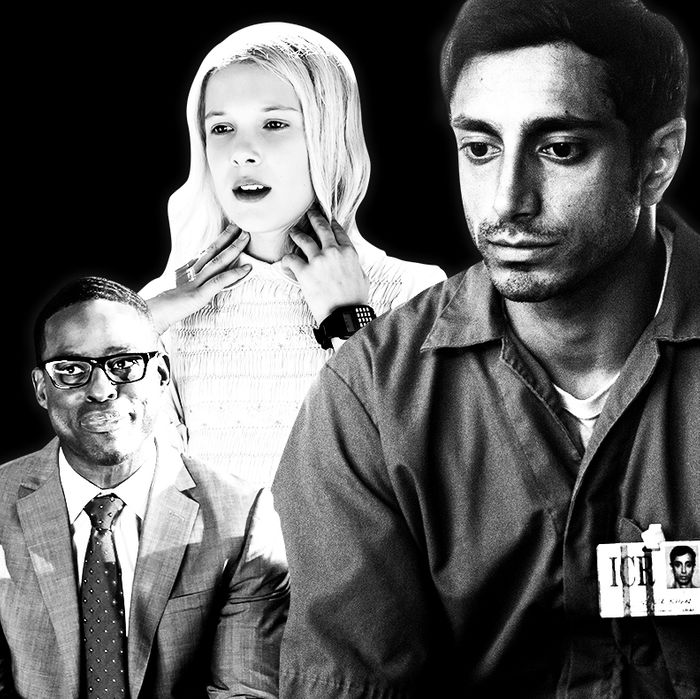 Every actor on this list of 2016's breakthrough TV performances counts as a discovery. Yes, some of them have been in show business for many years. But each one, whether a veteran player of bit parts or a newbie barely out of her preteens, played a role during the year that announced their abilities to the world and finally made audiences take notice of what they could accomplish. You'd be wise to keep watching them in the year to come — more great work surely awaits.
Millie Bobby Brown, Stranger Things
All of the kids in Stranger Things are great and refreshingly genuine. But Brown — whose role requires a very young actor to convey a full-color spectrum of emotions, usually without saying a word — is the most extraordinary presence in what was the breakout series of 2016. There's a reason half the people you know dressed as Eleven for Halloween this year, and that's because Brown made the character an instant classic.
Sterling K. Brown, The People v. O.J. Simpson and This Is Us
It was a good year for actors with the last name Brown. Unlike Millie Bobby, Sterling K. has been around for a while, appearing in plays, movies, and TV series including, among others, Army Wives and Person of Interest. But 2016 was the year that widespread attention finally was paid to Brown's remarkable work, first for his controlled portrayal of glove-baited prosecutor Chris Darden in The People v. O.J. Simpson, then to his work as the conflicted Randall Pearson in This Is Us. The Darden role was more challenging, got more attention, and led to his first Emmy win, while This Is Us cements his range and warmth as an actor.
Riz Ahmed, The Night Of
Ahmed didn't come out of nowhere, either. He had a number of noteworthy credits on his résumé, including the vulnerable assistant to ruthless "journalist" Jake Gyllenhaal in 2014's Nightcrawler. But 2016 was undeniably a breakout year for the actor, who appeared in Jason Bourne, Rogue One: A Star Wars Story, and as the disoriented, accused murderer in The Night Of. The HBO limited series requires Ahmed to seem fragile and hardened, potentially innocent and possibly guilty, all at once. His deftness on that front turned The Night Of into a must-watch crime story.
Bella Ramsey, Game of Thrones
There are no small parts, only small actors. And sometimes those small actors can make supporting roles loom very, very large. Such was the case for Ramsey, a preteen who made her professional acting début as Lyanna Mormont, the leader of Bear Island who offers much-needed help to House Stark and, in the process, becomes one of the more memorable figures in Game of Thrones' sprawling cast. Ramsey may be young, but she infuses Lyanna with an astonishing amount of bravado, not to mention a commendable ability to shame grown men into doing the right thing. Frankly, we could use Lyanna on the U.S. political stage right now.
Brian Tyree Henry and Zazie Beetz, Atlanta
Everyone in the main cast of Atlanta is great. While we already had some sense of what Donald Glover and Lakeith Stanfield could bring to the table, the show's real surprises are Henry, who plays gentle giant rapper Alfred "Paper Boi" Miles, and Beetz, as Earn's on-again-off-again girlfriend Van Keefer. Henry makes Alfred's struggle between openly craving fame and outright rejecting it seem very real, and does so while carrying himself with quiet but unmistakable confidence. Meanwhile, Beetz has a face you simply can't take your eyes off of. She tells a story with every single expression; look away for just a second and you might miss Van's next move.
Phoebe Waller-Bridge, Fleabag
Here's another actor who's been seen before, most notably on Broadchurch. But as Fleabag, the sexually frank, emotionally broken protagonist created by Waller-Bridge herself, she boldly dominates our screens for the first time in what is a true leading-woman performance. Actually, she doesn't just dominate screens. She bursts through them entirely, speaking directly to the camera (and to audiences) in a way that makes us her confidantes as well as witnesses to the moment when Fleabag finally faces herself.
Donna Lynne Champlin, Crazy Ex-Girlfriend
This Broadway veteran takes the role of enabling sidekick Paula Proctor and not only brightens it with some of the sharpest comic delivery on TV, but also persuasively peels away at the character, revealing that Paula also has deep-seated issues to overcome. Champlin's performance keeps pushing Paula to evolve from symbol of every female who's ever played second fiddle — to their partners, friends, or own ambitions — to a woman of her own. Sometimes, she even illustrates that evolution while singing a barn burner of a show tune.
Issa Rae, Insecure
Not unlike Waller-Bridge's Fleabag, Issa — the nonprofit worker played by Issa Rae, co-creator of Insecure — is one woman when she looks in the mirror, but puts on a whole other mask when she faces the world. Rae beautifully captures that personality confusion; she also regularly flashes a lit Christmas tree of a smile that reveals how much charm can spill out of this woman when she lets go of her doubts and allows her spirit to be seen beyond the bathroom mirror.
The daughters in Better Things: Mikey Madison, Hannah Alligood, and Olivia Edward
I could have singled out just one of these young ladies, but that seemed unfair because all of them are so authentic on Better Things. There's Edward as Duke, the innocent babe hiding the potty mouth; Alligood as Frankie, the teenager still sorting out her identity and progressive politics; and Madison as Max, the almost-adult jamming her thumb into every one of mother Pamela Adlon's pressable buttons. Honestly, all three of them deserve some sort of award for the way they can say a simple word — "Mom" — and inject it with such exasperation, love, embarrassment, and gratitude, depending on what the moment dictates.
John Reynolds and John Early, Search Party
As Drew and Elliot, Reynolds and Early stand as two extreme poles in a series that's constantly shifting tones. Reynolds is the laid-back boyfriend who initially seems dull but then starts to grow on you, largely because of his loyalty, while Early is the attention-seeking personification of narcissism who provides the most acidic doses of comic relief. (His reaction to an a cappella singing "Since You Been Gone" during a vigil for the missing Chantal was one of the funniest things I saw on TV all year.) You think you know both of these guys when Search Party starts, but by the end, thanks in large part to the slyness of their performances, you find out they are something else entirely.
Manny Jacinto, The Good Place
This is another character who sneaks up on you by narrative design. When he arrives in the Good Place, Jacinto's Jianyu is a monk who's taken a vow of silence, and his visage, accordingly, projects pure humility and thoughtfulness. But at the end of episode three, that façade disappears the moment Jianyu says four simple words: "I'm freakin' out, homey." The fact that Jacinto switches so readily from man of deep thought to dim bulb with hidden man cave is one of the many delights hidden within this mystery box of a sitcom.
Justice Smith and Herizen Guardiola, The Get Down
To buy into Netflix's The Get Down, it's necessary to believe that its two central characters — hip-hop prophet-in-the-making Ezekiel, played by Smith, and Donna Summer aspirant Mylene, played by Guardiola — are enormous talents who haven't been discovered yet. Smith and Guardiola make that easy. Together and as individuals, they switch on this show's electricity, infusing the desire to "make it" with an urgency that becomes infectious. As actors, it's crystal clear they too have talent that's only just begun to be recognized.