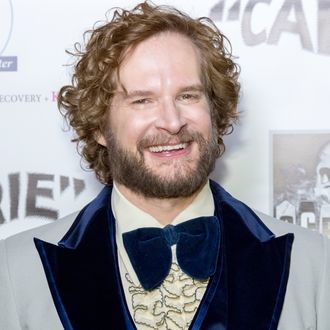 Photo: Greg Doherty/Getty Images
When CBS announced back in October that Bryan Fuller would no longer be the showrunner for its upcoming All Access series Star Trek: Discovery, the official word from the network was that he would still "continue to map out the story arc for the entire season" and "oversee the show with the existing writing and producing team." But in a new interview with Newsweek, Fuller says he's "not involved" in production or postproduction. "I can only give them the material I've given them and hope that it is helpful for them. I'm curious to see what they do with it," Fuller said. The veteran TV man and known Trekkie — he got his start producing Star Trek: Voyager in the early 2000s — wrote the first two episodes of Discovery and mapped out the narrative arc for the first season. The word at the time of Fuller's departure from the showrunner post was scheduling conflicts, and he maintains that position in the new interview, saying that "Ultimately, with my responsibilities [elsewhere], I could not do what CBS needed to have done in the time they needed it done for Star Trek," citing his commitment to the Starz show American Gods as a primary reason his dance card was just too full to give Discovery the attention it deserved.
Considering the Star Trek champion that Fuller has been, it's a surprise that his active involvement with its revival is over. Fuller calls his departure "bittersweet," and when asked about coming on to work with the new starship crew in their second season he said, "They have my number and if they need me I will absolutely be there for them." Your move then, CBS.