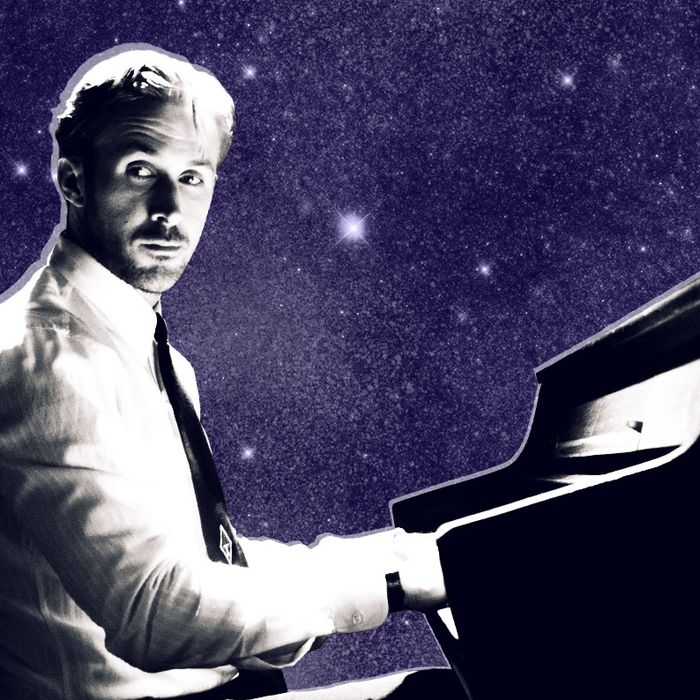 Photo-Illustration: Vulture
Ryan Gosling is the complete package: decorated actor, meme source material, funny-face-maker, and canvas upon which we may project our dreamiest fantasies. Now you can add to that list "accomplished showman," as Gosling is earning raves for his song-and-dance performance in Damien Chazelle's old-school musical La La Land. As hangdog jazz cat Sebastian, Gosling soft-shoes his way through a fantasy Los Angeles with down-on-her-luck actress Mia (Emma Stone), and as romance blossoms, their emotions tend to explode into euphoric production set pieces complete with all the classical trimmings. From elaborate tap numbers to a ballroom pas de deux across the cosmos to one showstopper of a piano solo, Gosling does it all — or does he?
Watching Gosling flex his triple-threat muscles, it's easy to wonder how much of his bravura performance is the genuine article and how much is movie magic. Ambitious actors have always pushed the boundaries of their skill set in pursuit of a more truthful or impressive performance; it wasn't too long ago that Natalie Portman wowed audiences by undergoing ballet training for Black Swan, and then landed in hot water when it came out that a "dance double" had stepped in for some scenes. In dogged pursuit of the truth, Vulture has mounted a through investigation of Ryan Gosling's showbiz bona fides to find out.
Exhibit A: Gosling taking part in an amateur dance competition, 1992
This low-quality camcorder footage documents a 12-year-old Gosling busting a move in a pair of silver MC Hammer pants as the soloist with his local dance company. In a gloriously choreographed routine set to Cathy Dennis's cover of '80s club staple "Touch Me," Gosling shimmies and vogues with the confidence of a seasoned pro. Look at his tiny face as he hops downstage; he knows something we don't. His eyes say, "I know I'm not gonna land the Oscar for Half Nelson, but securing the nomination will provide a crucial bump to my profile and open up a lot of avenues for me in critically acclaimed indies down the road." He's so small, but so wise. The video is a strong start to the case, and moreover, incontrovertible evidence that society started going downhill the moment we abandoned the Hammer pant as an acceptable garment.
Exhibit B: Gosling performing Jodeci's "Cry for You" on The All-New Mickey Mouse Club

Ryan Gosling is not Justin Timberlake, but he could've been. Gosling's two-year stint on the Mickey Mouse Club revival saw him perform alongside such future luminaries as Britney Spears, Christina Aguilera, and none other than Mr. 20/20 Experience himself. He appears here with Timberlake, JC Chasez ,and Dale Godboldo for a rendition of Jodeci's signature hit, and wouldn't you know? Gosling eclipses them all. Marvel at how comfortable he is onstage, even while doing that Mariah Carey thing with his hand. As a child star, Gosling had serious pipes, and yet this can't be ruled conclusive proof for his skills today — the ravages of puberty have mangled many a singing career.
Exhibit C: Gosling playing "In the Room Where You Sleep" with a children's choir, 2009
While he was dating Rachel McAdams, Gosling got chummy with her sister, Kayleen, and Kayleen's boyfriend, Zach Shields, and the two men wound up forming the duo Dead Man's Bones, for which Gosling served as vocalist and played piano, guitar, bass guitar, and cello. The band's lone studio album dropped in 2009, earning mostly positive reviews as Gosling and Shields played a handful of shows to breathless crowds in New York and Los Angeles. In the clip above, he performs the group's debut single with a choir of kids acting suspiciously calm for a group of people in the same room as Ryan Gosling. It's not as complicated as his million-miles-an-hour finger work in La La Land, but it's clear there's a base level of skill there.
Exhibit D: Gosling on the ukulele in Blue Valentine

Watching Gosling whisked through a candy-colored Los Angeles in search of fame and love, some viewers may recall a scene on a much smaller scale from the 2010 romantic drama Blue Valentine. Another moment in which Gosling woos via melody, this time he strums a threadbare rhythm on a ukulele while warbling the Mills Brothers' "You Always Hurt the One You Love" to his crush Cindy (Michelle Williams). It's the most perfectly tidy meeting point of Gosling's dual screen personae — the tormented, wounded lover and the eager-to-please performer. As Williams awkwardly tap dances, Gosling connects to her in the language of song, tapping into the same intimacy that animates Chazelle's spectacle-size showstoppers. Before he starts playing, he warns Cindy: "I can't really sing. I have to sing goofy in order to sing. I have to sing stupid." It is an uncharacteristically unconvincing line read. We all know better than that.
Exhibit E: Gosling hosting Saturday Night Live, 2015
Gosling assumes a familiar expression when he breaks into dance during a sketch in which he plays a former high-school loser still tormented by his childhood bully (Kyle Mooney). He wears the same face he donned as the real human being/real hero in Drive: He's defeated, but he's made peace with it. Returning to the boyhood dance routine that brought him reluctant viral traction earlier that year, a humbled Gosling goes through his steps and demonstrates that he's both got a sense of humor about his career and still retains the fleet-footedness of his tween self. He accomplishes the rare feat of making dance moves designed for children seem something almost like cool.
Exhibit F: Gosling talking about La La Land in a behind-the-scenes featurette, 2016

The most open-and-shut support for Gosling's talent comes in the form of a brief promo that offers some background on the making of La La Land, with comments from the stars that illuminate how they prepared for the musical. In Gosling's case, that apparently meant spending two hours a day practicing piano, six days a week. In the clip above, he confides that he'd "always wanted" to play the instrument: "In what other job is it a part of your job to just sit behind a piano for three months and play? It was really one of the most fulfilling preproduction periods I've ever had." Gosling also worked extensively with choreographer Mandy Moore (not that one) to learn tap, ballroom, and jazz dancing. They rehearsed every day for three months prior to the beginning of shooting, and it shows.
With all that in mind, it's time to turn in our verdict: Though all the Ryan Gosling Truthers may grumble, it's clear beyond a reasonable doubt that Ryan Gosling really is as talented as La La Land makes him seem. There's some kind of magic onscreen that simply can't be faked.